Cooler weather delivers excellent opportunities for catching spotted seatrout from coastal waters in the South. Learn how to find and catch these fun sportfish.
The speckled trout catching began about three casts into the morning, which was true to Capt. Chris Holleman's prediction. Holleman, who operates Blue Cyclone Inland Fishing Adventures, had told me the previous week that the local trout bite had picked up and that he felt like things were setting up for good trout fishing.
We fished two days, late last week, mixing in a bit of redfish and striper fishing as well. However, winter brings some of the best trout fishing of the year to the Jacksonville area and other waters along the Atlantic and Gulf coasts, and my timing was right, so we mostly focused on spotted seatrout, also commonly called speckled trout or simply trout. Along with catching good numbers of trout, we caught good quality fish in several areas, and Holleman had a heartbreaking "parting of ways" with one trout that surfaced just long enough for us to see how big it was – probably 6 or 7 pounds – before it pulled off and went its own way.
Holleman mentioned that this hasn't been a spectacular trout year overall, based on his own fishing nor on reports he's heard, and he stays very connected to the total fishing scene in the Jacksonville area. I sure wouldn't have guessed that from our two days of trout catching!
Winter Trout Opportunities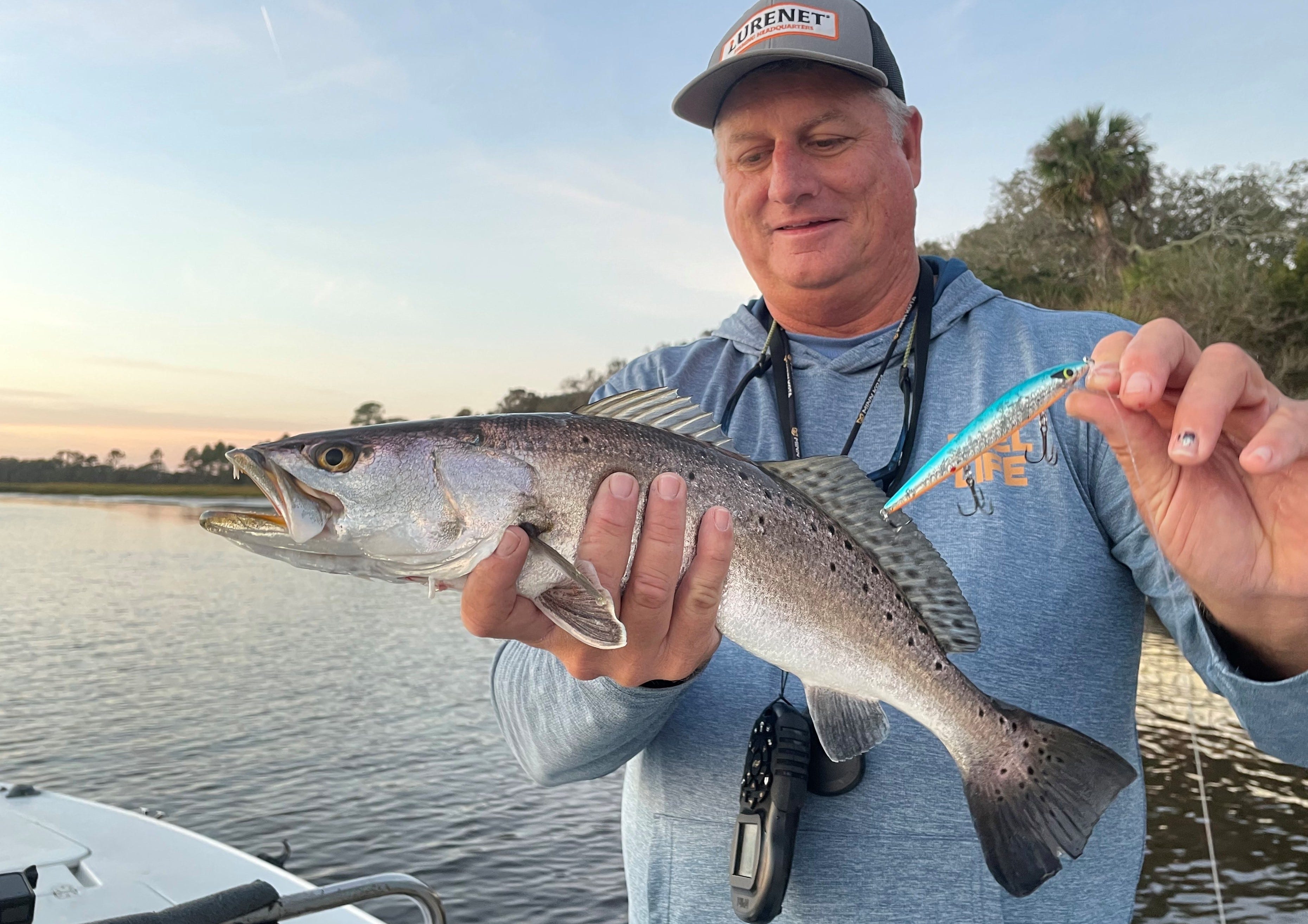 Early in the winter trout catches around the Intracoastal Waterway and in tidal creeks and rivers typically pick up substantially. Holleman believes a significant number of fish migrate from the ocean to inside waters at that time. As winter progresses many fish move farther up rivers and creeks. The best winter fishing typically begins in December and lasts until sometime in March, Holleman noted.
Whether within the Intracoastal or way up a small tidal creek that snakes through the marsh, Holleman's first consideration for winter trout locations is quick access deep water. The trout won't necessarily be deep. They move up and down with tides and weather changes. However, they want deeper water nearby and typically retreat to deeper holes when hard winter fronts hit. Deep, of course, is relative, and well up a small creek, that might only mean 6 or 8 feet of water in an outside bend.
Beyond having deep water nearby, the best areas have some sort of a drop off, and the trout will often be close to the drop. They might be just above it, just below it or holding directly over the slope, but a drop creates an edge to relate to and often forms ambush points for feeding.
Holleman also looks for a rip of some sort with an eddy beside it. Again, this creates an ambush point for hunting, and the trout can hold in the calmer water and attack baitfish that push past. Rips and eddies formed by oysters add cover to the equation.
Tides, more so than anything else, dictate when Holleman fishes specific areas, and he references online tide charts frequently to plan when he wants to be in different areas. He doesn't really have a favorite tide. He simply picks spots according to the level of the water and the direction it is moving.
Some deeper spots concentrate fish at the low end of the tide. High marsh areas only have enough water over them at the other end of the tidal cycles. In many areas the rip only occurs when the water is moving a certain direction or when it is at a particular level. And while moving water is usually best for actively feeding fish, Holleman has a few areas he only fishes when the tide is nearly slack because the current pushes too hard at any other time.
Speckled Trout Lures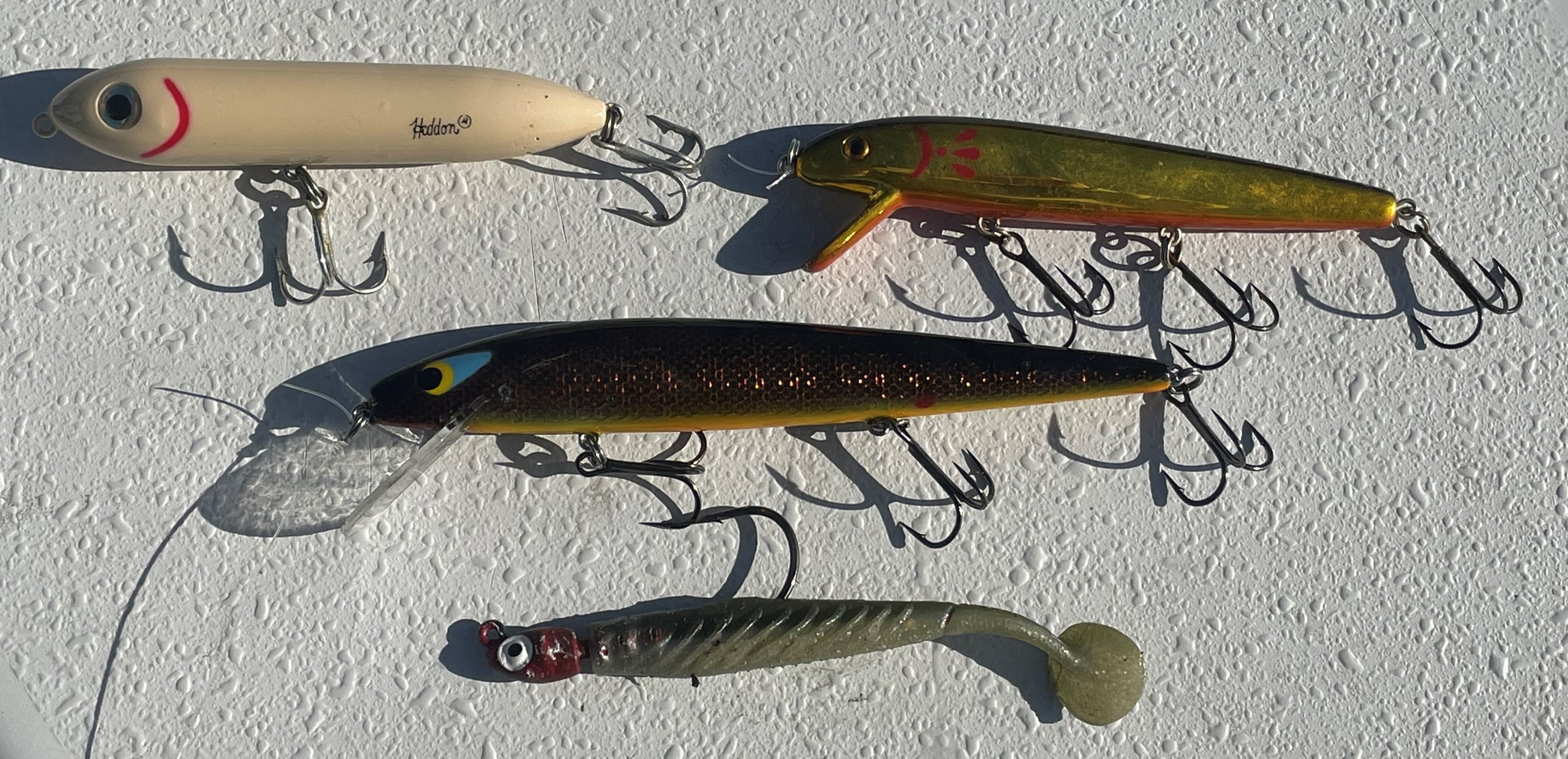 Holleman's go-to lure type for winter speckled trout is a minnow-shaped crankbait, with the Cordell Red Fin, Bomber Suspending Pro Long A and various Smithwick Rogue models being his favorites. The 4-inch Red Fin and Floating Rattlin' Rogue are his most time-tested baits, but when he wants to get a little deeper and keep his bait in the zone through a slower presentations, the Suspending Pro Long A, Perfect 10 Rouge and other suspending Rogue models come into play.
The Rogue bite was extra strong last week, when I fished with Holleman, and the Elite 8 Rogue, which has the same body as the floating Rattling Rogue but weighted to suspend and with a larger lip for a steep dive, produced several of the best fish. We found success with multiple Rogue models, though, and the biggest common denominator was the most fish were hitting the bait when it was paused between jerks.
In addition to a minnow-style crankbait, Holleman typically has a rod rigged with jig and soft plastic lure, usually minnow shaped, for working at a broader range of depths and to offer a more subtle action. A 3.5-inch YUM Pulse and Gene Larew Long John Minnow are ideal for jig applications. With any soft plastic, he'll let the bait drop to the intended zone and then work it with lifts and drops of the rod tip. If the water is shallow, he'll hold his rod tip high and keep the bait moving. For deeper spots, he sometimes get directly over the fish and vertical jigs. Most presentations fall in between.
For shallower spots and in places where he sees trout chasing bait, Holleman often will opt for a walking style topwater lure, with a Heddon Super Spook Jr and a Bomber Bodonk-A-Donk being his favorites. While extra cold fronts will keep fish from looking up, topwater fishing is a 12-month proposition in Florida, and topwater often calls up big fish.
Pro Suspending Rogue

An old-time favorite Smithwick Rogue, the Pro Suspending Rogue, was recently re-introduced on Lurenet in six colors. This Rogue has a 5 1/2-inch body, like the Perfect 10, but has more of a traditional Rogue lip, providing a large profile but not digging quite as deep. It offers a classic Rogue roll and suspends when paused so it hangs in the strike zone even with the slow presentations that are sometimes best this time of year.