Wading a creek or river for bass and other species is a fun and highly effective way to catch fish during summer and autumn. Follow these tips to find great fishing adventures.
With only a couple of hours available, a buddy and I went for maximized efficiency. We parked my car near an Ozarks creek just before daylight and then rode in his truck to another access point, a mile or so downstream. We had tackle packed in light backpacks and topwater lures tied on, and as soon as we had enough light to see where we were walking, we moved streamside at the lower end of a long pool and eyed our first casts.
My Teeny Pop-R disturbed the slick surface first, and the first gentle pop prompted a not-so-gentle attack. The fish missed twice and didn't come back, but we were underway. Two hours later, just in time to get to where we needed to go, we left fish biting and walked to my car, a few hundred feet away. We'd caught several smallmouths, a couple of spots and largemouths and a handful of mixed panfish. An amazing start to any day!
If you have wadable streams withing reasonable reach that offer public access and support a population of smallmouths, spots, largemouths, shoal bass or other black bass species, there are few simpler or more enjoyable ways to find fishing action than by wading-fishing with a light spinning outfit and modest arsenal of small lures. These tips can make your wade-fishing outings extra productive.
One disclaimer: While you might officially be "stream bass fishing" and catch more bass than other species, your catch is unlikely to be limited to black bass. Bluegills, redbreast, white bass, rock bass, warmouths, trout and catfish are just some of the species that might end up in the mix, with specifics varying by region and stream.
1) Start on Top
Beyond being the nearly unanimous choice as the most fun way to catch stream bass, the topwater approach is often the most effective way to prompt stream fish attacks and sometime will produce larger fish than subsurface presentations. For those reasons, it is almost always worth at least trying a topwater lure before turning to subsurface approaches.
A Pop-R or Torpedo is an outstanding surface lure option for stream fishing because either can be worked quickly to cover water and call fish from big pools and broad shoals or cast into eddies or tight to cover and worked slowly. Popping vs churning a blade is sort of a day-to-day thing, and it's prudent to let the fish decide. The original P60 Pop-R and smaller Teeny Pop-R are good sizes for most stream wading situations. The Tiny Torpedo and Teeny Torpedo fit best among Torpedo lures.
Another topwater offering that warrants consideration during late summer and early autumn is a Rebel Crickhopper, which suggests a displaced terrestrial insect when you reel slowly or twitch the rod tip, so the lure wakes or dances on the surface.
2) Cover the Basics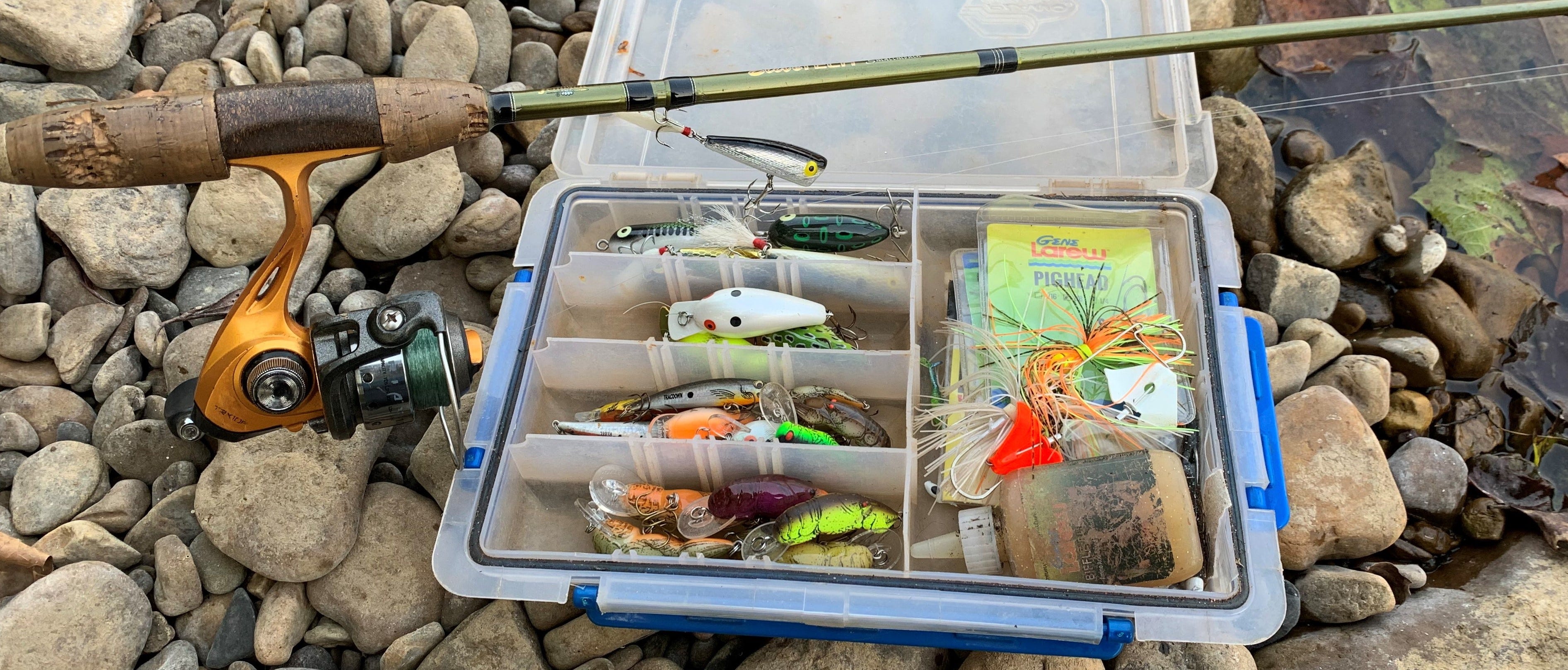 Because fish won't always commit to feeding on top, it's important to carry some subsurface offerings as well. You need not tote a ton of lures. Part of the beauty of stream wading is the simplicity of the approach and a lack of need for constant lure switching. A small to medium stowable box, a few packages of soft plastics and a modest assortment of jigheads, hooks and weights should cover you well.
Instead of carrying lots of lures, think ahead to be sure you carry lures that cover different parts of the water column, offer aggressive and subtle actions, and imitate important stream forage including minnows and crawfish. Think small, overall, and choose lures that can handle current and deflect well off rocks and wood cover.
We've included a packing list and Top 10 Lures for Stream Wading, at the end of this article.
3) Repeat Successful Casts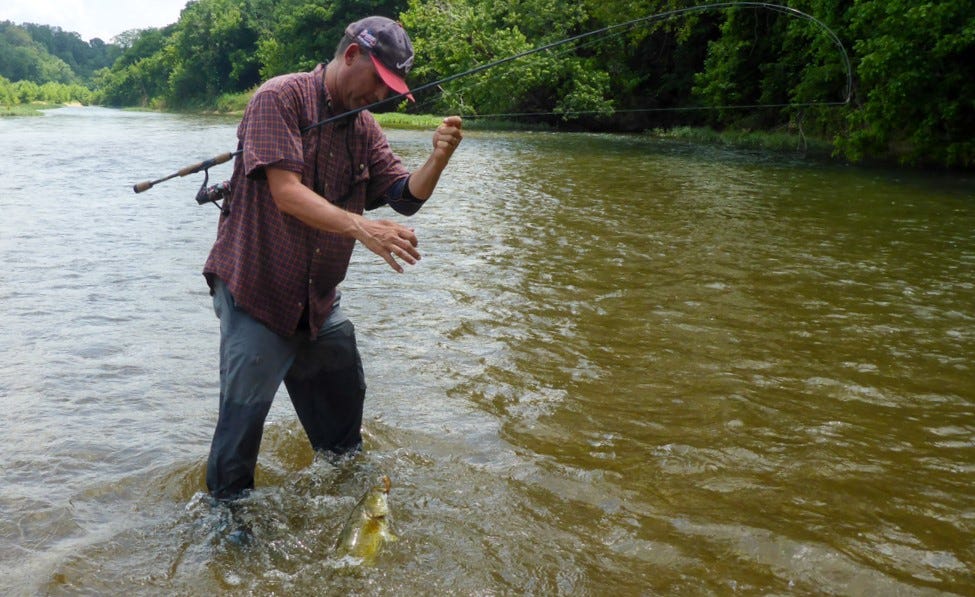 Even more so than fish in other settings, stream fish hold in the places they do for good reason. Current lines carry food, while gravel bars, boulders, deadfalls and cuts in the bank create eddies and ambush points. In deeper pools, fish-holding cover is often tough to spot from above the surface.
When you catch a fish (or miss a strike), don't be in a hurry to move along. Repeat that cast as closely as possible so your bait comes through the same zone, the same way. You might be surprised how frequently you can catch multiple fish by repeating a cast and how often they'll all hit in the same unobvious looking spot.
Even after you've worn out the same cast, work the area a bit before moving along. Also, pay attention to details about current, depth, bottom make-up and cover whenever fish hit. Stream scenarios often repeat themselves, and paying attention to details can help you become much more efficient at targeting the types of areas that are producing any given day.
4) Use A Backpack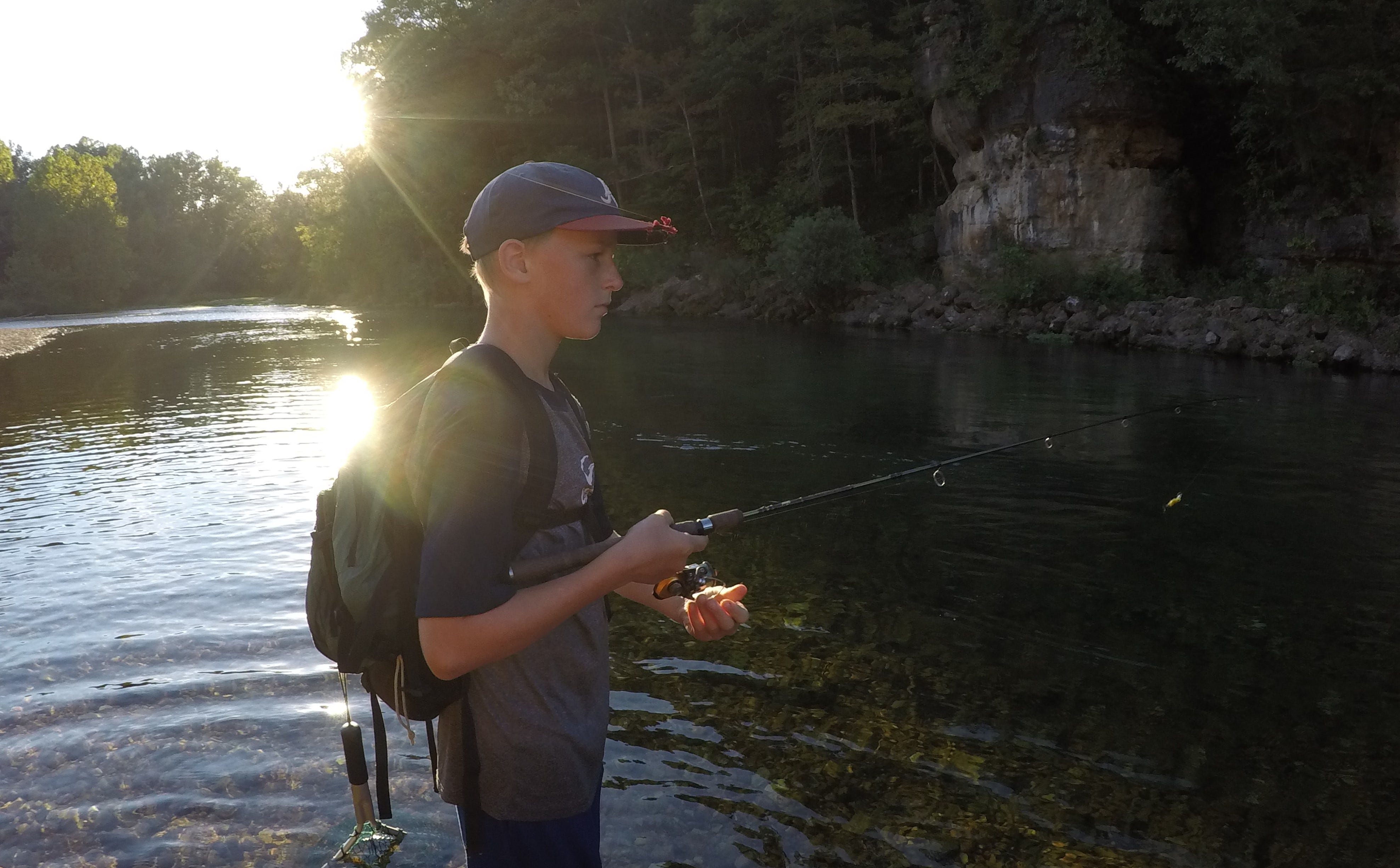 It's tough to top the efficiency of a small backpack for carrying extra fishing tackle and a handful of other items you might want or need. A wearable option helps you avoid having to set a bag down repeatedly. I prefer a backpack because it holds bigger boxes than a vest and keeps everything higher than a hip pack, which is important when you need to wade though deeper pools.
A backpack is also handy for carrying a drink and for strapping on accessories, such as an extra rod (see next tip) and a net or wading staff, if you choose to carry either.
5) Carry a Spare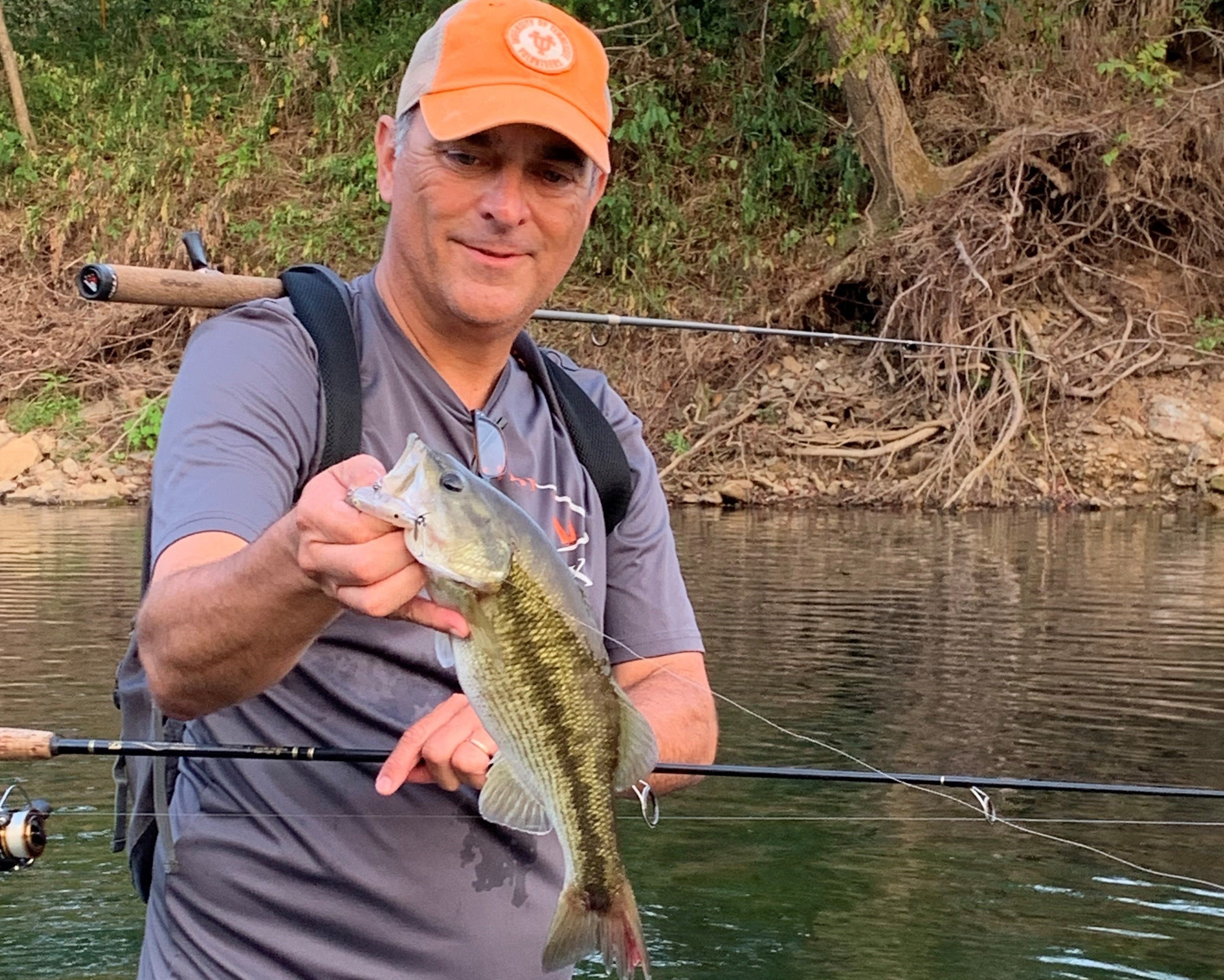 An extra rod, which can easily be strapped to a backpack for hands-free carrying, makes it practical to experiment with a topwater lure and subsurface lure or use a small crankbait and soft-plastic lure in different spots, without having to continually retie. As importantly, it gives you a back-up if you experience "technical difficulties" partway through a wading trip.
If you don't want to mess with a second fishing rod, carry a spare reel, at least. While it's possible to slip and break a rod, the most likely issues that could render your rod and reel useless involve line. If you have a second reel of similar size, spooled with the same weight of line, it's simple to switch those out if problems occur, and a small spinning reel takes up minimal space and takes weighs very little.
6) Plan Ahead
Take time to study Forest Service maps, online mapping, etc. to identify public access points and roads and trails that parallel a stream. Also look at Google Earth or other satellite imagery to see how wadable a stream looks and to identify potentially productive shoals and runs at the heads and tails of pools. Look also at stream levels, compared to averages for the same stream, and consider the likely impact on wading and fish behavior.
If it's practical to drive two cars or use a paddling outfitter's shuttle service, a one-way wading trip can spare you significant backtracking and allow you to spend more of your time out fishing. Alternatively, consider whether there's a good place to get out that that is close to a paralleling trail or road or whether you'll need to wade back through the streambed.
Plan to fish upstream, when possible, because it's easier wading and because fish orient into current, so casting upstream and working your lures back puts lures in front of more fish and makes for more natural presentations. Also, err on the side of less distance, when planning wade trips. It takes longer than it would seem to work stream sections properly, and a shorter wading distance allows for more fishing time.
7) Carry Your Phone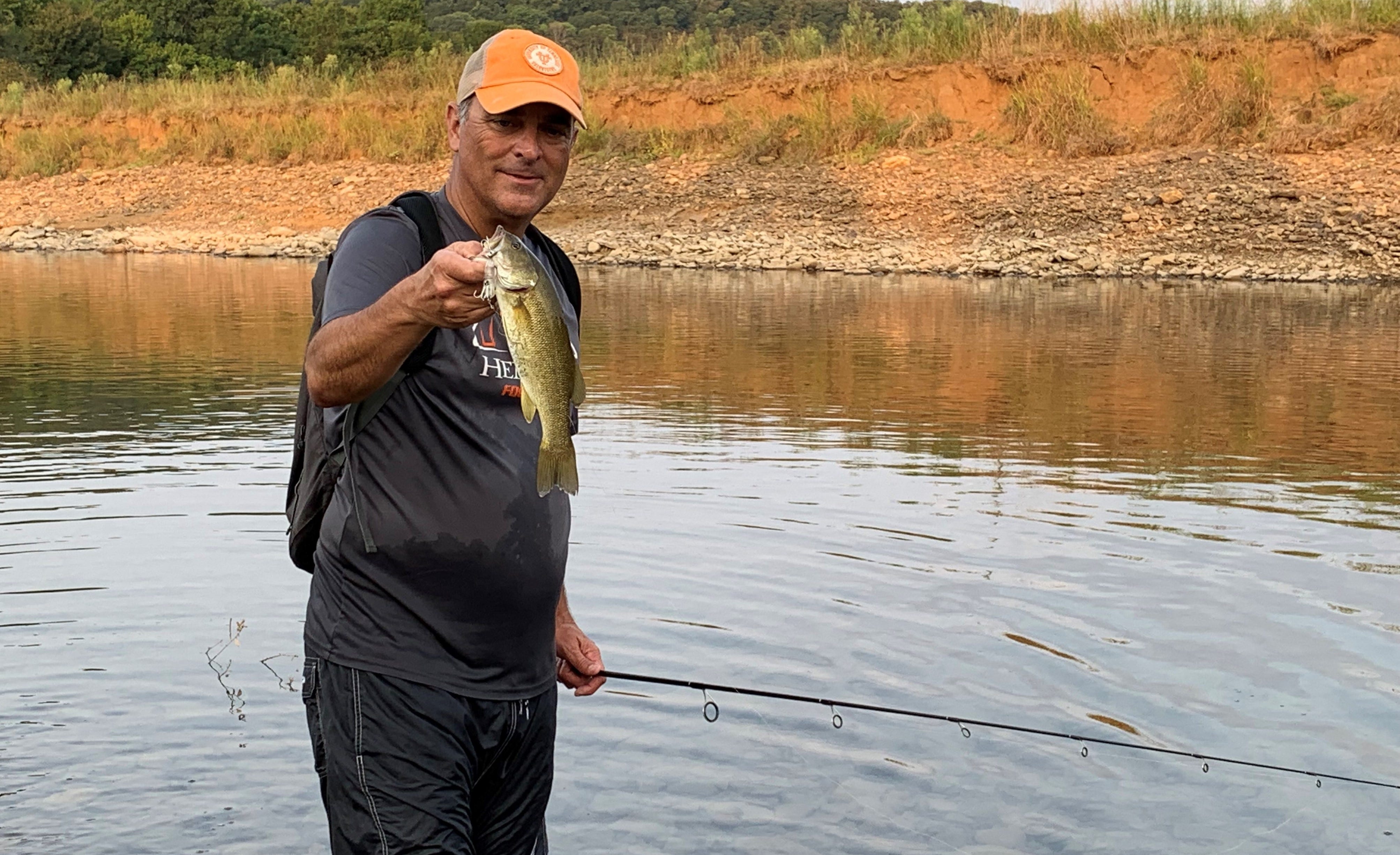 I know: Stream wading is about getting away and enjoying the fish and the setting, not talking business or scrolling through social media.
That said, today's phones are simply too useful in a stream to leave in the car, if for no reason other than to keep a good camera handy.
Beyond the camera, your phone typically holds your fishing license, and it adds the capacity to call for help if problems arise (assuming a signal). It also gives you GPS, live radar if storms seem like they could be brewing and satellite views of where you are fishing if you want to look at pool from overhead or need reference concerning how far you have waded.
You get the idea.
Worthwhile Extra Stuff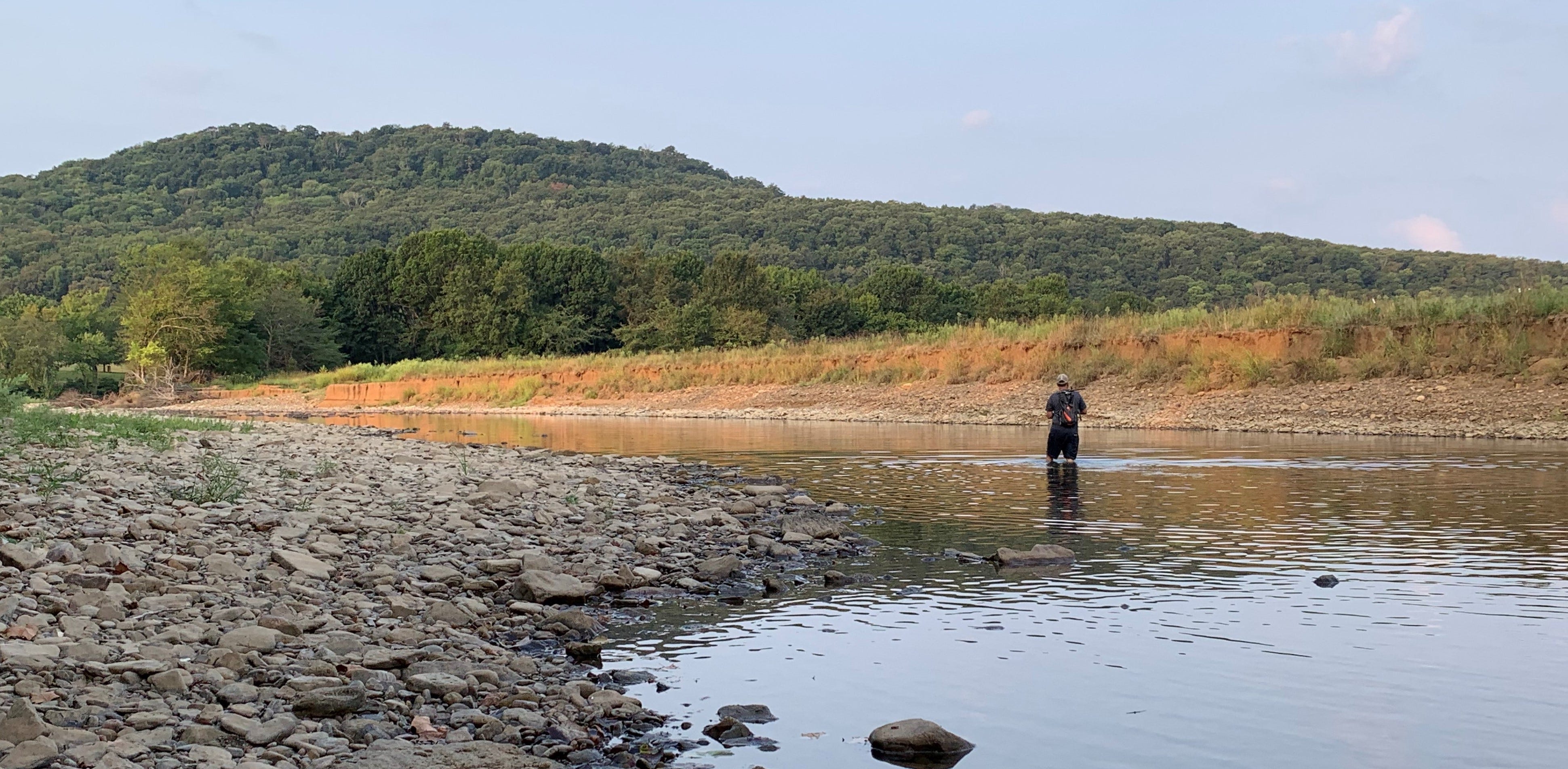 Packing List
Zip-Seal Bag(s) for phone, wallet, or water-sensitive keys, key fobs, etc.
Snacks & Drinks
Hemostats or Lightweight Pliers
Sunscreen
Bug Spray
First Aid Kit, just in case!
10 Top Lures for Stream Wading