The umbrella rig reached stardom over 9 years ago, and since its inception it has become one of the most productive tools in any angler's fishing arsenal. The first few years of the lure being out, it seemed to catch anything and everything that swam in the country. it was pure magic! However, many anglers have noticed in recent years that it has waned as the most productive lure ever thought up, and simply became another tool, like a jerk bait or jigging spoon.
Tons of fishermen across the nation have written the lure off as a gimmick and tossed it amongst their piles of once popular lures, but don't be one of those anglers! Since this lure's inception I have had a very prominent eye on its ability and caught many fish by adapting my YUM Flash Mob Jr's to differing situations.
Below I have outlined my top 5 tips to catch more fish by tweaking the Flash Mob Jr or using different equipment to get the most out of this rig.
1. Try smaller swimbaits
• Anglers all over the country started off throwing umbrella rigs with large swimbaits such as 4 and 5 inch models like the YUM Pulse or Money Minnow. These work great in some situations and can catch large bass, but they typically don't catch the numbers that smaller models offer. When I say smaller, I mean really small! I typically take the 3.5" model of YUM Pulse and cut it down to about 3 inches and place it on small 1/8 oz. jig heads. Everywhere across the country bass feed on small bait regularly as an easy meal, and this better represents it over larger swimbaits. These smaller swimbaits also still catch large bass, but it gives you the opportunity to catch a higher amount of fish.
Pro tip: (Use jig heads with smaller hooks, such as 2/0)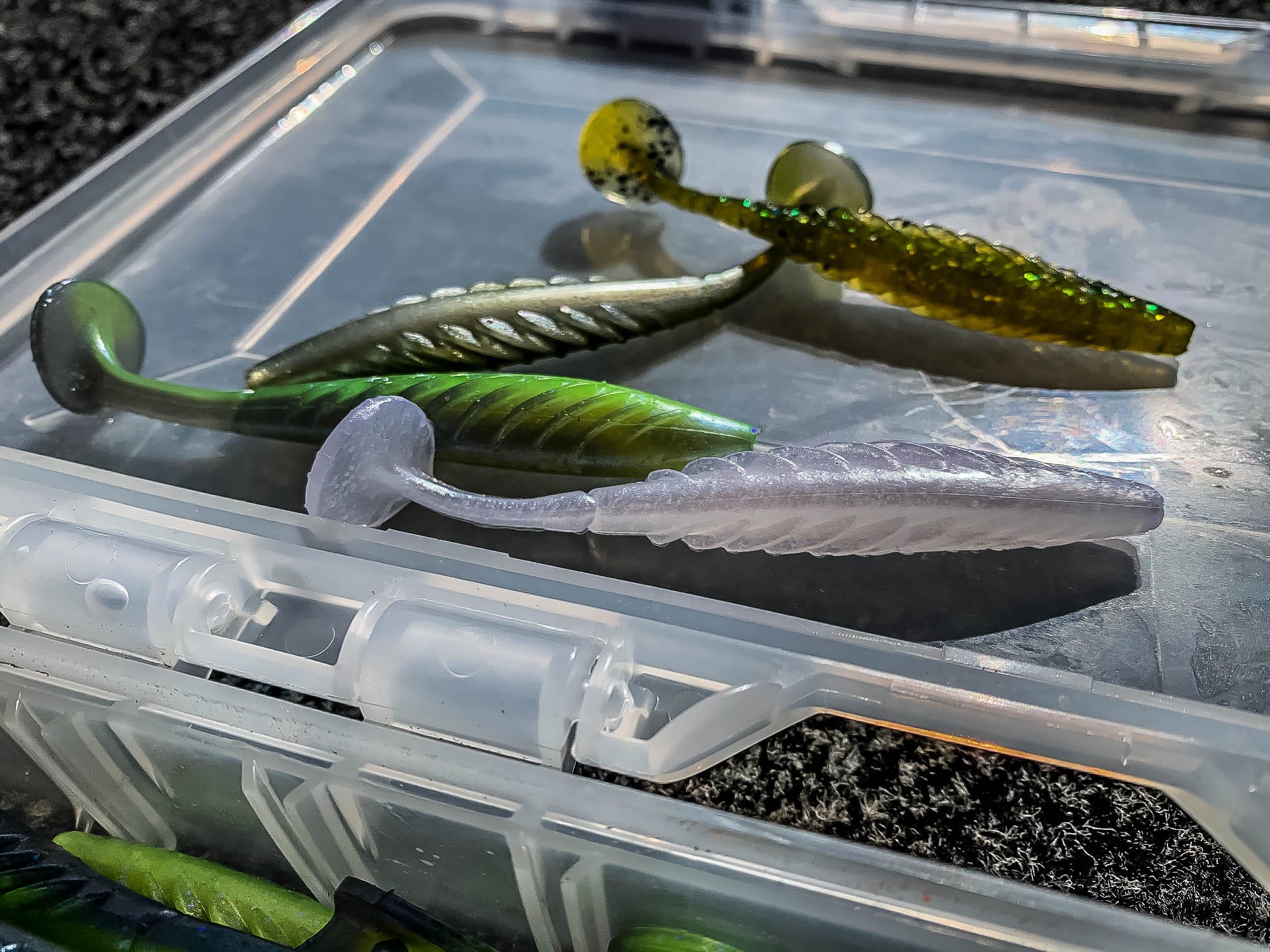 2. Place more blades on the rig
• This little tip might seem dumb, but trust me. it works for off-colored water! Simply remove your top two jig heads and replace them with small #3 spinnerbait blades to give off more flash. To combat the weight difference, I will typically go up to ¼ oz. jig heads on the bottom three swimbaits so that I can still cast far and fish at a deeper depth. This tip works great for fishing in dirtier water becomes it gives off a little more flash, and it helps eliminate rolling of the lure because of the heavier weight on the bottom.
Pro tip: (Upsize swimbaits on this rig in dirty water to give a focal point)
3. Use smaller size fluorocarbon
• Smaller fluorocarbon might seem counterproductive to the rig, but when throwing a light set up like the YUM Flash Mob Jr it can be done and get more bites! The sizes I recommend using are 17 or 20 lb. test fluorocarbon and nothing higher. I use the 17 when fishing around light cover and 20 around heavier cover. The lighter provides more action to the rig and generally is less seen than heavier options or braid. Using lighter line also allows you to use lighter jig heads and get the bait deeper.
Pro tip: (When hung up never jerk or set the hook, simply keep contact, move to the opposite side of the cover and then pull the bait up)
4. Try differing colors of swimbaits and shapes
• It has always seemed the times I placed random baits on my rig that I caught more fish. Uniformity is something I always used to strive for when fishing the Flash Mob Jr, but it never seemed to produce the best results. This has become one of the top tweaks I make to my rig before I ever think about casting it out. I will typically use the YUM 3.5" Pulses but in differing colors. I will typically use four in one shad pattern such as Houdini and then throw in one shock color as I call it like Chartreuse Clear Shad, this gives fish something to target. A second option I rig up is placing 3 different shad patterns on one rig. Fish will generally tell you which one they like the best and you can narrow down choices. The third option I rig and typically do the best on is placing both swimbaits and grubs on one rig. For this set up I will run 3 YUM 3.5" Pulses on the bottom three jig heads and the top two I will place YUM Swim N Grubs to provide some contrast and this almost always draws consistent bites!
Pro tip: (Try shad scent on your swimbaits)
5. Fish deeper and shallower!
• For years I have noticed anglers only pulling out the Flash Mob Jr to fish for suspended bass in the in between zone, or around 8-19 feet deep. This is a great zone that holds bass in the pre-spawn, but it isn't the only place to throw this lure. I recommend throwing the Flash Mob Jr shallow just like a big spinnerbait and tapering out into the middle zone any time during the pre-spawn and spawn. This works best when using small jig heads such as 1/16 or 1/8 oz. Then we have the other end of the spectrum, fishing very deep! Some saavy anglers have realized this potential and dominate early season tournaments. The umbrella rig excels fishing over deep brush or structure in 20-40 feet of water. Once you have located brush or structure simply move off and cast over the bait to count down until it reaches a deep depth, then slowly drift the rig past the cover as to "sneak" passed the fish. This set up typically works best when using heavier jig heads such as 3/16 oz.
Pro tip: (Have a lure retriever ready!)
All these tips can be put to use very easily and give angler an extra bit of suspiciousness that fish haven't really seen before. This is the key with any type of swimbaiting, but most important with the umbrella rig.
Ready to go toss the YUM Flash Mob Jr? You can find all the rigs, jigs, swimbaits and accessories you need at Lurenet.com.
Be sure to use code MERRY15 for an extra 15 percent off your order!