If you're not throwing these crankbaits for smallmouth bass, you're missing some fabulous fish-catching opportunities. Learn why and when to use each.
Hard-fighting, high-jumping river smallmouth bass serve up serve up spectacularly fun summer fishing, and a well-chosen and properly delivered crankbait is one of the finest lures available for covering water and prompting fast action from river bass. Not all crankbaits are created equal, though, and some of the best crankbaits for smallmouth bass in rivers are largely overlooked.
We will look at four of the finest crankbaits that you might not have considered for river smallmouth bass. Each is distinctive in its appeals and the specific situations where it tends to work best. A couple of colors each of these four crankbaits would provide the tools needed for a broad range of river smallmouth fishing situations.
Norman Speed N Jr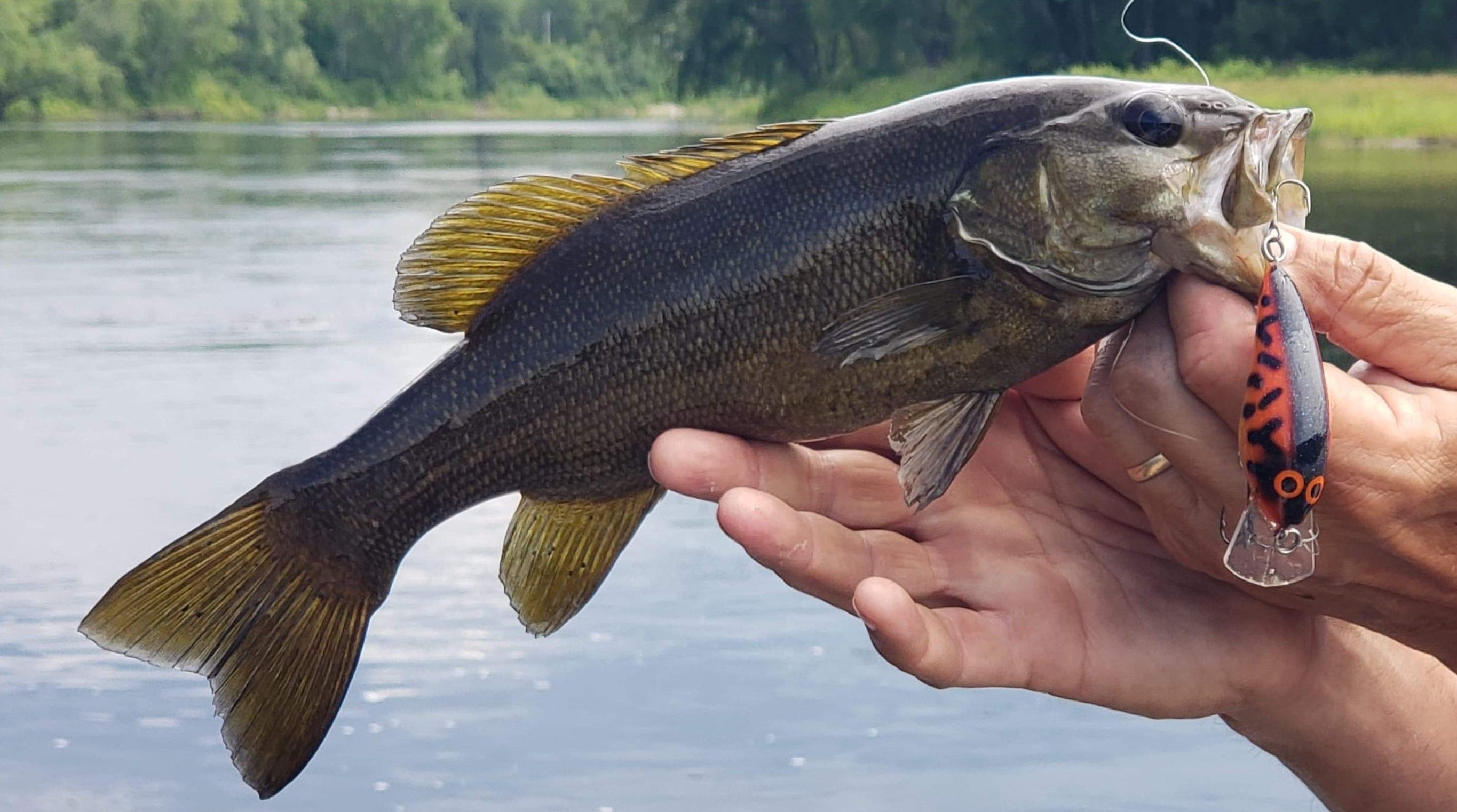 Like the original Speed N, the Norman Speed N Jr was created primarily for cold-water bass fishing in lakes and reservoirs. River smallmouths don't read catalogs, though. I suspected the Speed N Jr would be a good one for river smallmouth bass from the time I heard it would be released, so I put it to work the first chance I got this summer. The smallies have decisively confirmed my suspicion!
Measuring 2 1/2 inches, the Speed N Jr is a nice size for river bass, and the 1/2-ounce weight makes it manageable on spinning or baitcasting tackle. It can reach about 6 feet, making it suitable for working pools and moderately deep runs, but it also can be kept high in the water column, and its bill deflects rocks nicely.
The default action is a tight pitch and roll, but the Speed N Jr kicks erratically when it comes across shoals and gravel bars. It also handles current nicely, which is important for any crankbait that gets used in a river that has significant flow.
I like the Speed N Jr. for working shoals, boulder flats and rocky runs with modest to fast current. I reel steadily, holding my rod high to keep it shallower and pointing it down to dig deeper. Ideally, I want it kicking several rocks during a presentation or ticking the top of vegetation, but not dredging.
I mostly prefer craw patterns for river smallmouths, so I've only fished with Diamond Craw and Chili Bowl so far, but I have zero doubt that Tropical Shad will be a winner for imitating baitfish while offering those brighter colors that smallmouth cannot resist.
Next Generation Bomber 5A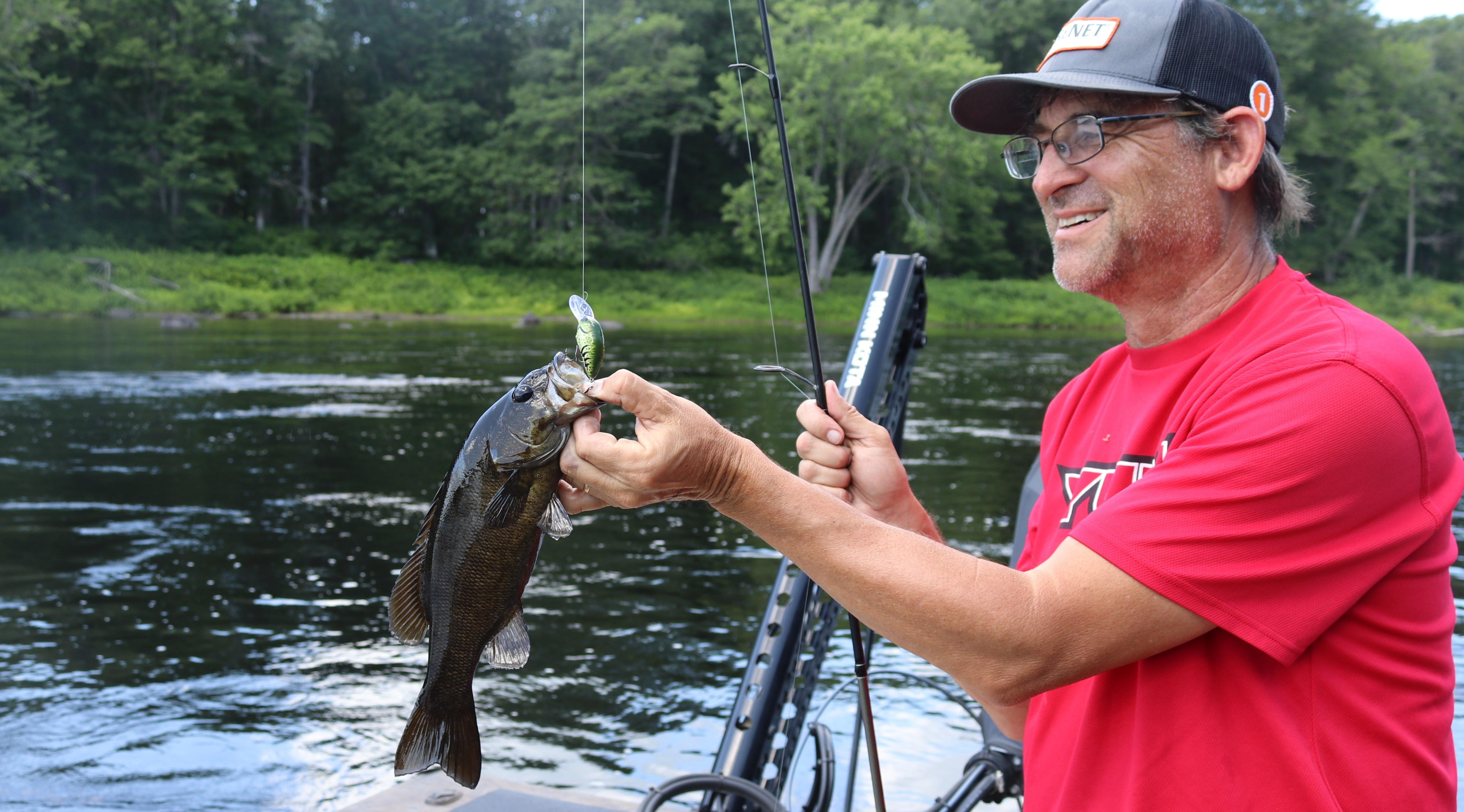 All of the next generation Bomber crankbaits are somewhat overlooked right now because they are brand new (although that is changing quickly as anglers discover the new colors and learn about the $3.99 price tag.) The Flat A, Bomber 4A and Fat Free Guppy also have solid river smallmouth applications, but the 5A is my No. 1 pick of the next generation baits, and I've enjoyed good opportunity to prove the new versions this summer.
The Bomber 5A is a fairly small crankbait at 1 7/8 inches. That's more than 1/2 inch shorter than the Speed N Jr, but it runs to the same 4- to 6-foot range. It drops quickly to its diving range and swims with a moderate wobble. The smaller size makes the 5A a great choice for big slick eddies and pools and for working in extra clear water or under bright skies.
All next generation Model A crankbaits come in six new colors, four of which are crawfish imitators. Bones, Mad Craw, Muddy Craw and Rock Craw have the same highly natural markings but with four distinct color schemes to match a range of natural craw colors and different water colors. Rock Craw, which has a green base, and Bones, which features bone tones, will get the first nod from me in the situations where I'll most often pick up a 5A, but the two other craw colors, which are brighter and bolder, can great for fishing quickly to trigger attacks.
The Bomber 5A is a little more apt to find crevices in rocks or grab weeds than some of my other river crankbaits, so while I'll readily grind it across gravel or kick boulders, I mostly try to keep it above craggy bottoms and use it less over weedbed than I would some other lures.
Cotton Cordell Big O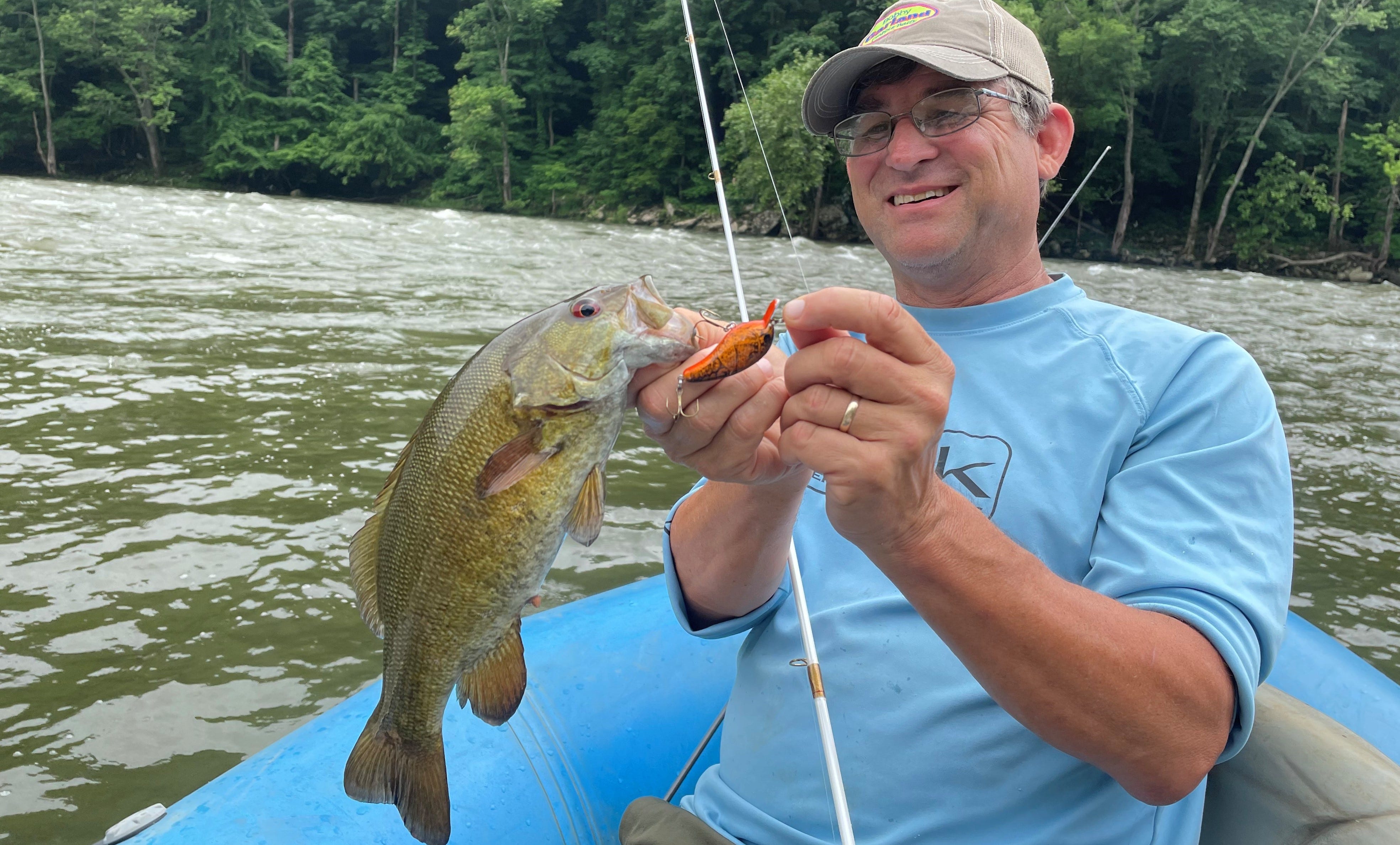 In one sense the Cotton Cordell Big O isn't overlooked at all. This bait, which was the forerunner to every square-bill crankbait on the market, remains a favorite of old-time bass anglers on several premier smallmouth rivers. That said, with so many slicker-looking lures on today's market, the Big O has been largely forgotten, especially by younger anglers.
Thankfully, bass don't care about what is cool and new, and the Big O offers a profile, swimming action and deflective qualities that make it tough to resist for river smallmouth bass. The Big O comes in three sizes, and while the smallest offers a good bet for creeks and the largest for heavy flows, the middle sized C77 is my normal choice for river smallmouth bass. It is 2 1/4 inches long, weighs 1/3 ounce and dive 3 to 5 feet.
While the Big O's corners aren't pointed, like most modern square bills, it has definite corners that deflect rocks extremely well and wood reasonably well. I'll fish it over shallower water and through snaggier spots than most other crankbaits and will mostly keep it moving so it kicks and grinds. Wood calls for a little slower crawl, with hesitations that allow the bait to rise just a bit after the bill hits the cover.
The C77 Big O comes in 16 colors, many of which work nicely for river smallmouths. Smoky Joe, Crawdad and Fire Tiger, each filling a different niche, are old-school favorites. My go-to for the Big O is aptly named Natural Crawdad. Olive Craw, which is quite bright and has a very dark back, is an excellent choice for cranking high stained water.
Rebel Deep Wee Crawfish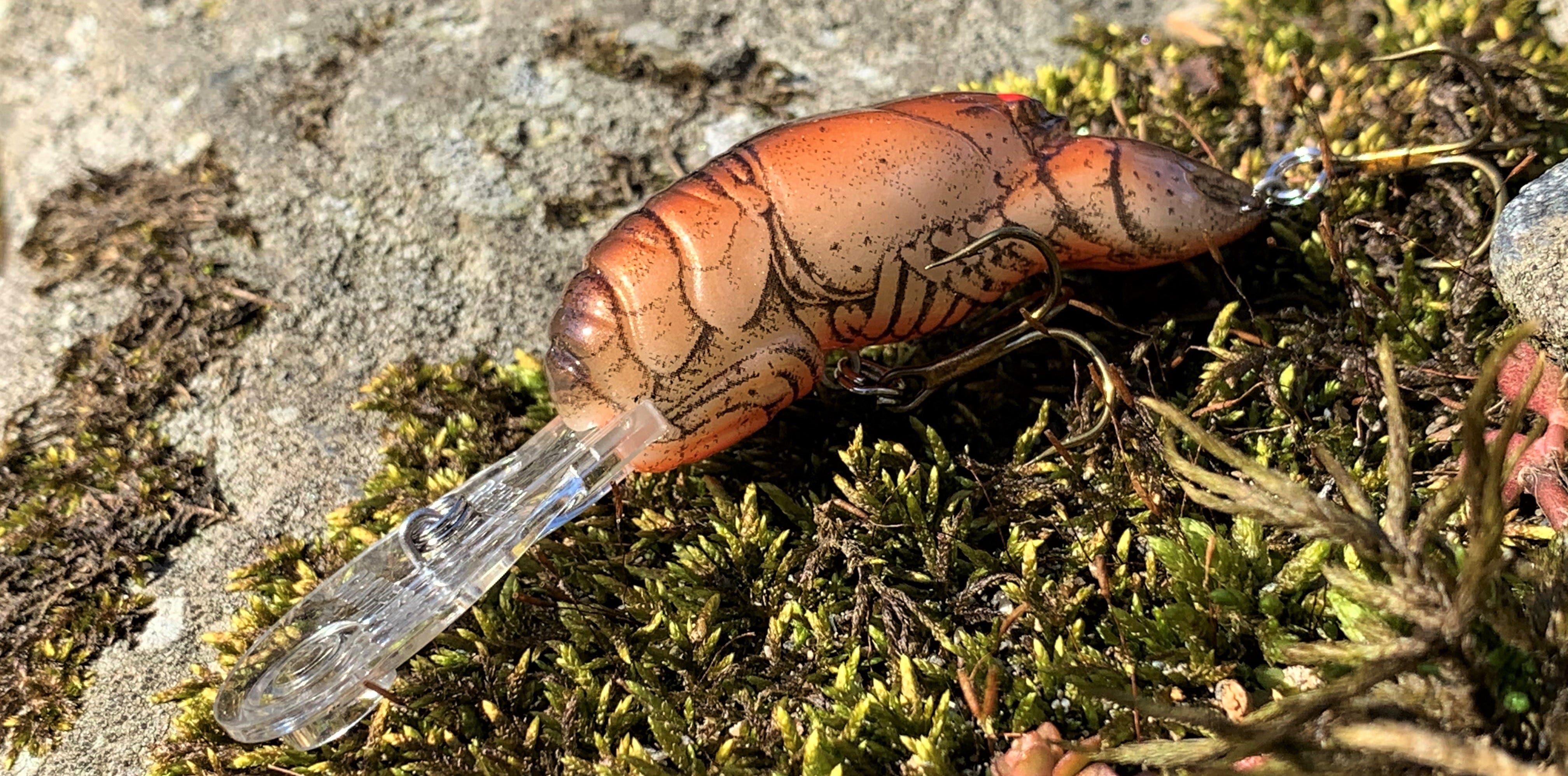 Listing a Rebel Crawfish among "overlooked" crankbaits for river smallmouths might seem odd at a glance. The original Rebel Wee-Crawfish and Teeny Wee-Crawfish are legendary for producing smallmouths in creeks and smaller rivers. However, the Deep Wee Crawfish, which is a little larger than the Wee Crawfish and has long lip to carry it deeper, does get overlooked but is an exceptional smallmouth producer.
Like all other Rebel Crawfish, the Deep Wee-Crawfish has a highly natural body shape that imitates a crawfish in a defenseless claw-tucked position and realistic, detailed markings.
It comes in eight colors, which include subtle, natural colors, red-dominant patterns and some bright attractors like Fire Tiger and Chartreuse/Green Back. My favorites are Stream Crawfish and Ditch/Brown, which are green and brown, respectively, and are both natural looking and have orange undersides.
The Deep Wee-Crawfish measures 2 3/8 inches and dives 8 to 10 feet. It digs hard and has sharp pulsating action that moves a lot of water to help fish find it. It also manages current very well, which is important because it's the crankbait I often lean the most heavily on when rivers are running big high. It's also my go-to for kicking boulders in deep plunge pools and deep swift runs.
Although I'll mostly cast crankbaits upstream, or angle them upstream, when a river is running extra hard, I like to cast straight across the current with a Deep Wee-Crawfish, tighten the line and just let the current swing it downstream, forcing it to dive and wobble hard as it swings behind me.
River Crankbait Fishing Tips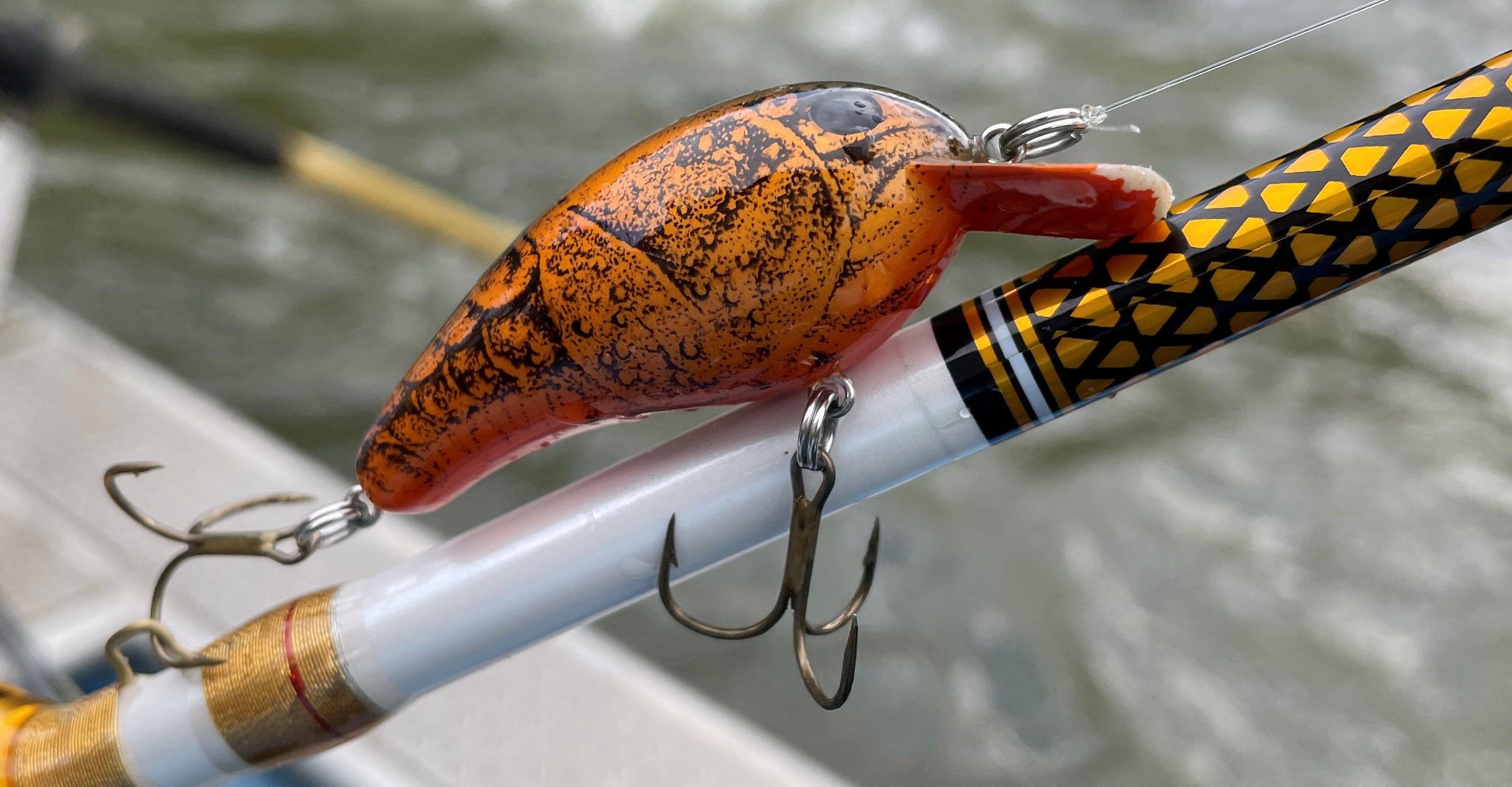 Consider Cast Length – Long casts across shoals, gravel bars or rock studded flats keep every cast in the strike zone longer, while short accurate casts allow you to efficiently work specific pieces of cover.
Inundate Seams – Smallmouths abound along seams between currents and eddies and currents of different speeds. The more time your lure spends near a seam the better.
Grind Them Out – Don't be shy about grinding a crankbait on a bottom. This imitates a crawfish that is foraging and preoccupied, kicks up sand, and creates erratic flares that prompt attacks. If it hangs too much, add hesitations when you feel the bait hitting or switch crankbaits.
Watch for Followers – Watch for bass following your lure or any fish you are fighting. Frequent lure followers suggest that you are close but might need to change colors or alter your presentations a bit. Fish following a hooked fish are competing. Repeat that exact cast and work that area hard!
Flirt with Grass – Don't abandon an area because you're picking up vegetation. Just slow the approach a bit or put your crankbait on a rod spooled with heavier line to keep it a bit higher. Submerged grass holds bass in most smallmouth rivers, so if you can kick the vegetations without bogging down repeatedly, you might be about to start catching them well!
Beyond Smallmouth Bass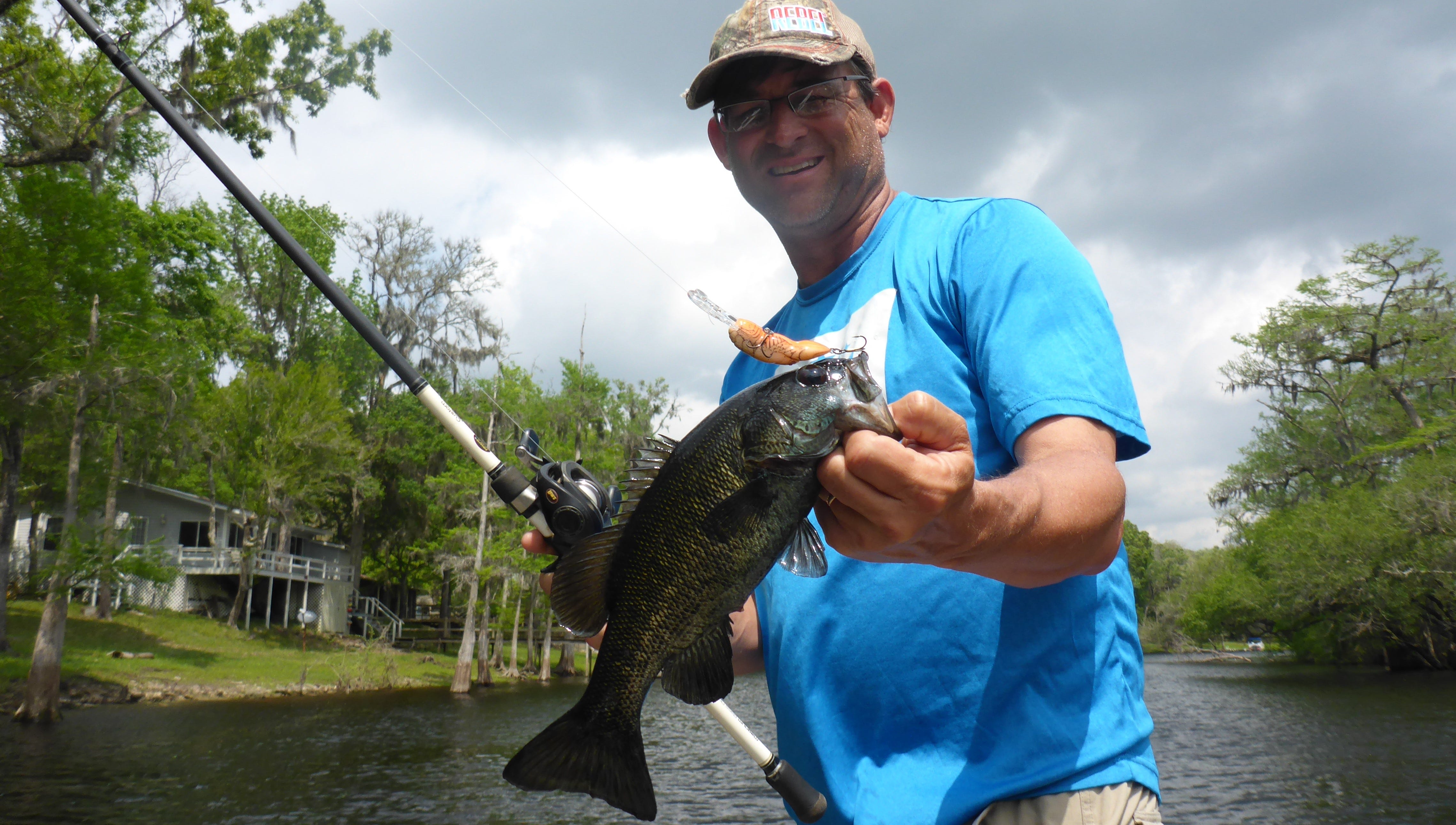 It's important to note that while we've emphasized smallmouth bass because of they tend to be the primary targets for this style of cranking, the same baits and approaches are effective for black bass of any kind of rocky rivers.
Depending on the location, that could mean spotted bass or Alabama bass or one of the more region-specific black bass species that act a lot like smallmouths, such as shoal bass, Suwannee bass or Guadalupe bass.
Of course, you're also apt to catch various other species as you fish. Specifics obviously vary by location, but likely other fish to catch include rock bass, pike, pickerel, walleyes, sauger, trout, white bass, and assorted sunfish.