Excellent crappie fishing can be found all over the country – and not only at the most acclaimed destinations.
What freshwater angler does not like to fish for crappie?
Likely you will recognize some frequently mentioned crappie hotspots around the country, such as Grenada Lake, Kentucky Lake, Lake of the Ozarks, Eufaula Lake and Kerr Lake.
However, as a gadabout angler for the past 40 years, I can tell you there are dozens of other lakes in the US that provide quality crappie fishing experiences.
Following discussions with guides, pro-staff members and tackle shop owners from several states (plus my own experiences), I assembled a list of 10 awesome crappie fishing destinations you might not have considered – but should! Here they are in alphabetical order.
CANDLEWOOD LAKE, CT
5,420 acres
Creel limit: no limit
No minimum size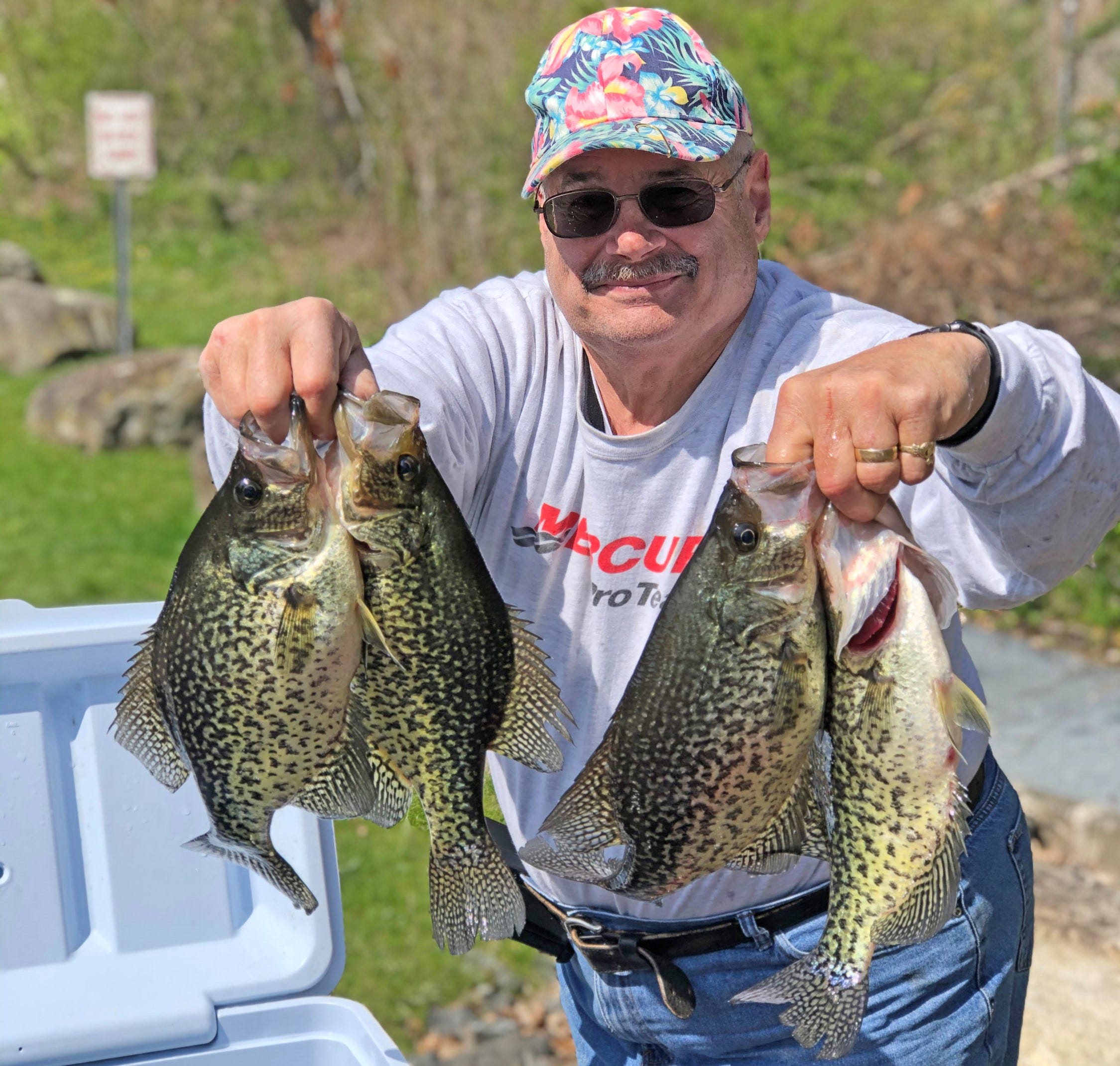 Situated in the heart of an urban population center, Candlewood is a lake that keeps on producing exceptional crappie fishing year after year. According to guide Terry Baksay, crappie are shallow in April, May and June, then move to mid-lake humps in 15 to 20 feet of water where they feed on alewives. "The population is mainly black crappies. They are readily caught on small soft plastic baits, but turn their nose up at live bait," explains Baksay. "Any small soft body swimbait on a jighead which resembles an alewife will work." In the fall, alewives move into the 20- to 30-foot depths on long points, and crappie follow. Ice fishing for them is very popular. In Candlewood the average crappie is between 10 to 14 inches with 2 pounders possible.
CHAUTAUQUA LAKE, NY
13,000 acres
Daily creel limit: 25
Minimum size: 9 inches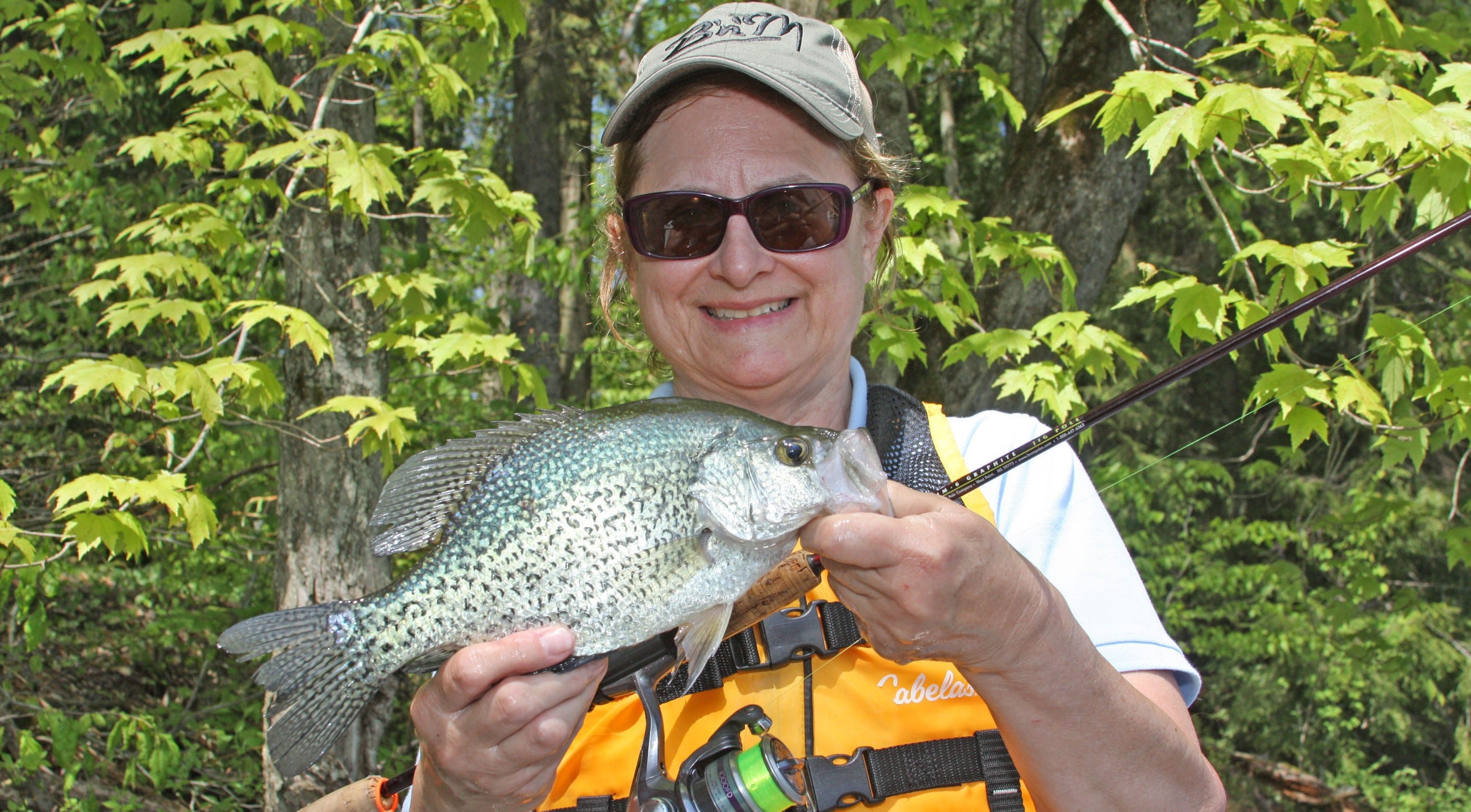 This 17-mile long natural lake is divided into two distinct basins separated by a necked down area. The South Basin features dingy water with thick vegetation and a maximum depth of about 20 feet, while the clear water North Basin has depths to 70 feet and a distinct weed edge. Tackle shop owner and guide Mike Sperry says the crappie population is strong in both sections of the lake; overall population is split about evenly between black and white crappie. "The shallower southern end warms earlier, offering a good ice-out bite in the canals and flooded mouths of incoming streams. When the water warms to near 60 degrees, the fish move into the lake to spawn. During the summer we catch suspended white crappies in the South Basin by trolling. But in the North Basin, it's all about black crappies in the weeds through the summer." There are lots of 9 to 14-inch crappies. a big crappie goes 16 to 17 inches.
FALCON LAKE, TX
83,654 acres
Daily Creel: 25
Minimum size: 10 inches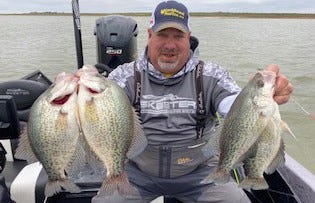 Recognized as one of North America's outstanding bass lakes, Falcon is now gaining fame as a crappie fishing destination. Full-time guide Tony Coatney spends the winter guiding on Falcon. "When I first started down here, it was all about bass. Now I'm guiding as much for crappies as bass. The lake is loaded with black crappies; two-pounders are fairly common. My biggest one is 3 pounds, 6 ounces." According to Coatney, crappie don't go to the banks to spawn. They winter over in 16 to 25 feet around deep brushpiles, then spawn in February and March on flats with flooded hardwoods in about 8 feet of water. "You don't cast for crappies on this lake – It's all vertical fishing using a single jig rod to drop a Bobby Garland Baby Shad beside cover."
HIGH ROCK LAKE, NC
15,180 acres
Daily creel: no limit
No minimum size
Better known for bass fishing, High Rock Lake is also a fantastic black and white crappie lake. "With an average depth of only 23 feet, it's a relatively easy lake to fish all season long. Even in July and August, you can find crappies in only 6 to 7 feet of water," noted local guide Stokes McClellan. Besides rocky points and a tremendous number of docks, anglers have placed untallied brushpiles in this fertile lake. An overabundance of small crappie not too many years ago was dealt with through removal of creel and minimum size. As a result, the size of crappie increased, according to Stokes. Local tackle shop contests now record crappie over 3 pounds each year – something that was impossible a while back. September through early March is the best time for bigger crappie.
MOSQUITO CREEK LAKE, OH
7, 850 acres
Daily creel limit: 30
Minimum size: 9 inches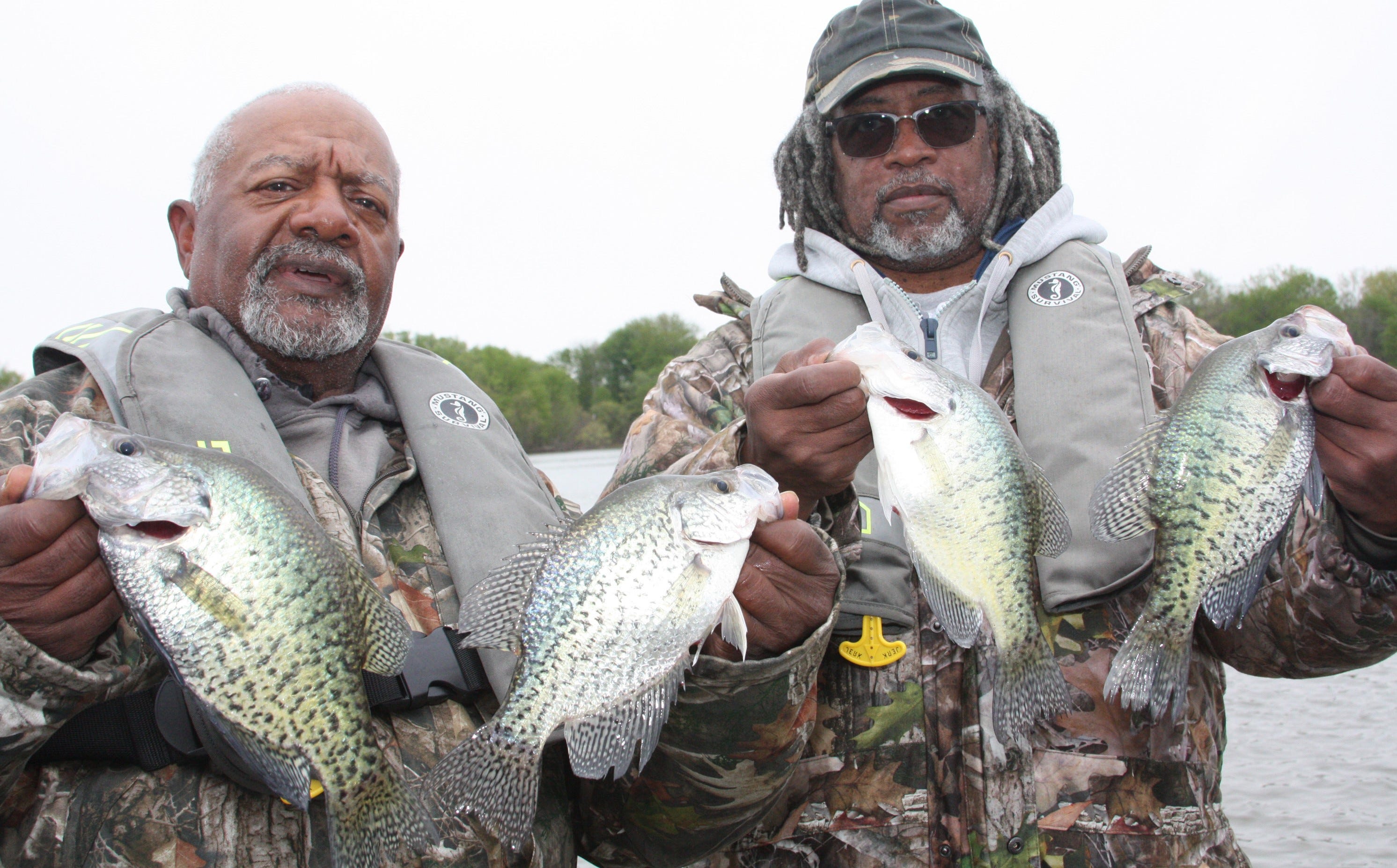 Recognized as one of Ohio's top walleye lakes, this flood control impoundment is also an outstanding crappie lake. "With a maximum depth of only 25 feet and minimal water level changes given it's an Army Corps impoundment, crappie location is rather consistent," says local crappie fishing expert Ken Smith. "Decent weed growth keeps a good share of the lake's crappies focused in relatively shallow water on the northern part of the lake from spring through mid-summer – which is my favorite time of the year to fish here. Mosquito Lake crappies like high spots – humps, road beds and so forth. A simple Baby Shad jig suspended seven feet below a bobber is all that is needed to limit out with crappies on these shallow high spots. I've caught 15- to 16-inch crappies from Mosquito, but 9 to 13 inches are more common.
CUT FOOT SIOUX LAKE & POKEGAMA LAKE, MN
Cut Foot Lake – 2,771 acres
Pokegama Lake – 6,700 acres
Creel limit: 10
No minimum size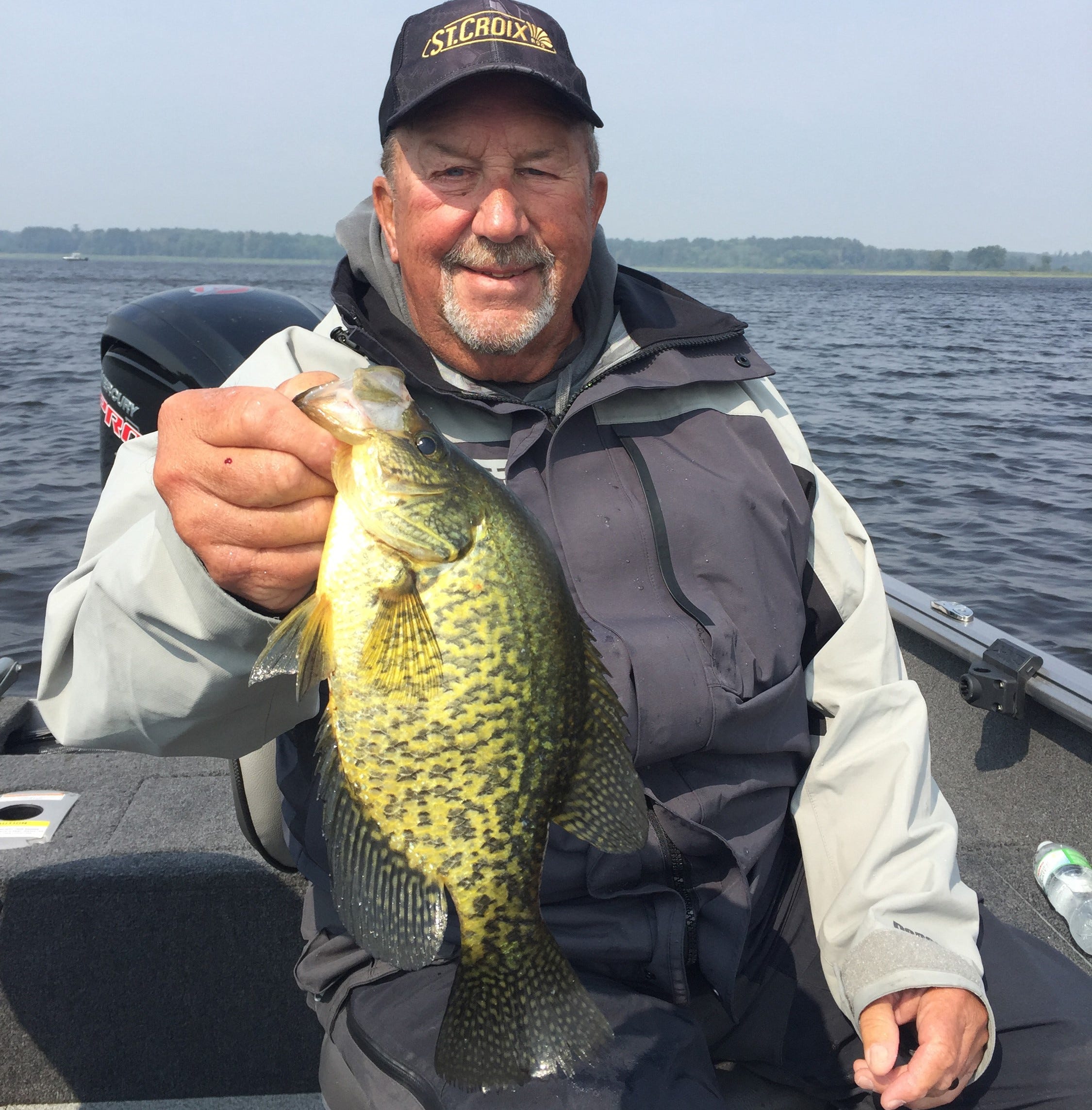 In a state that lays claim to over 10,000 lakes, Minnesota guide Tom Neustrom had a difficult time deciding on a top tier crappie water…so he went with two! These lakes have quality fishing for a variety of gamefish, including walleye, bass and sunfish – as well as black crappies. After the spawn, crappie in both lakes relate strongly to weedlines through the summer. "During the initial fall cool down, crappies pull away from the weedline," explains Neustrom. "Big Cut Foot has an average depth of 24 feet, while Pokegama provides deeper and clearer water. Cut Foot fishes better in the spring and fall, but Pokegama – the larger of the two with more offshore humps – offers very good summer fishing. However, when it comes to ice fishing, Big Cut Foot produces better than Pokegama." Ten to 13 inches is the typical size of crappies in these two lakes; a 14-incher is considered a big fish.
OLD HICKORY LAKE, TN
22,500 acres
Daily creel: 30
Minimum size: 10 inches
An impoundment on the Cumberland River, Old Hickory is a narrow serpentine body of water roughly 30 miles long, featuring numerous creek arms. "As a crappie lake, Old Hickory is often overlooked due to other headliner lakes in the state – but Hickory has an abundance of 2-pound crappies and is relatively easy to fish," said Bobby Garland pro staffer Doug Sikora. During early pre-spawn, crappies may be found in the creek arms around 20 to 30 feet deep before moving shallow to spawn. Come summer, long-lining jigs in the main river targets suspended crappies. Furthermore, the lake banks are lined with docks, making this a dock shooters' paradise – especially in the fall.
SALAMONIE LAKE, IN
2,665 acres
Daily creel: 25
No minimum size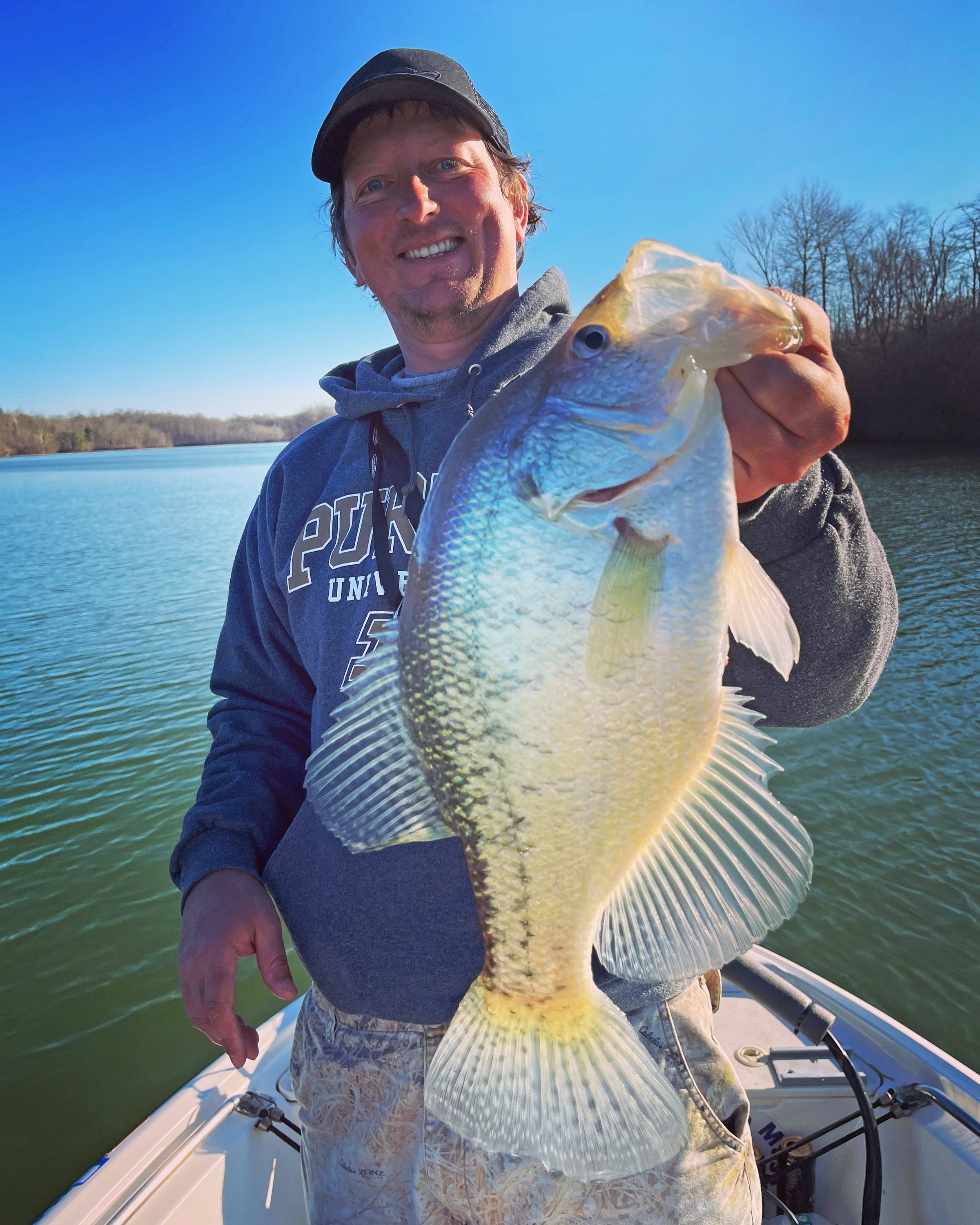 According to Sikora, Salamonie Lake offers outstanding fishing opportunities for anglers of all ages, with great shoreline angler access plus excellent boat ramps. During the open water period, Sikora favors the spring and fall for big fish. Summertime crappies follow schools of shad, which translates to either trolling crankbaits or employing LiveScope in order to catch suspended fish. Winter ice fishing is extremely popular. Throughout the year, a typical crappie runs around 10 inches, but there are decent numbers of 15-inch fish in the lake, too.
SHENANGO RIVER LAKE, PA
3,560 acres
Creel limit: 20
Minimum size: 9 inches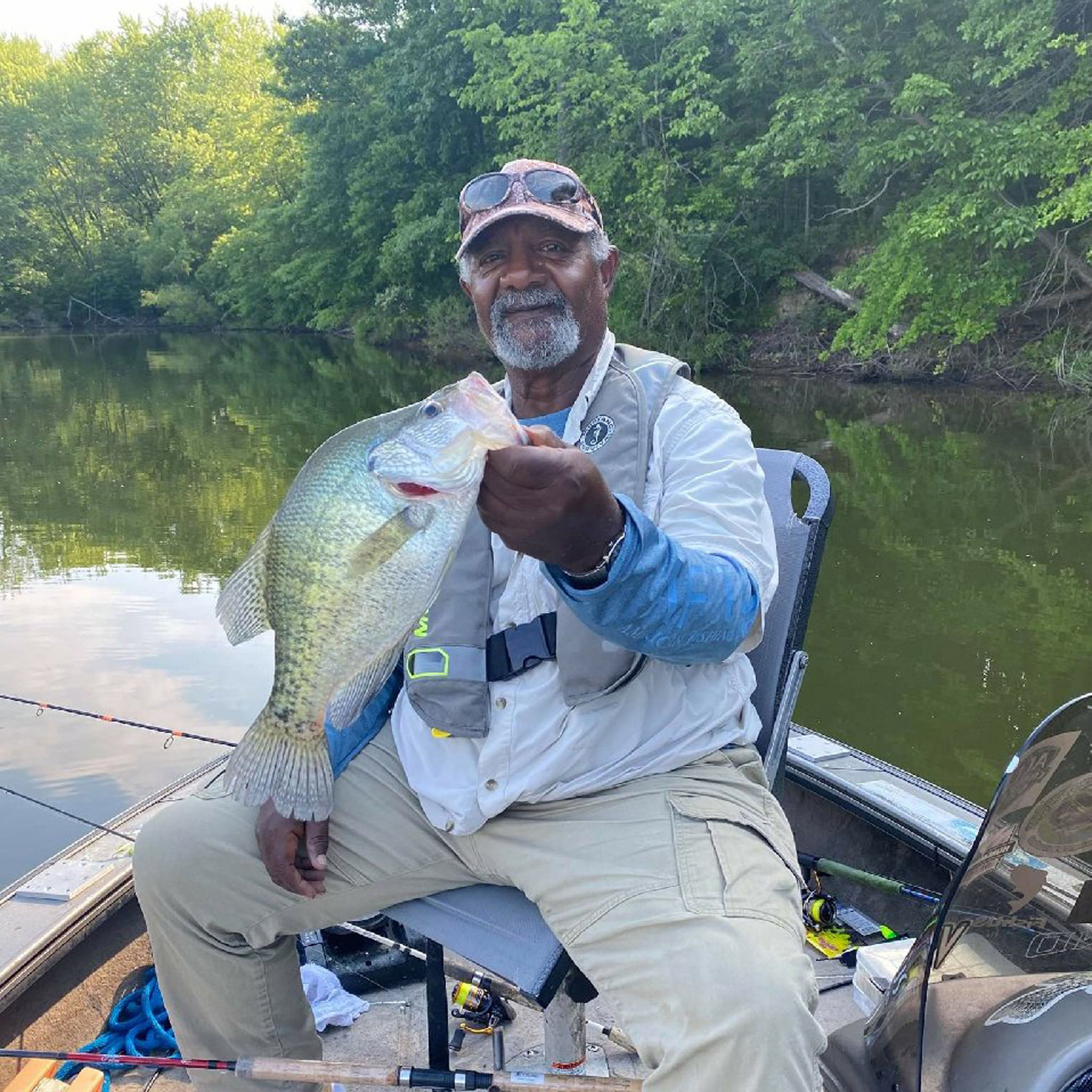 A flood control lake that routinely undergoes sudden water fluctuations and does not have a speck of aquatic vegetation, Shenango Lake nonetheless hosts an impressive population of black crappies, along with white crappies. "While black and white crappies move shallow to spawn around wood cover in late May, the earlier pre-spawn bite is sporadic due to ever-changing spring lake levels," said Ken Smith, the lake's crappie expert who employs a unique style of vertical presentation known as Hang Gliding. "Fortunately, summer and fall fishing are much more consistent than spring. An abundant gizzard shad population draws some white crappies to open water, but the majority of black crappies and many white crappies simply move up and down on a trail of wood cover as the lake rises and falls." In the fall, both white and black crappies shift to ledges on the main river channel. The average black crappie is between 9 to 12 inches, and average white is 9 to 15 inches.
UTE LAKE, NM
8,200 acres
Daily creel: 20
No minimum size
This is a high desert lake with two main arms and numerous side canyons. In addition to rock formations, cover in the lake includes some milfoil, plus submerged mesquite and cedar trees, said Benny Newton, a local tackle shop owner and former guide. Only white crappie are present. Roughly 90 percent of fishing pressure is during the spawning season from April through May while fish are shallow. few anglers focus on crappies after that. "However, when I fish for walleyes and white bass by vertical jigging in the fall, I catch a lot of 13 to 14-inch crappies – which is much better than the average 9- to 10-inch crappies they catch in the spring. If anglers used LiveScope on this lake, I believe they would catch crappies year-round," Newton said.