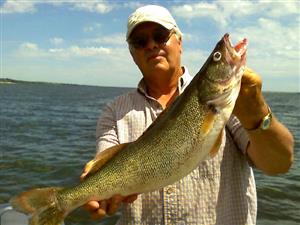 Spinnerbaits Catch Giant Walleyes
I don't know much about walleye fishing. I caught one last month at the Upper Mississippi River while I was smallmouth bass fishing with a YUM Houdini Shad. Watched it zoom out of a patch of grassbed and smash it.
But I do know enough to leave the spinnerbaits at home. Those are definitely bass lures. I know that much.
But Rob Rowland doesn't know that. In fact, he and his teammate have collected some big checks recently using spinnerbaits to catch giant, tournament-winning walleyes. And after a little checking, it turns out that a lot of folks know the effectiveness of these bass lures for walleye. Why didn't anyone tell me?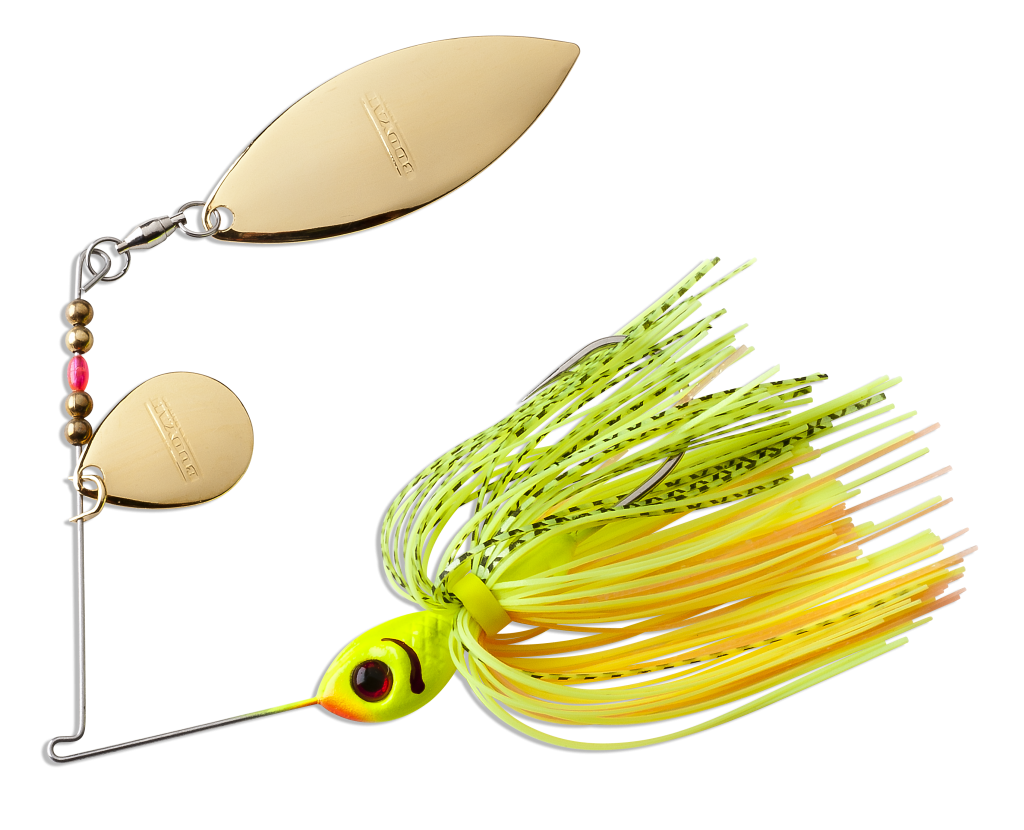 "Spinnerbaits are my go-to under the right conditions," said David Rose, a guide and outdoor writer from Michigan. "Everything will hit a spinnerbait; it's that flash and vibration. When the wind is blowing hard into a weedbed, it's time to cast and retrieve a spinnerbait."
Rose says he does get some odd looks when he whips out a spinnerbait.
"I had a client from Minnesota and I pulled out a rod with a spinnerbait on it for him and he shook his head, said he wanted to catch walleye, not bass," Rose said. "So I told him I'd throw it and he rigged up with bait. I caught a 16-incher on about my third cast. Then another on about the 10th cast. He wound up switching and catching walleyes on spinnerbaits the rest of the day."
Rob Rowland has taken catching walleyes on spinnerbaits to a new level. He and his partner recently made $10,000 working Booyah spinnerbaits for walleyes.
"Back in 1999 to about 2003 we threw spinnerbaits on rocky reefs and did well in tournaments," Rowland said. "Our home lake, Lake MacConaughy in Nebraska, has alewife as the primary baitfish. It was amazing back then to see how the alewife would chase and peck at the spinnerbait as you retrieved it. On some casts you'd have 10 to 15 alewife following and pecking at it."

Rowland says this is a key to the spinnerbait's success. He thinks the following alewifes are following along with the bait, and when a walleye feels the vibration it charges in, the baitfish scatter and the spinnerbait is still there, tracking straight and being an easy-to-catch lunch.
From 2002 to 2008 Rowland's area of Nebraska was hit by a serious drought and took lakes to record lows, exposing the rocky reefs he used to work for walleyes. His father suggested trolling the spinnerbaits down the dam. After some experimentation, they settled on 1-ounce spinnerbaits trolled at speeds of 1.5 to 1.8 mph. They didn't catch many, but the ones that came to the boat were super-quality fish.
The rains came again and combined with ample snow runoff, Lake MacConaughy rose 30 feet, and hundreds of big cottonwood trees are now submerged. Prior to the 2010 Cabela's Regional Walleye Championship he has his partner, Scott Sundstrom, saw a tremendous amount of baitfish around these submerged trees during practice. Their electronics showed these baitfish holding in the tops of the submerged cottonwoods.
"We lost a ton of crankbaits trolling over the tops of the trees and only caught one walleye," he said. "We decided to try putting a spinnerbait on lead core line, and it didn't take long and we caught a 9- and a 7-pounder. It's amazing how well these baits pull through the trees so easily."
The spinnerbait the pair selected for the tournament was the Booyah Blades in the Double Willow version in the 1-ounce size for their side poles and a ¾-ounce on the back pole, letting out more line to stagger the lures. For trailers, the winning team used 4-inch Gonzo Grubs and added a 1/0 trailer hook.
"Most fish inhaled the whole spinnerbait, but some were just hooked on the stinger. The XCalibur 1/0 is a super-strong and sharp hook," he said. "We caught fish on snow white, white chartreuse and chartreuse color patterns. We used 18-pound lead core line attaching a barrel swivel and then a 6-foot braid leader. We let out 125 to 150 feet on the middle rods and 125 to 150 feet on the side rods, and trolled at 1.7 to 2 mph."
Rose prefers a smaller spinnerbait for his cast-and-retrieve walleyes. When the wind's been blowing into a weedbed, that's when he ties on a ½-ounce or smaller spinnerbait. He prefers smaller willow blades and baitfish colors in the ultra-clear water he often fishes, but will go to copper or gold blades for tannic-stained water.
If possible, he'll parallel the weed edge, but if the water is deep enough he'll work the bait right over the top of the weedbed.
"You want it ticking the tops of the weeds," he said. "I'm slow-rolling the bait just fast enough to make the blade work. Strikes are usually just a tic or you'll just feel weight on the line."