Fishing Articles
Filter by:
Saltwater Fishing Articles from Lurenet
Get saltwater fishing tips from Lurenet pro fishing staff and from weekend pros like yourself.
Recent Saltwater Fishing Articles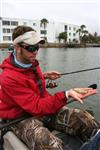 It's been said that catching fish on topwater lures is the ultimate fishing thrill. If so, then fishing the flats is the ultimate extreme -- the X-Games of topwater fishing. Flats like the those located around Tampa Bay in Florida have an abundance of redfish, snook, tarpon, and sea trout...
Read Complete Article