Fishing Articles
Filter by:
Panfishing Articles from Lurenet
Get pan fishing tips from Lurenet pro fishing staff and from weekend pros like yourself.
Nothing is more fun than catching a bucket full of big bluegills. These spunky and tasty panfish really turn on in fall as they feed-up for winter, providing some of the best fishing of the year. Here's where you can find autumn bluegill, and how to catch them. Most of...
Read Complete Article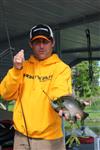 If you've ever seen a misdirected grasshopper land in the drink, you know what happens next. The hopper stays motionless for a moment and then scurries frantically across the surface. Most never reach land because bluegills stay on the lookout for swimming land bugs, especially during fall, when grasshoppers abound...
Read Complete Article