Fishing Tournaments
Filter by:
Top 3 Bass Tournament Winning Lures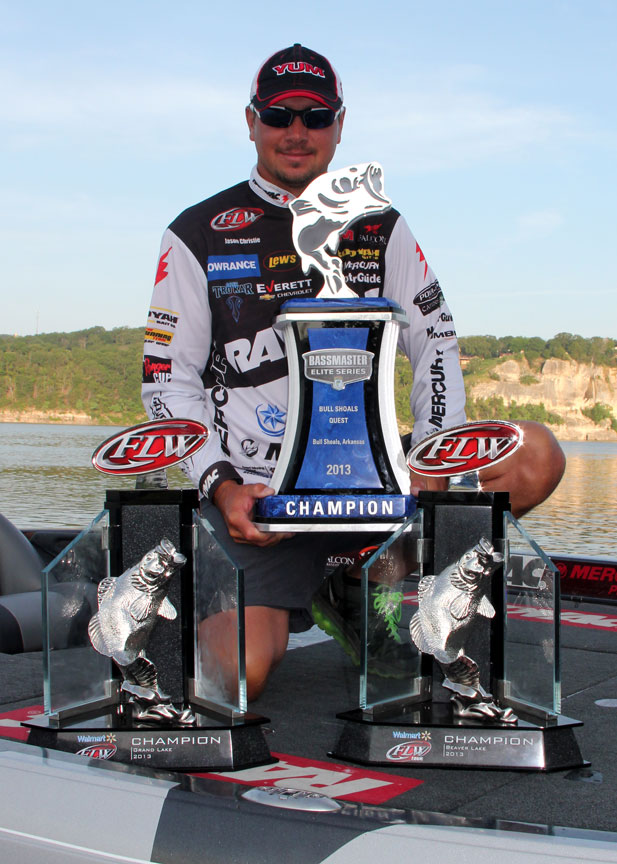 Want to win more bass tournaments? Keep these three lures ready and you'll catch more (and bigger) bass.
1. Heddon Spook
The Heddon Spook played a part in two of Jason Christie's three B.A.S.S. wins. He's partial to the
One Knocker
version, which features a single tungsten rattle to produce loud fish-attracting "thunks" as it's twitched across the top. The Spook is the original "walk-the-dog" lure, one that sashays back-and-forth on across the top in a hypnotizing manner that bass can't seem to resist.
Creating the walk-the-dog retrieve is simple. On a semi-slack line, twitch downward on the rod to prompt the lure to shoot diagonally forward. Putting these twitches together in a rhythmic pace makes the bait zigzag, and the One Knocker rattle thumps with each twitch. The One Knocker Spook is often selected over the other versions when fishing water with some stain to it or when fish are frantically smashing bait on top and you need something extra to get their attention.
That was exactly the case with Christie's win at Bull Shoals this year, when he made the biggest Day 4 jump in B.A.S.S. history. He went from 11th place to the top spot and won the event by more than a pound. Here's how he did it.
Christie started the final day more than 5-pounds behind, and the day wasn't progressing well. He was flipping bushes and had fish in the boat, but not the size he needed to win. Then, bass started surfacing all around him and he dropped his flippin' stick and grabbed the Spook rod he always keeps within reach. When it was over he'd culled all his fish and weighed in the tournament's biggest sack – 18-pounds even.
2. YUM Dinger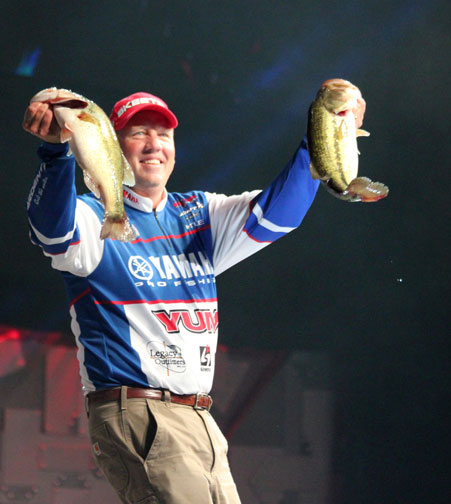 The
YUM Dinger
is a go-to for tournament anglers in a variety of situations. Like the Spook, many anglers always have a Dinger rod at the ready. B.A.S.S. Elite Pro Alton Jones is one of the biggest fans of the Dinger and has credited the bait for multiple top-5 finishes, and used the bait to win the 2012 St. Johns Showdown.
His tactic in this mid-March tournament was sight-fishing bedded bass. While the traditional lure for this is a tube, Jones feels so confident in the Dinger for getting the big females to bite that he often alternates between the two.
Jones weighed in more than 75 pounds of fish over the four-day tournament, and said that every fish he caught weighing more than 4-pounds bit his Junebug-color Dinger.
"I have a lot of confidence in that color," he said. "It's the color I automatically tie on when fishing in Florida. "
3. Flash Mob Jr.
Even though it's been banned from the top levels of both major bass tournament tours, no discussion of top tournament lures would be complete without including
YUM's Flash Mob Jr.
This downsized castable umbrella rig really does deserve the headline: "So Good It Is Banned From Competition."
While it was never a factor in B.A.S.S Elite events, it is legal in the lower tiers of competition, and until Aug. 27, 2013, was legal in FLW tournaments. Looking into this window of opportunity shows just how effective the FMJ can be.
During three consecutive weekends, anglers used the Flash Mob Jr. to win major tournaments. First was a win in a Professional Anglers Association tournament on Tennessee's Douglas Lake. Then Patrick Bone won a B.A.S.S. Southern Open on the same lake the following weekend. Wrapping up this incredible string of wins was Jason Christie's win at the FLW Tour event on Arkansas' Beaver Lake. Three major tournaments in a row, and to make the FMJ even more impressive, most of the anglers in these events were throwing other versions of the cast-able umbrella rig.