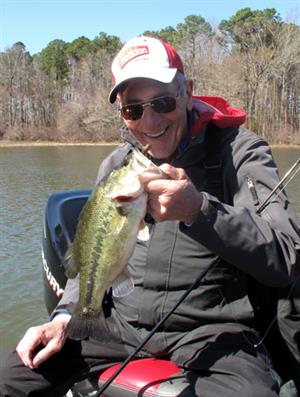 Mr. Stanton with a big winter bass
Keys To Catching Cold Water Bass
It's tempting to stay in the easy chair and watch football this time of year, but with a little preparation and a game plan, bass fishing during the colder months can be fantastic. Think I'm crazy? Don't take my word for it. Listen to a couple guys known as the best of the best when it comes to catching monster bass.
"I like bass fishing in winter for several reasons," said BASS Elite Pro Alton Jones. "Many times I have the lakes to myself, but the real reason is that once you locate fish, you can sit on them and catch fish all day."
Jones says that locating fish is the top priority during winter and the first step to catching a bunch. Bass congregate in schools more when the water temperature is low, so once found there can be plenty to provide hours of enjoyment. They also stay closer to the food during this time, which means that locating baitfish is the real key.
After fall has broken over to winter the shad move from the creeks to the main lake and normally stay near a major channel or drop-off, so that's the beginning of the plan. You probably have an idea of where the baitfish will be on your home lake. "Home lake" really are key words in that sentence – winter is no time to investigate new waters. Because bass are so congregated, chances are you'll only find one or two productive spots and need some background experience on the water you're fishing.
Lure designer and big-bass fanatic Mitch Looper visits small public waters during cold weather. These lakes see tremendous pressure during spring and summer, but when the air temperature dips below 40 degrees they're void of anglers except for a few crappie fishermen.
Looper has fished those city lakes for many years and has a gameplan in mind as he heads to the lake. Either from past experience or knowledge of the creek/river channels, he knows where he'll head when the boat's in the water. His tips: have a couple spots to check that are close to the ramp – you don't want to be flying miles down the lake when the air temperature is so low. Likewise, be smart about when you go. There's no reason to put yourself in danger by forging ahead and fishing when a cold front is bearing down or if there's any icy precipitation.
Preparation also is important. A full set of extra clothes including a coat should be on hand should anyone get wet. Pay special attention to having your PFDs handy and wear them as much as possible. Bring along some chemical hand warmers and stick one in each pocket. Your hands will thank you.
Much like night fishing during summer, keep your tackle simple during winter fishing. The good thing is that you can rig a couple of rods and be covered for the day. Rig one rod with Looper's favorite winter rig, a new YUM F2 2ube on a jighead, one rod with a Booyah spinnerbait and one with a Cotton Cordell CC Spoon. A drop-shot rig also is an option.
Head to the spots you figure to find baitfish, focusing on channels and hotspots associated with channels – intersections, irregularities, inside turns, etc. At this time of year anglers may do as much looking as fishing, but it's no use fishing until you've got the baitfish located.
Once a pod of baitfish shows on the electronics, along with the bigger marks that show that bass are nearby, Looper's technique is pretty simple. He casts and counts down his tube to the level of the fish and begins a slow retrieve. Slow is the key, along with imparting as little action to the lure as possible.
During a trip Looper and I took this past February, our first four casts netted three bass up to five pounds, and we continued working the same fish for several hours, ending the day with 20 bass and a livewell full of crappie that didn't seem to mind engulfing the 4-inch tube.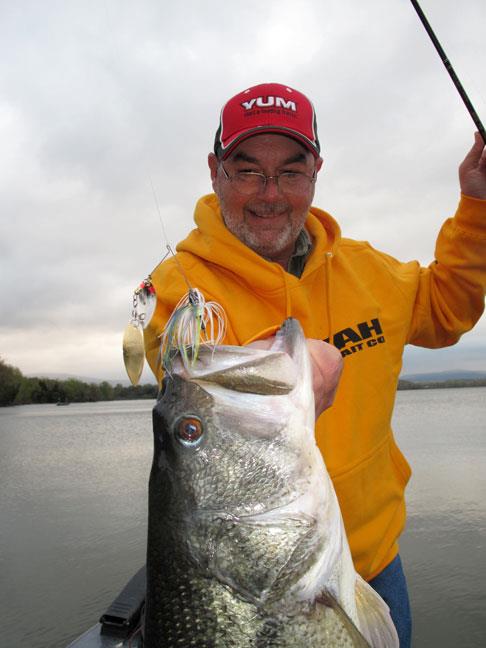 A spinnerbait worked in the same manner is a traditional choice for winter bassin'. Baitfish colors and willow blades are preferred. The willow blades allow the bait to be worked slowly at depths that can be 20 feet or deeper and they don't create as much water displacement as Colorado blades, which can be important when bass want a more subtle presentation. Remember that bass are slow this time of year and prefer an easy meal, so keep your presentations easy to catch.
If the horizontal retrieve is not doing the job or if the action slows, it's time to whip out the jigging spoon. Drop the CC Spoon to the level of the fish and begin a "snap, snap, snap" retrieve. Jigging spoon enthusiast Gary Dollahon describes the correct motion as the same wrist snap you'd use to make a yo-yo come back up. If you locate any wood cover on the edge of the channel near where you're fishing, this is a prime area to work the jigging spoon, but it can be as effective in open water near baitfish.
One other option anytime you're using a jigging spoon is a drop-shot rig, especially if the baitfish and bass are holding near the bottom. Bass often hold below the baitfish, so dropping a drop-shot through the baitfish and keeping it in contact with the bottom can be the right move.
Plan B
No matter when or where you fish, you'd better have a Plan B in mind. Fish are notorious for not following the rules. A couple fantastic anglers have Plan B suggestions. Don Gasaway, an outdoor writer from Illinois who has worked and fished with the best anglers in the world, suggests looking for areas that are exposed to sunlight that feature rocks and wood. The rocks and wood pick up the warmth from the sun and keep the surrounding water a little warmer than the rest of the lake. A good option for this area is a Texas- or wacky rigged YUM Dinger worked extremely slowly near the cover.
Alan Clemons, another outdoor writer who has covered bass fishing for years, told me of a trip he took with Alabama pro Jimmy Mason a few years ago at Wheeler Lake. BOOYAH had just introduced the Swim'N Jig and Mason simply wanted to show Clemons the new jig and how to work it, so they headed to an area with some remnant grass beds and wound up catching a few bass.
"I wouldn't have believed it 100 percent until we caught (them) in knee-deep water in mid-December," Clemons said. "They were hunkered in the dead vegetation enjoying the sun, I guess, and didn't like that white bug chittering by their heads."
Clemons says that this trip was during a two or three day warming trend, which is essential to locating shallow water bass in winter.