3 Best Arkansas Ozark Floats For Big Smallmouth Bass
You've heard the rumors about giant smallmouth swimming in Ozark streams, right? They're true, and you just can't fathom the size and numbers until you experience it for yourself. Here are the four top Arkansas Ozark float trips for catching trophy smallmouth bass, and how to catch them.
Regardless of whether from a kayak, canoe or flat-bottom jon boat, water level is your first concern. Check on water levels with USGS (www.usgs.gov) prior to the trip.
No. 1 – Crooked Creek
It's no big surprise Crooked Creek tops the list of streams for smallmouth bass fishing – it's Arkansas' blue-ribbon smallmouth bass fishing stream. Flowing through north-central Arkansas, Crooked Creek originates in Newton County near Harrison and empties into the famous trout fishery of the White River. Part of Crooked Creek's renown is due to limited access and rural setting.
Peak time to fish for giant smallmouth is end of April and first few weeks of May. Don't make the mistake of showing up with ultralight tackle and light line. Big smallmouth bass on Crooked Creek live in gnarly habitat and swift currents, where medium-heavy baitcasting gear is appropriate.
Topwater lures like Heddon
One Knocker Spook
in pearl shad,
Super Spook Jr
. in bone or the Rebel
Pop-R
in Tennessee shad are productive lures early, late and on cloudy days.
If smallmouth won't bite on topwater lures switch to medium-sized crankbaits. Select your crankbaits according to water depth and current, because you want it to ricochet off cover like boulders or wood and dig into the bottom like a fleeing crawfish.
Soft plastic lures probably account for most big smallmouth caught on Crooked Creek. Almost any crawfish shaped lure Texas-rigged on a 3/0 hook with 5/16-ounce worm weight will catch. One "go-to" soft plastic is a YUM
Wooly Bug
in green pumpkin.
One key area for giant smallies is near large boulders in pools along elevated bluffs. Local anglers know where these boulders sit under the surface, but novice anglers can locate them by looking into pools with high-quality polarized sunglasses. Boulders are current breaks, shade, ambush points and a source of heat in early spring or winter. They hold big fish year-round.
No. 2 – Buffalo River
The Buffalo River was designated America's first National River in 1972 and free flows for more than 150 miles. Originating near Fallsville in Newton County, it descends nearly 2,000 feet through the highest bluffs in the Ozarks, offering one of the most dramatic and scenic floats in the world. Like Crooked Creek, the Buffalo River empties into the White River.
When the water is up nearly every section of the Buffalo offers exceptional smallmouth bass fishing, but one of the most popular areas is a 25-mile section from the small town of Ponca to the Arkansas Highway 7 crossing, previously known as the community of Pruitt. Not only is the fishing incredible, but this is perhaps the most scenic stretch, featuring towering cliffs and at times class I and II rapids.
The most productive fishing occurs during spring and fall, but the Buffalo also offers excellent night fishing in the summer months. There's nothing like a float under a full moon, casting a BOOYAH
Moon Talker
spinnerbait or crawling a jig-and-craw across the bottom. For a truly memorable experience, try a classic Arbogast
Jitterbug
and catch them on top.
Like all Ozark smallmouth streams, focus on submerged boulders and riffles, but the Buffalo also offers plenty of wood cover in the form of laydown trees that succumb to the relentless current.
No. 3 – Kings River
The Kings River begins in the mountains of Madison County and twists its way northward. Floaters should concentrate downriver of the Kings River Falls Natural Area. It features deep pools, overhanging trees, a few rapids and bluffs and gravel bars perfect for shore lunches.
Proof that the river is as pretty as productive is that the General Assembly in 1971 passed legislation to protect the portion of the river flowing through Madison County, noting that it possesses unique, scenic, recreational and other characteristics in a natural, unpolluted and wild state.
The usual line-up of stream smallmouth lures work on the Kings, but locals look forward to one particular technique for fall fishing. For some reason, Autumn Kings River smallmouth cannot stand a buzzbait. They will attack with reckless abandon.
Prime time to fish buzzbaits is early and late, but in fall it's an all-day bait. Black ½-ounce BOOYAH
Buzz
buzzbaits fished around any visible cover will give you a memory to last a lifetime.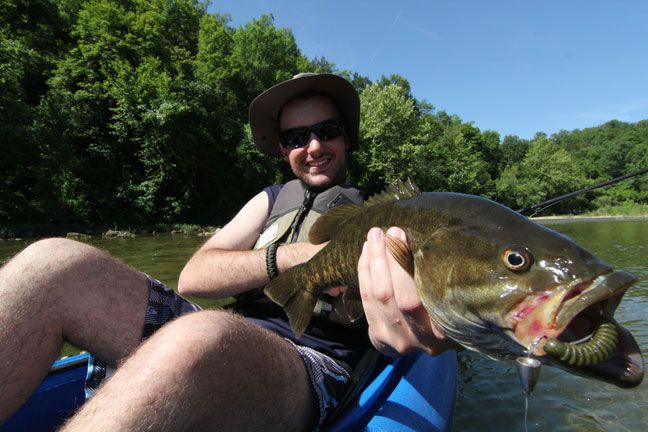 OZARK STREAM FISHING TIPS
Trout anglers are familiar with "seams," those areas where two current flows meet and create a visible "line" on the surface. Seams allow bass to stay adjacent to swift current with little effort. Locate seams by looking for foam on the surface while watching where the two currents meet. Fish seams by casting upstream into the quicker current and allow the lure to naturally move downstream. Tubes on light jigheads are great for seam fishing.
Shoals are shallow, rocky stretches that produce stronger current. During the summer, smallmouth naturally move to these areas in search of forage and higher oxygen levels. Often the start and "tail-out" will be the most productive. A soft-plastic jerkbait like the
Houdini Shad
is perfect for fishing shoals.
Blue holes are favorite areas for giant smallmouth. These are places where deep holes have been dug out by the current behind sand bars. Current swirls around the deeper blue colored water and can be fished by swimming a grub or dragging a ribbontail worm Texas-rigged.