Kyle Mabrey with two giant spotted bass
Cold Water Spotted Bass on Alabama's Black Warrior Lake
Kyle Mabrey's shock of red hair makes him stand out in a crowd. His fishing abilities set him apart from other anglers. I've fished with him on several occasions and was very excited to get to fish with him on one of his home waters, the Black Warrior River in central Alabama.
This river is known for its giant spotted bass. It's one of those areas where you can realistically expect to catch a 5-pound-plus spot.
And that's exactly what Mabrey did…on his second cast.
"There's a bunch of rocks down there," he said of the area we were fishing. "Where these little creeks and ditches run in it pushes the rocks out. This time of year the biggest spots are often at the deepest edges of the structure."
The time of year was just last week (mid February), and water temperatures were in the mid to upper 40s. We rigged up with Booyah Pigskin Jigs with Craw Papi or Money Craw trailers in shades of brown and, of course, black and blue. Slow was the nature of the beast on this cool day, pulling the jigs in slow motion instead of traditional pumps and shakes.
"It's so cool that bites are probably going to be light," he said. "The fish will just be there."
I sure understood what he was talking about later in the day when the rock I was snagged on shook its head and spit the jig. It was about the ninth time I'd missed one of the light-biting spots, which is right about my average strike-to-catch ratio!
Fortunately we had Mabrey captaining the boat. He rarely missed a fish that sniffs, and throughout the beautiful winter day caught a dozen good spotted bass with two approaching or exceeding 5 pounds.
"Color pattern doesn't seem to mean much today," he said as we took a break for lunch, and reviewing the catch determined that half came on black-and-blue and half came on the craw colors. We matched the color of the trailer to the jig instead of using contrasting colors, which a lot of pros are doing now.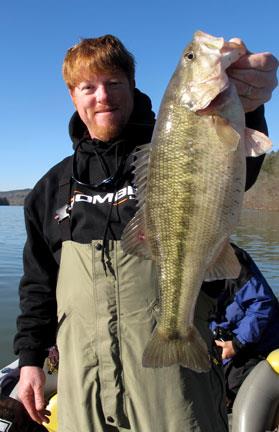 Instead of color, it was the retrieve that seemed to make the difference. Always watch the guide and emulate his or her retrieves. Mabrey's slow motion pulls with occasional twitches were the ticket.
"If you're fishing cold water," Mabrey said, "you know you're going to have to go slow. But pay attention to what works on that day. You never really know what the bass want; you can only try to figure it out and repeat what works on any given day."
It's that paying attention part that always gets me. I would be lulled into working the jig without a bite for a while, then get bit when I least expected. Short attention spans are catch-killers.
During mid winter and especially during cold snaps, spotted bass will normally position at the deeper edges of structure. In a river environment, that often means rock piles and rock slides. The former can be manmade by anglers or during the construction of dams.
Anglers can get a hint of rockslide areas by looking at the surrounding banks. Any creeks that run down hillsides often push rocks and wood cover out into the main body. Anglers may identify the area, but often are sitting on top of the productive area and casting into shallow water. During cold-water periods, it's important to back off.
"Most of our fish came out of 18- to 22-feet of water today," Mabrey said. "Normally what I do is pull up to a spot and fish it for 15 or 20 minutes, tops. If they're there you'll usually get bit quick. Then, go somewhere else and return in an hour."
On this winter day the Red Warrior beat the Black Warrior's spotted bass, although the fight lasted all day. That Mabrey can work a Pigskin Jig, and a lot of spots know it.