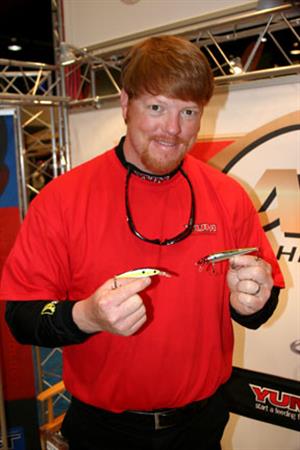 Kyle Mabrey with jerk baits
FLW Pro Kyle Mabrey Talks Fishing With Jerks
This is going to be our little secret. Professional angler and FLW Tour Pro Kyle Mabrey from McCalla, Ala., told me that this time of year, most of the time he ends up fishing with jerks. Yep, that is what he told me. Straight out jerks.
You would think that he would leave the jerks next door, in the driveway, at the gas station, at the ramp, anywhere but in his boat, but no way.
"I don't know what it is about this time of year," Mabrey said, "They just seem to come out of the woodwork. I will leave some jerks at home, then stop at a bait shop and 'bang!' I will have three or four jerks in my boat before I get to the ramp. I even tried fishing out of someone else's boat and the jerks still show up."
Early springtime seems to be the worst, reported Mabrey; they just seem to hang around, suspended, waiting.
"Hey, you do know I am talking about jerkbaits don't you?" Mabrey asked.
Jerkbaits are long, slender minnow-shaped lures designed to imitate forage. They can be made from molded plastic, balsa wood or soft plastic. Early in spring, hard jerkbaits excel in cold water. Lethargic fish find these baits irresistible. Hard jerkbaits come in four models: floating, slow sinking, suspending and sinking.
In years past, anglers would modify or add lead tape to their jerkbaits in order for them to suspend, but with advanced technology anglers now can purchase suspending models. Mabrey likes an XCalibur Xt3, XCalibur Xt3D, XCalibur Xs4, or Smithwick Rogues.
"It's hard to beat these lures, there is so many sizes and color patterns," said Mabrey. "I break it down to highland reservoirs and rivers. When I fish in early spring I look for a combination of step banks and 45-degree banks. Fish live on these step banks and move to transition banks early in the spring. On river systems, the water color dictates where the fish are. One key to finding fish is locating areas that warm up faster."
Cadence is another variable that makes the difference between catching fish or not getting a bite.
"I like to keep it simple. I like to fish the trend, "Mabrey continued, "By that I mean if the water temperature is rising I will work my bait faster, but if the water temperature is falling I will slow up and make longer pauses."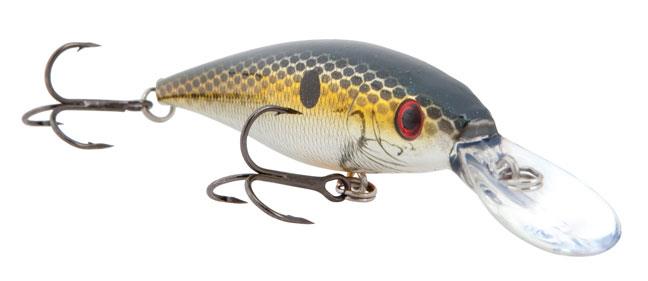 Size also matters to Mabrey. If the water temperatures are cold, Mabrey will fish with a smaller Xt3D XCalibur deep diving suspending jerkbait. As the water temperatures warm he will switch to a Xt3 XCalibur and use a quicker cadence. If the water is above 50-degrees and stable, Mabrey selects a larger Xs4 unless the water is too shallow to present it correctly.
As for water depth, Mabrey likes channel swings with some pockets associated with it. Color is another factor. Mabrey matches the primary forage of the reservoir he is fishing.
"A clown color is good almost anywhere; natural is good in clear water and Sour Grape is productive in slightly stained or on cloudy days," added Mabrey.
One hazard when fishing early in the year is hypothermia. Mabrey, who currently is practicing for the FLW Tour Tournament on Table Rock in Missouri, has taken precautions to prevent himself from being a casualty of hypothermia.
"I have packed a propane heater, extra clothes, hand warmer, lots of extra gloves, and put extra clothes in the boat just in case something would happen on the water. The key is to dress in layers to stay warm," said Mabrey.
Knowing Mabrey was going to be pre-fishing for the upcoming FLW tournament on Table Rock, I thought that I would pick his brain about the tournament.
"Hey Kyle, I have just a couple quick question about the Table Rock Tournament; How much weight will it take to win, What lure and color are you going to fish with, And who is going to win the tournament?" I asked.
Mabrey was quiet for a second and answered, "I think that it will take good bag of fish everyday of the tournament, so around 55 to 60 pounds to win. I am going to fish with mostly jerkbaits and the color will depend on the water color. And I think, I am going to win it," he said. "One thing is for sure, I will have a jerk with me."
Brad Wiegmann is an outdoor writer and fishing guide in northwest Arkansas. For more information on fishing and his guide service, go to www.bradwiegmann.com.