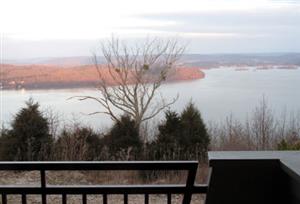 snowy view from state park
Nice view from Guntersville State Park
Guntersville Good Even When It's Bad
It was a good idea two months prior. Add a few days to the front end of the Bassmaster Classic to fish one of my favorite lakes, Alabama's Lake Guntersville. There are other lakes in the country as productive, such as Kentucky Lake, but not many.
Early spring plus Guntersville equals bass, normally positioned where they ought to be, and ready to eat what you're throwing. What I didn't consider was that Global Warming would produce a winter the likes of which we haven't seen in years. (Note to the Climate Changers – it's gonna get hot this summer. You probably want to make a movie or something.)
So, there I stood looking off my balcony at Lake Guntersville State Park at what should have been a beautiful view of the lake. Unfortunately the snow obscured the view, and I could barely make out the water a couple hundred yards away.
Whenever a fishing story starts going over things like the accommodations, the fishing lacked the excitement to carry the article to its end. If I was to ever get trapped inside a state park, however, Lake Guntersville State Park is the one I'd choose. Beautiful rooms, a great restaurant and fantastic views are all available right there.
Temperatures that Tuesday never rose above freezing. Outdoor writer Jeff Samsel and his son Nathaniel got on the water around noon and only put in a few hours of fruitless fishing freezing out. Tomorrow would be another day, and at Guntersville that's certain reason for optimism regardless the weather.
Wednesday (Feb. 17) dawned with a few flurries but the promise of a little warmer temps. I was fishing with FLW Pro Kyle Mabrey, who first pulled a nice 3-pound largemouth bass off an old duck blind sitting in less than 2 feet of water. He'd flipped a Booyah Pigskin Jig to a corner post and the bass ate it, just like it was supposed to.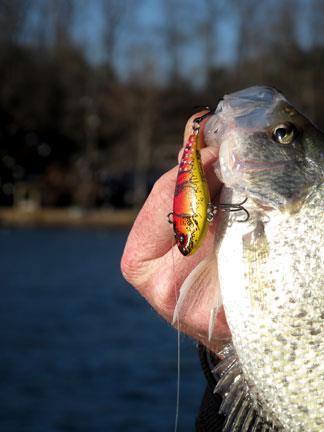 We found the warmest water we could, which was only about 40-degrees, and started throwing XR50 and XR25 Rattle Baits and XT3 Twitch Baits. My first bass came on the Twitch Bait. In the meantime, the pro, of course, had sacked a couple more chunky bass on the XR50 in Rayburn Red. Despite the cold, we found a few bass holding off clay points and worked them as slowly as possible.
My favorite color pattern in the Rattle Bait series is the new Toledo Gold and I worked an XR25 in that color for my next (and last) bass. Fortunately I also caught a nice crappie and several yellow bass on the bait, and for me, as long as something is tugging the line I'm pretty happy. I would have stayed in that warm bay and worked over the panfish, but Mabrey's a bass pro and we had work to do (hey, catching fish to take pictures of is work!) so we headed back out and caught a few more before calling it a day.
Guntersville is a beautiful lake with plenty of weedbeds and shallow flats, which translates into good spawning areas and recruitment of fry into fully-haired-over broad-shouldered bass. We had to slow down everything we were doing during those two frigid days on the lake, but the fish were still there, and even on two of the worst days, I'd still rather be on Guntersville than just about anywhere else.
(Pictured: Guntersville crappie caught on an XCalibur XR25 in Toledo Gold. For more information on Lake Guntersville State Park, go to www.guntersvillestatepark.com or call (800) 548-4553.)