By Abe Smith

Spring is a season of rebirth and endless possibility. The modern bass angler's lure choices are endless, too, in spring. But certain lures are odds-on winners with long and proven track records to stake their claims.

Here are three baits you'll want to have tied to your lines as the 2015 season buds, and three pros to make their case.

Smithwick Rogue
Vicious weather swings characterize spring, and the wise angler will arm himself just about anything. On any given day in early spring bass can be active or inactive, and located deep, shallow or suspending somewhere in between.

That's why a jerkbait like the Smithwick Rogue is, indeed, a perfect spring bait.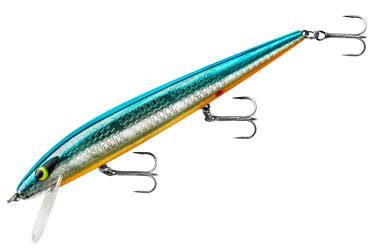 A jerkbait is a tool to entice both active and inactive fish. It darts quickly and suddenly and with erratic side movement. Yet, it hovers and quivers in between thrusts. Moreover, it simulates the movement of an injured baitfish – a temptation that is simply too much for any bass to resist.

Bassmaster Elite Series star Jason Christie challenged for the Bassmaster Classic title in 2013 while wielding multiple members of the Smithwick Rogue family on his way to a 7th place finish on Oklahoma's Grand Lake O' the Cherokees and is thrilled about the Classic returning to his home lake next year..

"The water on Grand Lake back in '13 was 44 to 47 degrees – almost prime time for the Smithwick Rogue," recalls Christie. "But you can also catch them in as warm a water as you want to fish them. They're one of the top lures for early spring, but they do work all year long.

"The rule I follow in jerbkait fishing is the dirtier the water, the closer I want to put the bait to the fish."

Clear water can expand the strike zone dramatically. A "perfect" clear water scenario for Christie is visibility of 3 to 4 feet.

"If you can see 3- to 3-1/2 feet, a bass can see 10 feet," he said.

Deep, clear waters are ideal for the Smithwick Perfect 10 Rogue, which achieves depths of 10 feet without a bulky, oversized lip. What's more, it can draw bass lying considerably deeper if conditions are right, according to Christie.

He says to experiment with pause and cadence, but he generally waits no more than three to four seconds between jerks.

"If I really know I have a school of fish there, I might pause for six or seven seconds," he says. "But I don't have the patience to wait 30 seconds like some guys claim they do."

XCalibur Xr50
If proof of a confidence bait comes in numbers, Jimmy Mason indeed has confidence in the XCalibur Xr50 Rattle Bait.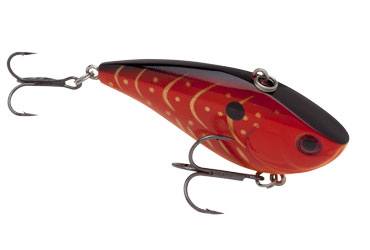 "This is my primary bait for both searching and catching come spring," says Mason, a tournament pro and well-known guide on Alabama's famed Tennessee River impoundments. "Right now and through most of spring, I have six variations of the XCalibur Xr50 on my boat deck and another rod with an Xrk One Knocker."

In early spring, Mason favors the One Knocker with a single low-resonance ball replacing the higher pitched multiple bead rattle variety. The choice is not entirely based on resonance, however. Mason believes the "nose-down" profile of the One Knocker has a distinct advantage.

"I use it mostly as a lift/drop bait in early spring," explains Mason. "I catch far fewer fish with a straight retrieve. The lift-and-drop presentation is almost like worm fishing in the grass. I lift the bait…then let it drop down. In areas with vegetation like hydrilla, milfoil, and coontail, this type of retrieve is best. You can let it drop into the grass, then pop it out. It triggers a lot of bites from lethargic fish."

Vegetation is sparse in the early season, and much of what he finds comes as a "bonus" enhancement around classic structure such as ditches, drains and channels.

"Green grass is new growth, and it is definitely good," he explains.

For Mason, the XCalibur XR Rattle Bait family performs workhorse duty up to and including the spawning period and in the post-spawn period as well. The spawn of largemouth bass on southern reservoirs like Guntersville, Wilson, Pickwick and Wheeler spreads across several months, so it is possible to find bass in pre-spawn, spawn and post-spawn stages through most of the spring.

"On our lakes, it is easy to find pre-spawn fish," says Mason. "When they are up on the beds spawning in the upper part of the reservoir, you will still find pre-spawn fish in the lower arms. The fish don't all move up to spawn at once."

Mason makes tackle adjustments to work his lipless baits more efficiently around vegetation. He switches from his standard fiberglass cranking rod and fluorocarbon line to a stiffer Lew's Custom Speed Stick 7-foot-6-inch graphite crankbait rod and uses 30-lb braid. This stiffer tackle combination enables him to pop his bait free when it collides with vegetation.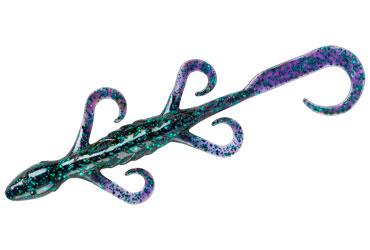 Yum Lizard
The soft plastic Yum Lizard doesn't come out of the tackle tray of Bassmaster Elite Series Pro Zell Rowland until mid spring – about the same time the salamanders that the Yum Lizard simulates emerge.

"The lizard becomes effective when water temperatures reach 57 to 60 degrees," explains Zell. "The Yum Lizard is a great bait. They made the head stronger to hold the lizard on the hook without it folding or flipping on the cast."

He generally fishes darker colors in stained water. Black neon, green pumpkin or other primary soft plastic colors lead a short list of eight to 10 preferred color combinations. But, he encourages fishermen to choose colors they have confidence in, adding this footnote reminder: fish don't see colors as well at 10- to 15-foot depths as they do in 3 to 5 feet of water.

Rowland employs a Texas-rigged lizard with a 3/16- to ¼-ounce slip sinker for most of his shallow water fishing. He rarely pegs the sinker in place unless conditions demand it.

For Carolina rigging, he varies the length of leader through the season. Spring through spawn calls for a short 1-1/2- to 2-foot leader because he believes that bass ready for spawning are holding closer to the bottom. As fish settle into summer patterns, his leader lengths increase to 3-1/2- to 5-feet.