By Captain Robert Sloan

The Heddon Swim'n Image is a little lure that has caused quite a stir among fishermen in the big state of Texas. It seems that a little publicity in a local newspaper along with the endorsement of Sabine Lake guides has driven the demand for this lure sky high.

"It's one of the very best lures you can use along the jetties," says Capt. Jerry Norris, who's run charters on Sabine Lake on the Texas/Louisiana border for more than 30 years. "The trout and reds that feed up and down the Sabine jetties, just about year round, feed heavily on shad, mullet and pogies. That's why a Swim'n Image is a natural here. It looks just like the real deal."

As an outdoor writer with the Beaumont Enterprise I've written about this lure for years. I first used it while doing stories on Will Kirkpatrick, a veteran bass fishing guide on Sam Rayburn Lake in East Texas. He showed me the effectiveness of the bait one day as we worked a grassy Sam Rayburn point for big largemouth. The trick was to race the lures along the edge of the hydrilla where largemouth bass hid to ambush shad and bream.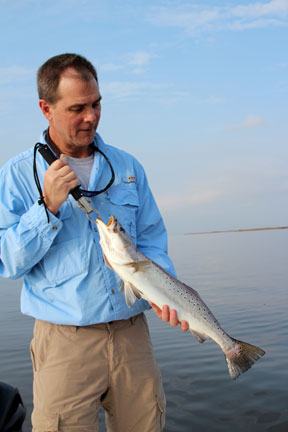 We caught so many bass that I swiped a couple of these lures from him and started using them on Sabine Lake and East Galveston Bay south of Houston. It didn't take long to find out that the Swim'n Image was a killer on redfish, speckled trout and even flounder.

Last year I got a call from a lure rep wanting to know why one particular store in Southeast Texas had ordered several thousand dollars' worth of Swim'n Images. I truthfully didn't know, so I went by to found out.

The store was Country Home & Ranch in Nederland, just outside of Beaumont, and I spoke to owner Terry Metreyeon. A few years ago he bought a few and started catching trout and reds. As the store grew they started selling boats and made room for a complete tackle section that now sells lures, rods, reels, and just about anything else that'll catch fish.

Anglers pass by this store along Highway 69 as they're heading to Sabine Lake and this natural traffic created a Swim'n Image firestorm. It began with a couple of anglers picking up the bait and trying it at Sabine, and now it's one of the most popular sellers. According to Country Home & Ranch associate Lori Jones, it's all about supply and demand.

"We don't mark them up over normal retail even though we're about the only store that has them in stock," she said. "Its great way to get more people in the store."

What's more important is that the Swim'n Image is a fish-catching machine, according to Capt. Colby Denbo. He runs Sabine Lake Lodge and guides folks to fish-catching adventures on Sabine Lake.

"It's an easy lure to fish and catches both trout and reds just about anywhere on this bay," says Denbo. "Where it works especially well is at the mouths of bayous and cuts flowing into the lake. On outgoing tides trout and reds will be feeding on shad moving with the current. This is a situation where I'll tie on a Swim'n Image in fire tiger, Tennessee shad or striped mullet. I can fish this lure in the cut 2 to 3 feet deep."

The Swim'n Image is a perfect imitation of a shad. It's a 7/16-ounce, 3-inch long lure with two No. 6 treble hooks. This shallow running crankbait was built for freshwater fishermen looking to catch largemouth and striped bass that feed heavily on small threadfin shad, but reds and trout don't know that. It has a wide wobble that swims where many other lures can't. It's highly snagless, which is why it's so effective along rocks like the Sabine jetties.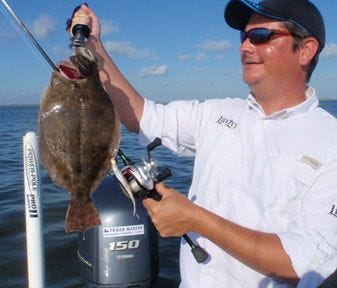 "I don't leave the dock without at least one rod rigged up with a Swim'n Image," says Norris. "I can bounce it along the rocks in 3 to 4 feet of water without getting hung up. This lure is most effective during the warm water months when trout and reds are aggressive. When fishing them at the jetties I'll rip the lure along the rocks as fast as I can reel. That's why it's such a killer on trout and reds at the jetties – these fish position down-current and eat anything that swims by, especially a fast moving shad."

The best color patterns along the Sabine jetties are gizzard shad and threadfin shad.

To get the most action out of this lure, it's always best to fish it with a locking loop knot. Tying direct will kill some of the lure's action.

Believe it or not, a Swim'n Image will also catch flounder all day long. I first found this out several years ago while fishing on East Galveston Bay. We had caught a few reds and as we eased up on a point I made a cast and could feel the lure bouncing over oysters. On about my third cast I felt a bump, set the hook and reeled in about a 4-pound flounder. When fishing points and shallow flats, it's always best to fish a Swim'n Image along bottom so it'll kick up a mud trail.