By Dr. Hal Schramm

Bass fishing is a dynamic, ever-changing process, and that is especially true in the spring as bass transition from winter to prespawn, to the spawn, and then postspawn. Throughout the prespawn/spawn/postspawn sequence, bass are aggressive and tend to be shallow.

This project chronicles the progression of the 2015 bass spawning season from south to north. A new spawning map is posted every two weeks to let you know where bass are prespawn, where they are spawning, and where they are postspawn.

The prespawn period is when the bass leave their winter haunts and head toward spawning areas; water temperature will be 50 to 60 °F in the main body of water. The spawn period is when a substantial portion of the population is building nests, courting, or guarding eggs; water temperature will be 60 to 68 °F. The postspawn period begins when many bass have finished spawning and ends when bass move to summer locations; water temperature will be 68 to 75 °F.

Each map is accompanied by fishing reports from the best bass sticks in the country. Some are accomplished professional tournament anglers, some are professional and experienced guides. All frequently fish the waters that they report on, and all know where, when, and how to make bass bite.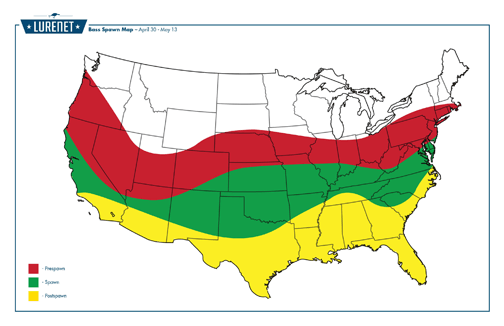 The spawn zone is rapidly pushing north, and the best bite in many southern bass-belt lakes will be targeting postspawners. This report provides how-to for spawning bass at Smith Mountain Lake in Virginia, DeGray Lake in Arkansas, and Lake Texoma in Oklahoma and Texas.
Postspawn tactics are provided for two of the hottest big bass lakes in the USA: Chickamauga in Tennessee and Guntersville in Alabama.

Something to always keep in mind about spawning bass—not all bass spawn at the same time. The peak spawn may vary by two to four weeks between upper and lower ends of a reservoir, but even in a small portion of a reservoir individual bass may be in different stages of the spawn. For example, just because there are bass on the beds in a spawning pocket does not mean other bass won't be staging on points leading to that pocket or gathering on the first break line or deeper cover after spawning.

Smith Mountain Lake, Va.: Spawn
Largemouth and smallmouth are spawning in this clear-water Roanoke River impoundment. American Bass Angler and Bassmaster tournament angler Teddy Carr shares some simple tips for putting spawners in the well. Carr spends most of his time in the Cradock Creek and State Park areas.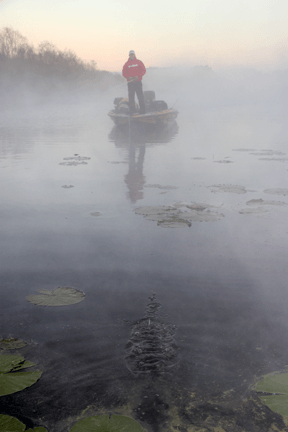 Plan A: Docks
Most docks have 4 to 5 feet of water at the backs, and any dock may be a good dock. Bass spawn at the base of a cover object like a dock pole or, better yet, a ladder extending into the water. The best big-bass docks have brushpiles under the dock or in front of it. You can usually see the brush in the clear water, but rod holders on the dock can also tip you off about nearby brush.

Now is the time, and Smith Mountain is the place, to be a one trick pony. Saturate the dock with a 5- or 6-inch Yum Dinger. Cast the perimeter of the dock and the brushpiles and skip the Dinger to every corner. The hardest-to-reach corners are the spots most likely to give up a fish.
Plan B: Between docks
Cast the Dinger to any stumps you see as you move with the trolling motor to the next dock.

Pro pointer: A Yum Dinger is an ideal skipping bait. Although many anglers prefer a larger hook on the larger Dinger, Carr has found that an EWG 3/0 heavy wire flipping hook fished on 10-lb test fluoro gives the Dinger the perfect fall rate to attract big bites.

DeGray Lake, Ark.: Spawn
The spawn is on at this scenic 13,800-acre impoundment in the Ouachita Mountain foothills. Veteran guide Chris Elder offers some simple advice for a bass-filled day. The largemouth are staging on points close to the spawning pockets and bedding in backs of small coves and pockets.

Plan A: Staging bass on points
Elder focuses on primary and secondary points outside large spawning flats. The best points are wide and shallow with sandy/gravelly banks and a creek or deep water nearby. A few stumps make it ideal. A good breeze calls for casting the point with a Suspending Rogue or Bomber Long A. Under calm conditions or if the bass shun the jerkbaits, Elder crisscrosses the point with a Carolina rig. He prefers a 3-foot leader behind a ¾-ounce weight and relies on a Yum Christie Critter to make the bass bite.

Plan B: Spawning bass
Despite the clear water, beds are rarely visible. Elder blind casts spawning pockets with 4-inch and 5-inch wacky-rigged (no weight) Yum Dingers. Watermelon Candy and Mardi Gras are good colors for DeGray's clear water, and long casts are important. Stumps, brushpiles, and rocks merit extra casts. If the water is up, skip the Dinger to the base of the bushes. Elder lets it fall on a slightly slack line. If it doesn't draw a strike on the fall, lift the bait a couple feet and let it fall again. After a couple drops, retrieve the bait and cast again.

Pro pointer: When you are confident bass are spawning, start at the back of the cove and fish your way out. Look for pockets covered with yellow pollen, indicating more protected pockets. Be patient—this is a slow way to cover water but an effective way to dupe a big bass.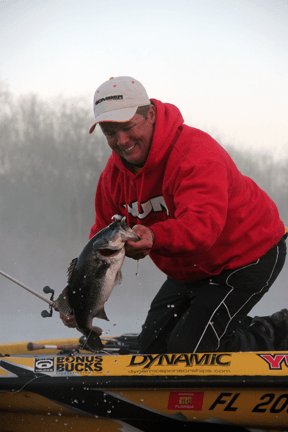 Lake Texoma, Okla./Texas: Spawn
Your guide on this sprawling border lake is Texan Alton Jones, Jr. Whether it's genes, skill or confidence gained fishing with his dad (Bassmaster Elite angler Alton, Sr.) or a cocktail of all three, this young gun can figure out bass and load the boat. Jones opted to fish the lower main lake toward the dam. The "core temperature" (Jones term for the temperature in the main lake*) is 57 to 58 degrees, and the temperature in the spawning pockets should be in low 60s -- perfect time to sight fish for oversized bedding bass.

Jones advises anglers to look for flats with a hard bottom and a ditch running. Pea gravel and sand bottoms are the real deal. Productive spawning pockets can be any size, but protected areas allow for more effective sight fishing.

Its common knowledge that bass start spawning when the water temperature is in the mid 60s, maybe a little cooler in some lakes. But few anglers give much thought to how to determine the temperature that the bass are sensing. Your boat temperature gauge reads the water temperature 1 to 1.5 feet below the surface. The surface temperature at first light is a very good indication of the lake temperature and the temperature of the water the bass are swimming in. Water temperature in a lake that is 60 degrees at dawn may warm to 70 degrees by mid-afternoon, but that is surface temperature, and bass don't spawn on the surface. By the same reasoning, if you want to find spawning pockets that warm faster than others, check them all first thing in the morning.

Plan A: Window shopping
Under calm conditions, beds and bedding bass will be readily visible. Move the boat, cover water, and don't stop until you see the bass you want. When Jones finds the bass he's looking for, he casts or pitches a green pumpkin Yum Bad Mamma and pulls it into the bed. Jones likes to start with the Bad Mamma because the compact design makes it more likely to get a hook into a bait-nipping bass. If the fish starts to heat up, he keeps on irritating it. If it doesn't get interested, Jr. puts a 5- or 6- inch Yum Dinger in the bed. He fishes it under a ¼ ounce weight so he can shake it in place.

The key to successful bed fishing is judging whether the bass is catchable. If the bass approaches and looks at the bait, it's probably catchable. If you are working a big fish and can't get it to commit, pull a big white pearl Yum Money Minnow to fire it up, then pitch the Bad Mamma or Dinger back into the bed.

Plan B: Windy or cloudy
Low light or surface disturbance kills sight fishing. When that happens Jones blind casts a weightless Dinger or holds a drop shot rigged with a YUM Kill Shot in Bold Bluegill in the strike zone. He rigs the drop shot with 8- or 10-lb fluoro and a ¼ or 3/8 ounce weight. He doesn't move the drop shot; just shakes it in place and lets the Kill Shot strut its stuff.

Pro pointer: Jones has found that a spawning pocket is either hot or not. If you can't get any response from four or five bass, try another area. If a pocket is hot, stay in the area and find more beds. Neutral or skittish bass may rev up later in the day or tomorrow, but don't burn precious time on "cold" bass.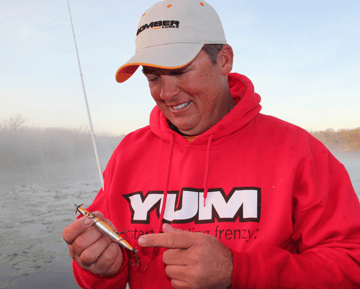 Lake Chickamauga, Tenn.: Postspawn
This 35,000 Tennessee River impoundment soared to the top of many bass anglers' bucket lists two years ago when it repeatedly took more than 40 pounds to win a tournament. The new Tennessee state record largemouth ― 15 pound, 3 ounces ― caught in February, is testimony that The Chick is a prime destination. Postspawn is Bassmaster Elite angler Jason Christie's favorite time to fish this trophy-bass factory.

Christie's pattern is simple: he looks for breaks, ledges, and points in 8 to 20 feet between main spawning flats and the river channel. Good electronics are essential. With so much structure, Christie won't make a cast until he sees big bass on his Garmin.

Plan A: Crankin'
Christie spends 75 percent of his time hard cranking a citrus shad Bomber Fat Free Shad BD7F. This deep diver fishes fast, allows Christie to cover a lot of water, and catches big bass. If the fish aren't on the crankbait, he drags a Yum Mighty Worm on a Texas rig or on stand-up jighead through the area.

Pro pointer: "The hard part is idling 'til you see them. Be patient. The fish are out there, they are aggressive, and they are just as likely to be in a bunch of 50 fish as solo" said Christie. "When you find them, pop a waypoint and get to work."

Lake Guntersville, Ala.: Postspawn
There is no bad time to fish this north Alabama Tennessee River impoundment, but postspawn is a favorite time for topwater master Zell Rowland. The pattern is simple, but the strike zone can be expansive. He intercepts big postspawn females in transition from spawning areas to their summer haunts near the river channel. The big fish are, according to Rowland, "hungry but lazy."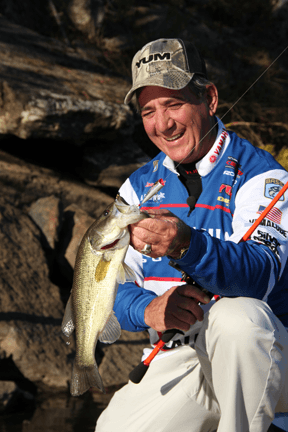 He says it's a perfect scenario for a topwater bait if you work it right. Rowland looks for areas from outside prime spawning pockets and flats to the outside (deep) edge of aquatic vegetation. Inside edges of the weeds usually produce more bites, but Rowland starts on the outside edge of the grass where he is more likely to catch bigger fish, and works toward shallower water.

Plan A: Pop On Top
A Rebel Pop-R gets the first call. If the bite is slow, Rowland turns to a noisier Smithwick Devil's Horse. He rotates through these baits, always mixing it up on retrieve speed and cadence.

"The bass will tell you what they want. I want the bass to hear the bait, see the bait, and not have to chase it," advises the veteran.

Plan B: Thump 'Em
Try a Yum Thumpn' Dinger on a 4/0 hook under a pegged 1/8-ounce sinker. The Thumpn' Dinger can be lethal with a slow, steady retrieve or buzzed on the surface like a floating worm with a lot of attitude.

Pro pointer: The amount of good spawning areas and outside cover can be overwhelming. Look for areas that have sandy-bottom spawning areas inside and an outside grassline that is deeper that most of the other grassbeds.