By Dr. Hal Schramm

Bass fishing is a dynamic, ever-changing process, and that's especially true in spring as bass transition from winter to prespawn to spawn and then postspawn. Throughout the sequence bass are aggressive and shallow, a perfect combination for a lot of bites and for the fish of a lifetime.

This project chronicles the progression of the 2015 bass spawning season from south to north. A new spawning map is posted every two weeks to let you know the stage bass are in in your area or that bucket-list body of water you've been dreaming about.

A little clarification is in order to effectively use these maps. The prespawn period is when bass leave their winter haunts and start heading towards spawning areas; water temperature will be 50 to 60 degrees in the main body. The spawn period is when a substantial portion of the population is building nests, courting or guarding eggs; water temperature will be 60 to 68 degrees. The postspawn period begins when many bass have finished spawning, and ends when bass move to summer locations; water temperature will be 68 to 75 degrees.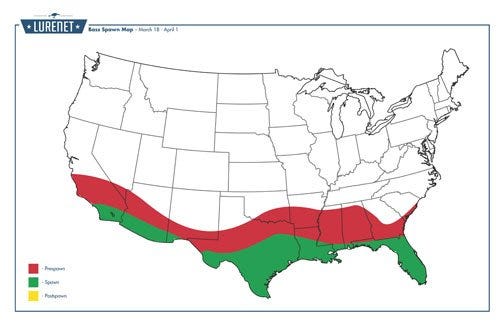 Each map is accompanied by fishing reports from the best bass sticks in the country. Some are accomplished professional tournament anglers, some are professional and experienced guides. All frequently fish the waters that they report on, and all know where, when, and how to make bass bite.

Right now it's still prespawn throughout most of the South. The polar February continued into March, but warmer weather has finally arrived. Let's hope it stays. If it does, some great prespawn action can be enjoyed in lakes the Mid South, and the spawn should be starting in the Deep South. Tips for fishing the spawn in two of Texas famed lunker factories—Fork and Sam Rayburn—may help you catch the bass of a lifetime on these lakes and others.

Table Rock Lake, Missouri: Prespawn
Oklahoman Jason Christie describes himself as "a simple country boy who enjoys being outside every minute and looks forward to hunting and fishing with his children." Christie's simple ways extend to his fishing -- simple but clearly successful.


His simple approach to this rocky Missouri reservoir is fishing the bank with crankbaits and jerkbaits. Christie looks for steep banks with a slope of 45-degrees or more, and then zeroes in on transition areas where a bluff bank changes to rock rubble or gravel, or where rock rubble changes to gravel to find prespawn bass. Then it's a simple one-two punch with crankbaits and jerkbaits.

Plan A:
Cast a crankbait tight and parallel to the bank and retrieve briskly. Banks 5- to 10-feet deep are usually most productive. Christie opts for the loud rattle and wider wobble of a Bomber 6A if the water is a little murky. In clear water, the young gun prefers a Bandit 300, which dives a little deeper and has a little more finesse action. There is no bad color, but Christie confides that a brown crawfish pattern is almost as good as a red crawfish pattern.

Plan B:
Christie targets bigger bass by fishing the same banks with a jerkbait, but he backs off the bank and retrieves the bait away from bank. Christie says that wind hitting a bank tends to push the bass off the bank, so back off to intercept them. Christie switches between a standard Suspending Rogue, a Perfect 10 and an Elite 8 Rogue, all three in shad patterns, to dial in depth. Cadence can be everything with a jerkbait, and Christie starts with a moderate-speed, jerk-jerk-pause retrieve but varies both the speed and cadence if the bass are giving him the fin.

Plan C:
Flat water will often kill the crankbait and jerkbait bite. If it's calm, Christie fishes the same banks with a brown crawdad 5/16 ounce Booyah Pro Boo Bug jig dressed with a small, green pumpkin YUM Craw Papi.

Pro Pointer: Sections of Table Rock can be dead. Move, and make it a major move, to a different part of the lake if you're not finding fish.

Lake Guntersville, Alabama: Early Prespawn
"Guntersville is a lake that produces good numbers of quality bass and also offers a shot at a bass of a lifetime," reports Tennessee River guide and tournament angler Jimmy Mason. The fish are prespawn lake-wide right now, but as the days get longer Guntersville will offer anglers the option of spawning fish uplake (upriver from Goose Pond), while prespawn patterns still prevail downriver from there.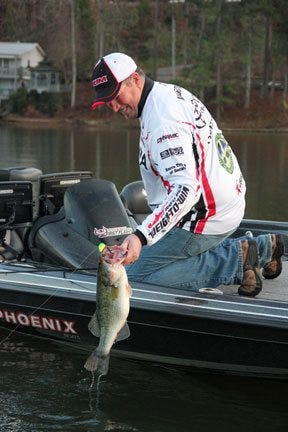 Guntersville is unique among Tennessee River impoundments in the abundance of aquatic vegetation. Hydrilla and Eurasian water milfoil are still prevalent cover, but eelgrass (a.k.a. water celery, tapegrass) is starting to take hold. This little-known factoid is important for spring anglers because eelgrass starts growing earlier than hydrilla and milfoil and attracts prespawn bass. Mason keys on it. The 2014 Bassmaster Classic was won on it.

While prespawn bass can be caught shallow in the backs of creeks, Mason concentrates on flats and humps closer to the river channel. He uses his electronics to find areas of eelgrass (the green bass-magnet only grows 6 to 18 inches tall, so you may need to zoom in on the bottom). He then carefully searches these areas for irregular features—a little point, a cut, a creek channel, or a drain. Two intersecting creek channels is a real big deal. Mason then rotates through several presentations to see what the bass want. The information Mason shared will serve you well no matter which section of the lake you fish.

Plan A:
Mason works both Bomber Deep Flat A (red craw or fire tiger colors) and Bandit (200 and 300 series, Mistake or Red Spring Craw colors) crankbaits over the top of the eelgrass. Crankbaits fish easily through the long, straight, and crisp leaves.

Plan B:
Mason winds an XCalibur XR75 over the top of the eelgrass. Preferred colors are royal red, royal shad and Toledo gold.

Plan C:
Slow roll a 5-inch Yum Money Minnow on a ½ ounce jighead and maintain frequent contact with the eelgrass.

Plan D:
Thoroughly work areas with irregularities with a Yumbrella Flash Mob Jr. Mason rigs the Flash Mob with a 5-inch Money Minnow on the center wire and 3.5-inch Money Minnows on the four outer arms.

Regardless which section of the lake he is fishing, Mason steadily moves his attack from the river towards the backs of coves as the water warms into the mid and upper 50s. He continues to key on eelgrass, and is always searching for that irregularity that could be the sweet spot. He sticks with the same presentations but begins "lightening up." He'll switch from a Deep Flat A to a Flat A, downsize from a XR75 to an XR50, and switch to a ¼ ounce jighead or weighted hook on the Money Minnow. He also adds Texas-rigged or Carolina-rigged soft plastics.

Pro pointer: Cold fronts affect prespawn bass, too. When confronted with a cold front, slow down and spend more time with a Yum Mighty Craw, Lizard, or Christie Craw (green pumpkin green, green pumpkin red, or watermelon red) on a downsized Carolina rig (1/2-ounce weight, 1-foot leader). Stay in the same general area where you were catching fish; if that doesn't work, move to the outer edge of the same cover.

Lake Sam Rayburn, Texas: Spawn
Bass spawn in shoreline grass and buck brush, and they will bed in the willows if the water is up, according to B.A.S.S. Elite veteran Zell Rowland. Anglers have a lot of options at Rayburn. Many bass bed shallow, which makes Rayburn a good sight-fishing lake. But a lot of anglers know that, and readily visible bass get a lot of pressure. Rowland shuns sight fishing in favor of fishing targets where bass are likely to spawn.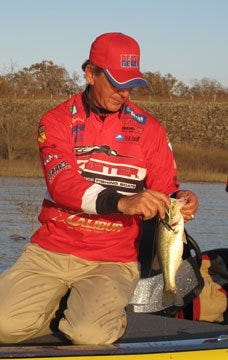 Plan A:
Casting a Booyah spinnerbait is a good way to start and quickly cover likely spawning targets. Rowland likes a chartreuse/white skirt and opts for Indiana or Colorado blades if the water is stained.

Plan B:
If the 'blade' isn't producing, the Texas pro fishes a 5-inch Money Minnow on 20-lb fluorocarbon to help keep the bait down in the water column.

Plan C:
If casting isn't producing, Rowland probes the cover by pitching a ½ ounce jig or a large (3.75-inch) Wooly Bug under a ¼ ounce weight. Go-to jig colors are black/blue and green pumpkin. The jig is dressed with a Craw Papi trailer. While Rowland stays with the ½ ounce jig, he considers sink-rate of the jig important and experiments with trailer sizes to see what the fish want — a small trailer for a faster fall, large trailer for slower fall.

Rowland is renowned for his prowess with topwater plugs, and since not all likely spawning sites are visible. he always has a rod rigged with a Zara Spook for blind casting the shallows while moving between high probability cover. Will a Spook pull a bass off a bed? "Yes, especially if it's a big one," Rowland asserted.

If you get the idea that the bow of Rowlands boat is covered with rods, you've been paying attention.

"I never tell anglers where to fish, but I'm glad to share what the fish are biting. Most bass anglers know what spawning cover looks like. So, where is simple; figuring out what works is the hard part."

Pro pointer: The longer you can keep the bait in or around the target, the better; it may take multiple presentations to trigger a bite. Listen to the bass. Keep changing presentation speed--slow, medium, fast—to find out what the bass want.

Lake Fork, Texas: Spawn
Lake Fork is a sight-fishing paradise on a warm day in mid Mar through mid April, and veteran B.A.S.S. Elite pro and Classic Champion Alton Jones is about to take you to sight-fishing school.

"Put the trolling motor on 75 percent power and run in the deepest water where you can just see the bottom under the trolling motor. Don't stop until you see a bass that excites you," he said.

How big is exciting?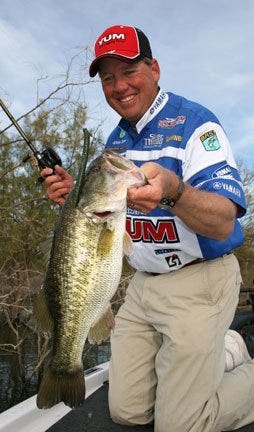 "That's up to each angler, but I'll tell you that there is a 4 pounder on almost every stump in Fork, so you can afford to be choosy."

The peppy trolling motor pace helps Jones see the bass before the boat spooks them. Look for light spots. Look for movement. Spooking a bass isn't a bad thing, but focus on where the bass came from. Where it goes in the next few moments is totally unimportant; the bed is where it will be after a few minutes, and where you will catch it.

When you see a bed, or maybe after you have marked a few, slow the trolling motor down and make a large slow circle back to where you reach the bed with a long cast. You may need to use a push pole if the water is really shallow. Let things settle down.

"No need to be in a hurry — let the bass get back to the bed and get comfortable."

Plan A:
Cast a weightless a 6 inch Yum Dinger past the bed and pull it to the bed. Let it sink and watch the line. After 15 seconds, shake the bait without moving it. Wait. Pull the Dinger 6 inches. Shake. Wait. Pull the Dinger 6 inches. Shake. Wait. Repeat until the bait is out of the bed. The bass often hits the Dinger on the first cast, but if you don't get bit, repeat the cast.

Plan B:
If still no bite, push closer until can see bed and fish. Get as close as you have to. Jones rotates through a handful of baits — a Yum Vibra King Tube, a Yum Christie Craw, a Yum Sharp Shooter, and several sizes of Dinger all Texas rigged under a ¼ ounce weight. The weight is enough to keep the bait pinned in the bed while you shake it.

Wait for the bass to leave the bed or point away from you and pitch or cast to the middle of the bed. Never cast to a bass looking at you. Let the bait sit motionless. Let the bass get comfortable. When the bass "sets up on your bait" (moves toward it, noses down), make your bait quiver, then stop. If she looks away, shake again, repeat. Change lures. Start over.

The Jones 10-minute rule: if you can't make the bass acknowledge the presence of the lure after 10 minutes, find a new fish.

Pro pointer: Every fish is different; every day is different. Regardless of what worked yesterday or on the last fish, when you find a lure that a bass responds to, stick with it until they quit responding.

And here's a message Mr. Jones insisted I share. It pertains to fishing the spawn anywhere. Big female bass often spawn in multiple bouts in multiple nests. To help ensure that your catch makes a maximum spawning contribution, handle these fish very carefully, use two wet hands to support the fish's weight if you are taking a picture, and get the fish back in the water as fast as possible.