By Darl Black

Looking across the wide, white expanse of Pennsylvania's Pymatuning Lake during late winter you will observe figures seated here and there on 5-gallon buckets or folding chairs. It's a good bet that these fishermen are dancing blades for walleye.

Rather than staring at a tip-up, walleye anglers on many northern lakes take a more active approach, lifting and lowering blade baits. Although there are a number of imitators on the market, the Heddon Sonar – the original blade bait – still dominates the ice market in many regions, including where I call home.

On Pennsylvania's Pymatuning, Ohio's Mosquito Lake and New York's Chautauqua Lake, walleye anglers claim there are only three basic seasons: springtime casting of long minnow baits, summer trolling with crawler harnesses, and Sonar Season. Sonars are employed starting in mid-fall, through winter ice and into the immediate post ice-out period.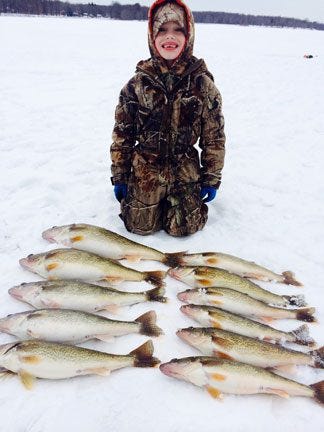 It was prerequisite for a young angler in northwestern Pennsylvania to demonstrate proficiency with a Heddon Sonar before graduating from high school – at least according to my father who insisted I do so before picking up my diploma! However, I limited my personal blade bait fishing to open water even though I was aware of blade dancing on ice.

To gain greater insight into the use of Sonars on ice, I contacted Rich Sari, a 40-year veteran of fishing blades through the ice for walleyes. Rich lives along the Allegheny River during the summer but spends his winters at a second home closer to Pymatuning and Mosquito Lakes in order to quickly reach his favorite ice fishing destinations.

"You've got to start with the right rod," stresses Rich. "Not one of those traditional ice rods with a spring bobber attached to the tip. Nor do you want one of the new high tech, lightweight, super-sensitive rods being used to detect light biting panfish. There is no mistaking the strike when a walleye decides to jump a blade.

"In order to properly worka ½-ounce blade, set the hook and successfully land a walleye, your rod must be fairly stiff but with some forgiveness in the tip, and somewhat longer than ice rods. Years ago when I first started Sonar fishing for winter walleye, I could not find a rod to suit my needs – so I constructed one of my own."

But he did not build one from a blank. Instead, Rich cut off the top portion of his favorite spinning rod and added a cork handle to the butt, creating a 4-foot rod that could handle ¼- and ½-ounce blade baits. Next he taped an old Mitchell 300 spinning reel to the handle and spooled it with 10-lb monofilament.

"It was exactly what I needed," he said. "I still use it today – with the exception I now use fluorocarbon line. When my grandson wanted to start fishing with me a couple years ago, he constructed a similar one using the tip section of a spinning rod with butt imbedded into a piece of broom handle. Don't laugh – it works!"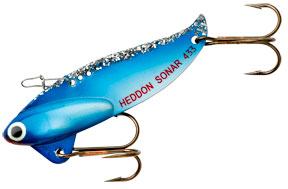 The vertical jigging technique is simple. Use a duo-lock snap on the end of the line to attach the blade. Free-spool the lure to the bottom, take up slack and reel down so the rod tip is 6 to 8 inches above the hole.

Lift the blade with a firm upward movement of the rod tip. Do not snap it or rip it since this leads to tangling the line around the tail hook of the blade. Then, slowly lower the bait back to the start position.

Rich experiments with the height and the speed of the lift until he figures out how walleyes want it on any given day. He jokes that an angler must impart the correct dance moves to the blade in order to score a limit catch.

"I have every color Sonar, and at one time or another have caught walleye with all of them. But if I were to narrow down my picks, I would say Blue Shad, Gray Shad and Red Head are my most productive colors."

According to Rich, almost every ice angler can catch walleyes on a blade during first ice. That's because so many fishermen have been fishing them in the fall, and the walleyes are in the same locations during early ice. Rich generally finds walleyes on sloping flats in 14- to 17-feet of water. The walleye bite is generally better late in the day when more fish move a little shallower to feed.

"But, walleyes are following the gizzard shad, and as the ice season progresses the shad move around," said Rich. "You've got to look a little harder. I have many waypoints in my handheld GPS unit from soft water season to check out.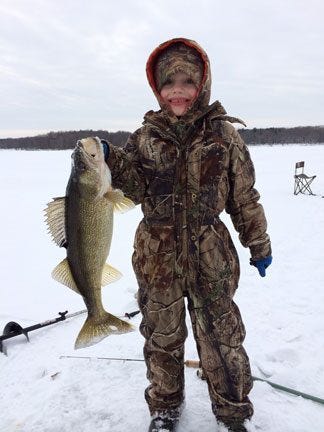 "After drilling several holes in an area, and I use my flasher to see if shad schools are present. I don't look for walleyes on the flasher – just for bait. When I see shad, I'm fairly confident walleyes are within striking distance."

If you are working a blade and begin snagging shad, that's possible indication that walleyes may be moving in on the bait, thereby causing the shad to move recklessly about.

"Of course you catch a lot of undersize 'eyes, which must be released without injury. Some days I may catch 40 sublegal walleyes before I have the six-fish creel limit of 15-inch 'eyes.

"With 40 years of experience on the lake, I've got a lot of places to check out. But sometimes you will just happen into a good spot, like two weeks ago. My cousin Chuck Sari and his grandson Reece came to fish with me. They went off in a different direction, drilling holes shallower than I normally would fish. He was on a sandbar in about 8-feet of water, although the bar fell off quickly into 20 feet. He proceeded to catch more walleyes than I did!"

According to Rich, bigger walleyes are usually caught in the latter half of ice season. However, he is quick to point out that towards the end of ice cover the bite slows way down.

"The fish are shifting into prespawn mode and constantly moving toward spawning sites. It's hard to keep up with them."