By David A. Brown

Whether you're expecting a white Christmas or something a little less frosty, there's no denying the seasonal shift from fall to winter. Fish got that memo a long time ago and pro angler Pete Ponds – an accomplished crankbait aficionado – said he fares best by playing the conditions and keeping multiple options on his deck.

"This time of year I go a lot by water temperature," the Mississippi pro said. "If you get a drop in temperature, they're going to clam up and it's going to be hard to get a bite.

"You have to have the mindset that you're not going to catch many, even though some are going to be quality fish. And if you're used to starting at daylight in the early morning, you might consider going in the afternoon because at daylight, the water temperature may be in the low 40's and with some hard sunshine it could rise several degrees by the afternoon."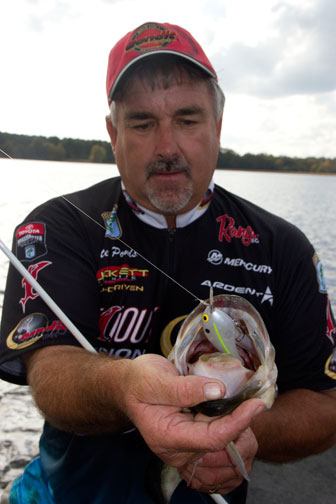 CHILLY TRIO
Ponds puts a ton of faith in his Bandit crankbaits and to make sure he has his bases covered in any scenario this season throws at him, he trusts his early winter bass efforts to a simple 3-bait plan:

1. Bait: Deep Running Flat Maxx (runs 8-12 feet)
This is Ponds' morning starter; the bait with which he breaks the ice (no pun intended). The deal here, he said, is to target the guts of creeks and look for areas that naturally gather fish.

"Most times, the fish will be huddled in the narrow parts or a sharp S bend," Ponds said. "It's no different than a stop sign or a tight turn on a road. It's a congestion point where everything stops. If you have a creek that runs straight and suddenly you have a tight turn, 90 percent of the fish are going to be right there."

Marking fish is always a good start, but Ponds said he's particularly encouraged when he spots signs of breakfast under way.

"One of the keys I'm looking for is shad with fish underneath them," he said. "If the fish are following the shad around, that tells me they're active."

Important to remember is the fact that, while bass will follow moving shad schools, they're also quick to capitalize on the ones claimed by declining water temperatures. We tend to think of crankbaits as effective only when constantly moving, however, Ponds starts his day with a markedly slower approach.

"Overnight the water temperature has dropped considerably, so I'll pull that bait down much like you would a jerkbait and let it suspend," he said. "I'll count 1-1,000, 2-1,000, all the way to 10-1,000, pull it a little bit more and let it suspend again.

"It's a very, very slow presentation and I'll weight that bait to make it suspend. You can use Suspend-Dots right behind the lead hook, or you can wrap (lead wire) around the hook shank. You want to be careful not to impede the hooks."

Ponds said this retrieve technique can be highly effective when the water gets really cold and the threadfin shad start dying. A crankbait's wobbling motion coupled with long periods of suspension mimic this dying forage. The key, Ponds said, is experimenting with bait weighting.

"You have to find what makes a bait do what you want it to do and understand that it varies with temperature," he said. "If it's cold, baits tend to sink easier and in warmer water they float easier. Also, fluorocarbon line sinks, whereas monofilament floats, so that's also a factor."

2. Bait: Shallow Flat Maxx (4-8 feet)
With a reasonable amount of sunshine, early winter days will see gradual warming that reaches beneath the surface and nudges the fish into motion. This, along with rumbling bellies, can kick start a period of opportunity.

"As the day progresses, I'm looking for surface activity," Ponds said. "The bass will get out and swim in wolf packs to chase shad as that water temperature rises.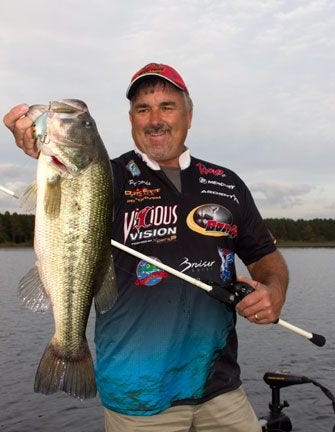 "Even when it's really cold, you may see the fish very active if there's been a warming trend for a few days. It's a lot like people: If you've been outside in the cold and you come inside, you feel the inside warmth a lot more. Same with fish, if its been in the 50s, and it warms up several degrees that will trigger them to become more active."

When this happens, Ponds employs his Shallow Flat Maxx on the shallower inside bends of creeks. Here, he looks for flipping shad and works his crankbait with a yo-yo style retrieve; somewhat like that of a lipless crankbait.

"The yo-yo technique is effective because fish are more active and I think that variation triggers the strike," he said. "It's like you're trying to swat a bee.

"I catch a lot of fish on the outside of the mouth this time of year. That makes me believe that they may not always want to eat the bait, but they don't like it bouncing around in their face."

Tip: Ponds advises anglers to maximize pockets of potential by recognizing seasonal opportunities.

"If I get so much as a strike and miss, I know that there's more than one fish there," he said. "The common mistake for this early winter period is that you catch a fish, you admire it and then move on.

"But there's usually a whole school of fish right there, so you want to take advantage of that. You might go two hours without a bite and then catch four in six casts."

3. Bait: Bandit 200 (4-8 feet)
Ponds said he'll use this bait similar to Shallow Flat Maxx, but the big difference is the 200's talent for negotiating snag-prone scenarios like laydowns, logs, etc. The key, he said is the position of the line tie on the bill.

"With that (lower) pull point, the bill hits whatever is in front of it and kicks the body up and over," he said. "This allows the bait to bounce off the structure."

A brisk pace typically works just fine, even for weaving through tree limbs and other potential snags – just not this time of year, says Ponds.

"One of the key thoughts for cranking in low water temperatures is a slow retrieve," "There are very few times when I want a steady methodical retrieve and winter is one of those times. My winter strategy is to slow down tenfold over the speed I'd use in the summer time."

Ponds has confidence aplenty in his early winter crankbait trio, but he's also a realist. This time of year, he said, requires and adjustment in mindset, based on the truth of relatively low fish metabolism.

"Don't expect a lot of bites this time of year," Ponds said. "Nine to 10 bites a day is pretty good. You may not have a lot of activity, but enjoy the solitude. While everyone is deer hunting, you can get out there and enjoy the sunshine and have most of the lake to yourself.

"Just remember you're not going to get a bite every five minutes. It's going to be a 7-8 fish day, but a lot of them are going to be quality fish."

So give yourself a good selection of baits, pay attention to overall weather patterns, as well as the day's particular changes, and adjust as needed. The fish may be cold, but they still have to eat.