By Alton Jones

Any time I show off new baits to other B.A.S.S. Elite Series pros – guys who aren't YUM pro staffers – and they immediately want to know where they can get some in a certain color, I know we've got a winner on our hands. Of course, I already knew that, but it was great to see other Elite guys at the Sabine River event get as excited as I am about these new YUM baits.

YUM worked closely with its pro staff in developing these baits, both in terms of getting design ideas and in working through prototypes until the baits were perfect and ready-to-use right out of the package. The results are just incredible. These new baits are going to catch a lot of fish for me this year. In fact, they already are.

The one I'm probably most excited about is the new flipping bait, the Bad Mamma, and it is becoming a bigger part of my arsenal all the time (see photo of a 10-1/2-pounder I caught on this bait just yesterday). The body is similar to other beaver-style bodies, but the difference is that it's thick in the middle instead of thin, which means it holds hooks better and slides through cover with fewer snags.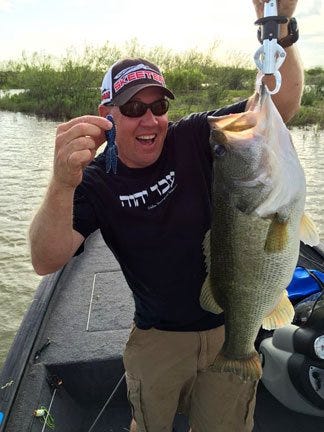 The Bad Mamma will also be my first choice when punching vegetation. The flappers on the sides aren't big enough to catch on the weeds and the long, thin tails provide undulating action on the drop. The tail comes with a little piece of plastic connecting them, but I always pull them apart to give them a little more freedom of movement.

I drop shot when it's called for, and YUM's new finesse plastics are going to get a work out. New drop-shot and finesse worms from YUM include the Sharp Shooter, Warning Shot and Kill Shot. Each of these baits are made for a specific situation. Want a minnow profile with a lot of action? The Warning Shot's thin blade tail moves all the time. For less frantic action, the Kill Shot provides that same minnow profile with a thicker tail designed for more side-to-side movement. The Sharp Shooters are true finesse worms can will also see some action on a jighead when I need to shaky head.

Of course, I'm always excited about Dingers, and the addition of a paddle tail on the Swim'N Dinger and the hard U-curl on the Thump'N Dinger just make them better. They're already in my boat! They add the ability to swim to the Dinger lineup, a new wrinkle that will definitely result in some weigh-in fish.

New Space
Those new YUM baits are at the top of my mind in part because of what I plan to do with them, but also because we just completed a major expansion of my shop area where I store all my tackle and garage my boat and truck. We expanded the building so that Little Alton will have a place for his boat and storage for his tackle. We added a bunch of shelves, cabinets and pegboard.

When you get more stuff than space, things become hard to find and that's not a good thing. Organization is critical in professional bass fishing, so this is a project we've had in mind for a while.

We just completed the actual construction this weekend, and the installation of shelving and cabinets is ongoing. So far, very little tackle actually has been put into place, but that's the next step. I did go ahead and put those new YUM plastics into bins and put them in place in the cabinets. Once everything has been put away, the tackle space will be set up more like a warehouse than a retail space so I can easily gather the things I need for to stock my boat for a tournament.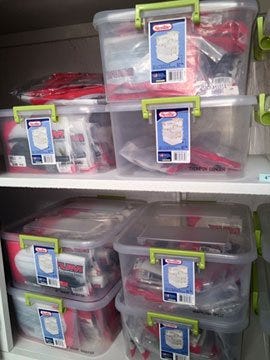 Travels
Tournament-wise, next in line is Lake Guntersville April 9-12. Practice begins April 6, but I have a couple of other things I'm excited about between now and then.

Right now I'm spending a couple of days at La Perla Ranch in South Texas. It was a donated charity trip for Legacy Outfitters, which is a wonderful ministry, and I'm taking the winners fishing for two full days.

It's so much fun fishing in a place like that where you know that any given cast can produce a 10-pound bass like the one I landed yesterday. We easily could catch a few that size. I know I'll return home with hands bleeding from handling so many giant bass.

The Final Word On The Sabine
Finally, I can't ignore the disappointment of the Sabine River season opener. Looking at the schedule before the season began, that was the single event that I felt the very best about, so to end up in 92nd place was pretty disheartening. I felt like I got hit by a bus, and that bus was moving way too fast.

Many miles separate productive areas at the Sabine, so you pretty much have to make a decision about a general area and stick with it during a day. There are three main areas – one near the launch, one about 70 miles in one direction, and one about the same distance in the other direction. I went the way I thought I needed to on day one, and then went the other way the next day after catching only two fish. Turned out the right choice was to stay close.

I have to leave that behind as I focus on Guntersville and the rest of the season. Bad finishes are part of tournament fishing, and I can't allow that to affect my perspective and the way I fish. I have to play my game.