By Dr. Hal Schramm
Bass fishing is a dynamic, ever-changing process, and that's especially true in the spring as bass transition from winter to prespawn, to the spawn, and then postspawn. Throughout the prespawn—spawn—postspawn sequence, bass are aggressive and tend to be shallow—a perfect combination for a lot of bites and for the fish of a lifetime.
This project chronicles the progression of the 2015 bass spawning season from south to north. A new spawning map is posted every two weeks to let you know where bass are prespawn, where they are spawning, and where they are postspawn to help you adjust your mindset.
A little clarification is in order to effectively use these maps. The prespawn period is when the bass leave their winter haunts and start heading toward spawning areas; water temperature will be 50 to 60 degrees in the main body of water. The spawn period is when a substantial portion of the population is building nests, courting or guarding eggs; water temperature will be 60 to 68 degrees. The postspawn period begins when many bass have finished spawning and ends when bass move to summer locations; water temper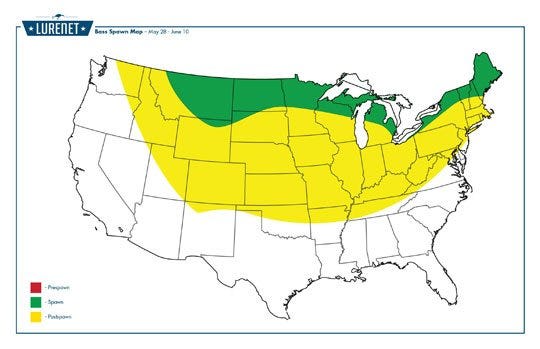 ature will be 68 to 75 degrees.
Each map is accompanied by fishing reports from the best bass sticks in the country. All frequently fish the waters that they report on, and all know where, when and how to make bass bite.
We have tracked the spawn from Florida and far-south Texas in March through the south and up the east coast to the northern waters of America. This last report provides how-to for spawning smallmouth bass on Mille Lacs Lake, Minn., eastern Lake Erie, N.Y., and the Penobscot River in Maine. Postspawn tactics are provided for largemouth bass in Lake Seminole (Fla./Ga.).
Mille Lacs Lake, Minn.: Spawn
Long famed for its walleye, this 200-square-mile central Minnesota lake two hours north of the Twin Cities is also renown for its outsized smallmouth bass. Veteran Gopher State angler John House grew up on this popular destination. Bass season opened Memorial Day, so the smallies are ready to munch.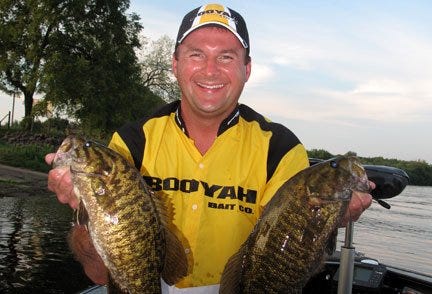 House advises anglers to search the bulrush beds where hard bottom attracts spawning smallmouth. Fish can be caught on inside and outside edges of the bulrushes and in lanes through the rushes. Bigger bass tend to use the outside edges, and areas of mussel shells are prime targets. Depending on water clarity and depth, you may or may not see beds.
Plan A:
House casts a 3 inch white YUM Walleye Grub on 3/16- or ¼-ounce plain jigs or a BOOYAH Baby Boo Jig. The skirted jig is better for a slow retrieve, but House uses a plain jighead for a faster retrieve or when pitching to a bed or a likely target. Most fishing is blind casting to likely spots, but when House spies a bed he casts past it and swims the jig over the bed. If that doesn't draw a strike, he swims the jig to the bed and lets it drop in, then pops it with a twitch of the rod tip.
Plan B:
Try tossing a green pumpkin, watermelon or watermelon candy YUM Sharp Shooter or 4-inch YUM Dinger on a plain jighead into pockets in bulrushes. Work the bait by slowly lifting it 4 to 6 inches.
Plan C:
Check rocky reefs. These are summertime hangouts for big smallies, but fish also spawn in areas of sand with boulders.
"Look for holes in reef, like a little lake in the rockpile," House said.
House fishes these areas with a ¼-ounce round-head jig inserted into a pepper shad YUM Tube or a green pumpkin YUM Vibra King Tube. This versatile bait is used as a search bait with a long cast and a rapid retrieve, but House also mixes it up by fishing it with a slow retrieve or as a drop bait until the fish tell him what they want. While the "lakes" in the reefs tend to be most productive, sandy areas with scattered boulders on the outside edge may also hold fish.
Pro pointer:
Read the reef. The rock reefs on Mille Lacs are conspicuous areas with large rocks and boulders, but each reef has its own structure—depressions, high spots, areas of different size rocks. Note the structure where you get bites, then focus on areas with similar structure.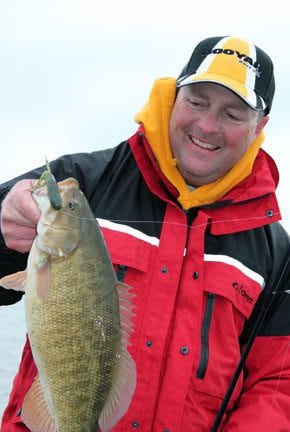 Lake Erie, N.Y.: Spawn
"The water temperature is touching 60 and smallmouth are on the beds," reported veteran guide Captain Frank Campbell. "Smallmouth in eastern Lake Erie bed from 2-feet-deep out to 30 feet. The shallow fish are easy to spot but spooky, and not very willing to participate in the fishing game."
Campbell prefers the 20-foot zone and the last deep water before the spawning flats where bigger females will stage before moving shallower. Unless the lake has suffered from strong onshore winds, the extremely clear water makes it easy to spot beds 15- to 20-feet deep.
"Of course, if you can see the fish, the fish can see you," cautions Campbell.
Plan A:
Campbell looks for clusters of beds and drifts a 4-inch YUM Tube (melon candy). Fish the tube on the bottom on 6- or 8-lb fluorocarbon line.
Plan B:
Drop shot beds with a wacky-rigged 3-inch Dinger in watermelon colors. Campbell uses 6-lb fluoro and ties the dropshot hook about 12 inches above a 3/8-ounce weight. Campbell will also blind cast the drop shot in deeper water.
Pro pointer:
For bed fish, especially under sunny conditions, don't let your boat's shadow move over a fish. If you do, it's gone.
Penobscot River, Maine: Spawn
Right now is the time to catch a 6-pound smallmouth in this northeastern river. Guide Doug Teel focuses most of his Penobscot fishing from Enfield Dam down to Passadunkeag. For spawning smallies, he fishes the downstream ends of islands in this moderately to swiftly flowing river. Rockpiles are key structure.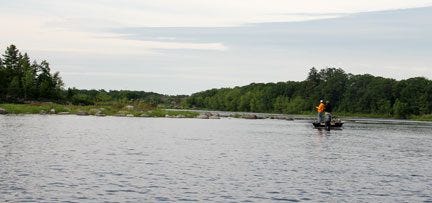 Plan A:
Teel casts weightless smoke pearl laminate 6-inch Yum Dingers and 4-inch white Yum Tubes on 3/16-ounce tube jigheads. Sight fishing is exciting and productive, but blind casts to drop-offs, usually about 6- to 8-feet deep, offer a better shot at bigger fish.
Plan B:
When Teel sees caddisflies or hellgrammites crawling or drifting by, it's time to grab a Heddon Tiny Torpedo in the only pattern he uses -- Bullfrog. Presentation is key: Cast upstream parallel with shore and allow the lure to drift with the current, occasionally giving two slight snaps. Teel fishes the Torpedo on a medium-light spinning rod and 10- or 12-lb Silver Thread.
Pro pointer:
Using light-color Dingers and tubes helps keep track of the bait and quickly detect bites. This not only helps you hook up on more bites, but also minimizes the instances of deep hooking the fish. Big brown bass in the Penobscot River are old fish and deserve the best of care.
Lake Seminole, Fla./Ga.: Postspawn
Anglers may find a few late-spawning bass on the beds, but it's post-spawn time on this Chattahoochee River impoundment. B.A.S.S. Elite pro Terry Scroggins stays shallow and relies on four options.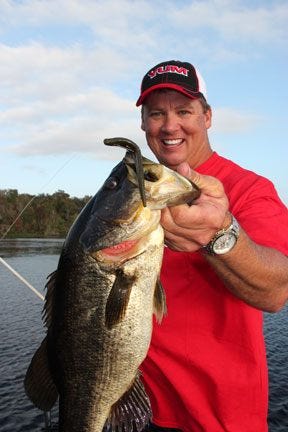 Plan A:
Take advantage of the early morning shad spawn bite. Scroggins checks likely shad spawning areas—rip rap banks, hydrilla beds, bridge piers, marinas, docks—for signs of shad spawning. Look for shad dimpling the surface or, better yet, bass crushing shad. Scroggins covers water as fast as he can with a BOOYAH Double Willow Spinnerbait. This bite is the best pattern for big bass, but it is short lived; it may only last until mid morning under a dark sky.
Plan B:
When the shad spawn bite dies, Scroggins finesses laydowns, docks, piers, and wood in 3 to 5 feet of water with a 4-inch YUM Swim'N Dinger or a 4.5-inch YUM Sharp Shooter. He pinches a #8 split shot on the line tight to the nose of the worm and works the offering on a spinning rod. He lets the worm hit bottom, waits a few seconds, then cranks it in and casts to the next target. This is a great rig for skipping docks and fishing targets between docks.
Plan C:
Male bass work hard to bring their offspring into the watery world and viciously defend the fry against any threats until they get to about 1-1/2-inches long. Scroggins focuses on the outside edge of hydrilla beds, docks, and hard structure like rocks and wood in depths from dirt to 10 feet. He catches them with a Rebel Pop-R or a BOOYAH Buzz buzzbait. This pattern works all day.
Plan D:
Concentrating on points, especially those that get a little current, and isolated lily pad clumps, Scroggins switches between a BOOYAH Pad Crasher and a weightless Texas-rigged YUM Dinger.
"Take every bite seriously," warns the pro, "because the pads hold fry-guarding males and big postspawn females. "
Pro pointer:
Fish aggressively and cover as much water as possible, especially during first couple hours of daylight.