Roll up for the magical mystical lure. It's waiting to take bass away.
Waiting to take bass away, take bass today.

Over the years, topwater lures have spellbound anglers with almost mystical powers. Captivated by a topwater strike, an angler can never get enough. Luckily, gamefish are also enchanted by the magical, walk-the-dog hypnotic rhythm.

Call it magic, but slender, cigar shaped topwater lures rely on the angler's sleight of hand movement to produce the enchanting walk-the-dog action. This memorizing side-to-side movement puts bass in a trance from long distances.

Heddon Lures introduced the precursor to the Zara Spook, the Zaragossa, and followed up the next year with the famous Zara Spook line in 1939. That bait, which celebrates its 75th birthday this year, remains one of the most-effective bass lures you can buy.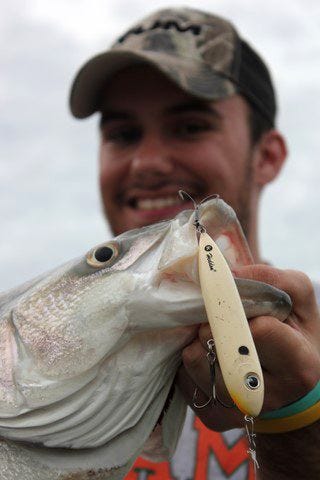 Enchanting as topwater lures are, an angler still has to have the right conditions for them to catch fish. Normally, early morning and late evening are best, followed by heavy overcast days and when fish are schooling and attacking bait on the surface.

Water temperature also is important. Generally, topwaters are best when the temperature is higher than 60 degrees. There are exceptions, like the stripers on Beaver Lake in Arkansas that will blow up a topwater lure in late fall when water temperatures are in the lower 50s.

There may be no other tactic more productive in fall that walking the dog with a Spook. Fish are preparing for winter and feeding up on schools of baitfish. The topwater action can last all day on some ponds, rivers or reservoirs.

If you can find schooling fish busting the top, your lure selection is a no-brainer. Other places where walk-the-dog style topwater lures catch bass are around sea walls, bulkheads or wave breaks. On Grand Lake in Oklahoma, wave breaks are constructed out of used tires, while on Table Rock Lake in Missouri they are made of encapsulated floats. It really doesn't matter what is used because bass will suspend under them and ambush a topwater lure as it walks by.

Main lake points and secondary points inside feeder creeks are also productive areas to fish topwater lures. Bass will be staging on these points while migrating toward the back of coves and feeder creeks.

By late fall baitfish have grown to maximum size, making lure-size selection no mystery. Fish with any of the Heddon Spook family from the 3 1/2-inch Super Spook Jr. to the 5-inch Super Spook and you've got it covered.

However, not all walk-the-dog topwater lures are all the same. Some are designed to have the original sashaying movement of the Zaragossa while others also spit, chug, rattle and knock when being retrieved.

Heddon's new Chug'n Spook Jr. and Chug'n Spook with its cupped mouth spits and chugs as it walks. The added water disturbance attracts aggressive fish from long distances.

"The Chug'n Spook really catches big stripers and bass during the fall when shad move up on flats to feed in the morning and evening. It's amazing how vicious they will hit in shallow water," said Beaver Lake fishing guide Brad Wiegmann.

When not fishing the flats with Chug'n Spooks, Wiegmann is fishing points or schooling bass with Heddon's One Knocker Spook.

"It's big enough to be a meal for a striper or big bass. I have even had big white bass crush it when casting into schooling fish. Every kind of bass on Beaver Lake will bite it from smallmouth, largemouth, spotted, stripers, hybrids and white bass. The thumping sound is magical," said Wiegmann.

Lure color should be selected according to water clarity and amount of sunlight. Shad, bream, frog, minnows and other baitfish patterns are popular, however, a black shore minnow pattern is good on rainy days and darker conditions. The color pattern that's cast a spell on Wiegmann is bone.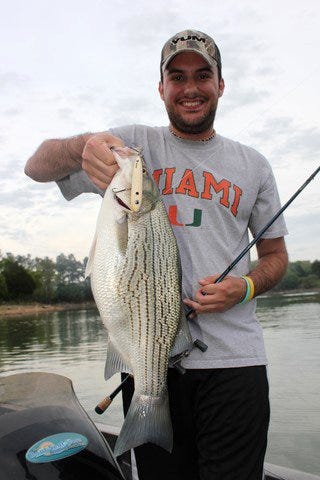 "I think the white belly of the bone colored Spooks match everything bass like to eat, although when the water clarity is super clear I will change to more transparent colors line pearl shad, pearl or ghost," he said.

Fishing line selection is also critical.

"During the warmer months, I use 30-lb braided line, then switch to 17-lb Silver Thread Excalibur copolymer once November rolls around. I do that because braid will freeze up in my reel or rod guides once it gets colder."

Spellbinding as walk-the-dog maybe, the real magical moment happens when an angler sets the hook. The key is to wait until you feel pressure from the lure being pulled away.

"Don't set the hook just because your topwater disappears under the surface. Giant stripers and big bass often swipe their tail at a topwater trying to injure or disorient it, then do a complete turn around and crush it. I always tell my clients to keep doing the walking-the-dog retrieve no matter what, even if the lure disappears. You would be surprised at how many hook-ups come after two or even three strikes when you keep the lure walking," said Wiegmann.