By Lawrence Taylor

It was past 9 a.m. when we settled in for the short ride to the creek arm of this river-connected oxbow, and the air temperature held steady at 35 degrees. Water temperature was 40 to 42. Jason Christie, No. 1 bass tournament angler in the world, wanted to throw a jerkbait and knew where to do it.

His target area this winter morning features a deep channel (9- to 14-feet) with lots of wood cover along the edges of the drop. During winter, bass normally hold somewhere near the drop into the channel, Christie said, but you've got to determine their preferred position and depth each day.

"They might be up on the shelf, holding near the old dead trees or out in the channel a little," Christie said. "Last week they were up on the shelf and I caught two 30-pound limits. It was one of those days when every big fish in the lake wants to bite – a day when they knock 3-feet of slack in the line when they hit your Rogue."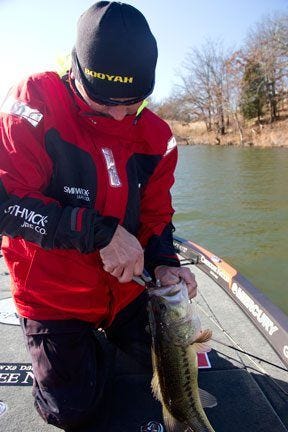 The day he referenced was Dec. 27, 2014, one of Pooh's cold, blustery days with a cloud ceiling so low you could touch it from the front deck and intermittent sleet and freezing rain. Water was relatively clear with minimal current.

"It was an absolutely perfect Rogue day. It seems the worse the weather the better that jerkbait works. I don't know about today though," he said, glancing up at the bluebird sky. "The water has a bit more color and the current is kicking through here. The water color I can deal with, but the current is making it tougher to work the jerkbait, and may have those bass holding right on the bottom against the wood."

Current is a factor many jerkbait anglers overlook. Because a proper twitch of the bait requires a certain amount of slack out, current can catch the line and make working the bait and keeping "in touch" with it difficult. More importantly, strong current will position the fish in areas where the jerkbait is ineffective – either super deep or hugged right up against the down-current side of breaks like stumps or rockpiles.

For 45 minutes Christie worked the same areas as he had a week prior and the results couldn't have been more opposite. The bass were still there, he said, but they weren't showing themselves.

"Pick up that jig rod and work the base of the wood right on the drop," Christie told me. "See if they're holding tight down there. With this current, they may be right on the lip, and they're not coming out to hit this Rogue."

A short while later his hunch was proven correct when the jig crawled over a bit of wood and I felt the sluggish slow-tug of a lethargic bass on the line. That 4-pounder came to the boat and solidified the Plan B Christie was formulating.

"This area you're almost target-casting with a jerkbait, working the drop-off like usual but focusing on every bit of wood you see like you were throwing a crankbait," Christie said, pulling up the trolling motor and hopping into the cockpit. "We're going to jump to another lake and fish some water that's more like what folks think of as 'jerkbait water.'"

The Plan B was a small water supply lake like thousands of others across the country. Deep water near the riprap dam that blocks a well-defined channel, a long tail with old wood cover, a few spawning flats and a lot of open, seemingly featureless areas. We headed directly to the first small point near the riprap dam.

"The channel swings in close to the bank here," Christie said. "There's a lot of deep water and a bunch of baitfish, and the water is a bit clearer than it was at the last place. It looks good – at least we won't have any current here."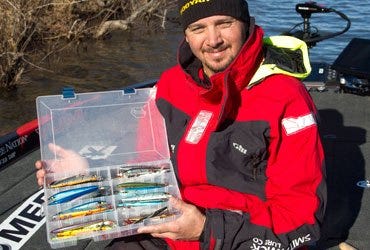 Christie proved his point on his second cast when he set the hook on the day's first 5-pound bass. The bass hit a Suspending Rattlin' Rogue in chrome/blue back/orange belly.

"This stretch of productive water isn't that long," he said. "We've got this area as it runs up to the point, the point, then about 40 yards to the corner of the riprap. You want to maximize your catch from a small stretch like this, and I do it by giving them different looks the third, fourth, fifth times I fish through it."

His Suspending Rogue is a big-profile bait, a characteristic he loves because it matches the bigger baitfish common in winter and it seems to attract bigger bass. It's normally the jerkbait he starts the day with because it dives to only 6 feet and picks off the eager biters on the shallow, shelf-side of a drop-off or those willing to chase a bait a bit. He works a stretch of bank several times with that bait and doesn't change unless (or until) he comes up empty.

Depending on the situation and depth of the water, quite often his first change is to a Perfect 10 Rogue, which is an inch longer and has the ability to dive deeper, faster than the Suspending Rogue. If the channel edge he's fishing is in 7- to 12-feet of water, he's confident the Perfect 10 will produce fish.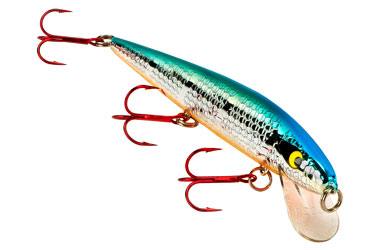 His final trick is to go to the Elite 8 for his final passes on any given stretch. This bait is an inch shorter and dives to 8 feet.

"The Elite 8 is a great bait I use for cleanup duty," he said. "It rarely fails that I can work a stretch with the other baits for a while, then sweep back through with the smaller bait and pick up another one or two."

Christie went through this progression in about two hours of fishing and caught fish on all three Rogue styles, the biggest going more than 6-pounds on a Perfect 10. As we idled back to the ramp I asked him the keys to the day's success.

"When it's cold like this, I will give the bait a little bit longer pause – but not much," he said. "Strikes on a Rogue come two ways. Either they strike just as you're starting a twitch or they hit it while it's sitting still, which is what they were doing today. You need to watch your line for a little tic during the pause – they don't always knock slack into it. But when they do, you know you're in for a good day."