By Terry Scroggins

Last year, YUM asked me and a few other professional bass fishermen to design a new set of dropshot baits. It was a blast, and I've used these baits quite a bit during the season, and look forward to giving them a serious workout in the two final events of the 2015 Bassmaster Elite Series.

This dropshot bait lineup includes:

Sharp Shooter – A soft straight tail worm with a thin, bladelike tail that adds swimming action. The Sharp Shooter comes in 4.5- and 6-inch models.
Warning Shot – This 3.75-inch bait has a flat bottom and a long, thin blade-like tail that moves with very little bit of current or rod movement.

Kill Shot – A 3.75-inch worm with a flat bottom, ridged body and a flat, horizontal tail with an upright, vertical ridge that catches water to add a side-to-side swimming a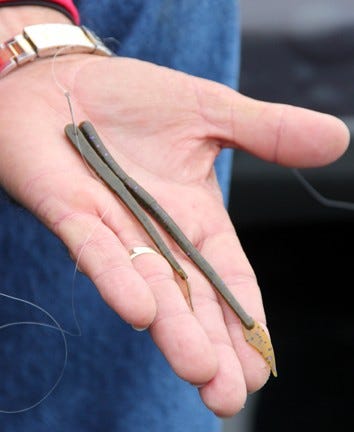 ction.

(PHOTO AT LEFT: YUM Sharp Shooters)

I can't wait for the end of July when we fish the St. Lawrence River and again when we wrap up the regular season at Lake St. Clair. The St. Lawrence and Lake St. Clair are two very different fisheries, but both will present scenarios that are ideal for dropshots.
I'm very comfortable with the dropshot. For the past 7 or 8 years on the Elite series, I've used it all across the county. I think this rig is the No. 1 way to generate bites.

And when we go up to the northern region, everybody will be dropshotting 90 percent of the time. I think I have an advantage with these new YUM baits. I'm sticking a few bags back because I know the other anglers will be bugging me about what I'm using.

It's funny – my roots are in Florida bass fishing, which means I cut my teeth fishing big jigs and heavy Texas-rigged baits, but as I work through my 15th year on tour, I actually fish outside of the Sunshine State more than in it. I spend a lot of time up North and feel very comfortable with a spinning rod in my hands.

MY STRATEGY
The dropshot allows you to fish a particular strike zone, whether it's a ledge or a rockpile or a hard place on the bottom. The technique allows you to keep that bait in one spot for a long time and methodically work the area.
When I'm picking bait colors I look first at the water clarity. In clear water, you can't go wrong with green pumpkin and watermelon, but I also like bold bluegill (bright green and brown) and ox blood/red flake. Morning Dawn also is a good clear-water color.

I go with darker colors as the water gets more stain. The darker the bait, the better silhouette it presents.

When we fish the St. Lawrence, I'll look for ledges and hard bottoms – rocks, shells or anything hard on a contour change. That river is full of good areas and really good smallmouth bass.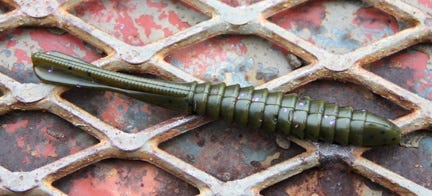 (PHOTO AT LEFT: YUM Kill Shot)

At the St. Claire tournament, a lot of guys will run to Lake Erie and target hard bottoms and contour changes. St. Claire itself features a lot of grass, so I'll likely be dropshotting prime areas within the vegetation.

MY TACKLE
I fish my dropshots on a 6-foot-10-inch medium-heavy Duckett rod with a Lew's Speed Spin reel. I spool my reel with 10-lb braid and with a 6-lb fluorocarbon leader.

This set up gives me good sensitivity even with a long cast. When I feel a fish I simply start cranking hard and that sets the hook.

The benefit of this line/leader set up is that fluorocarbon sinks, while braid floats. You want to get that line separation away from your bait, so if you're fishing deep in 20 to 35 feet you want a longer leader, but if you're fishing shallow you can get by with a short leader.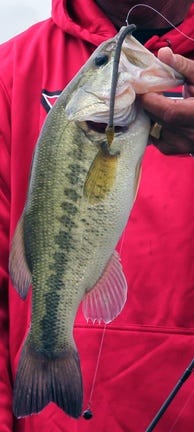 Dropshotting isn't just a deep-water tactic. I finished in third place at Clarks Hill five or six years ago by fishing a dropshot in less than 2-feet of water. We were fishing red clay points for fish schooling on spawning blueback herring, but the fishing pressure killed the action. After that the only way to catch them was on a dropshot. I was basically throwing it in the dirt and reeling it out a few feet.

MY TECHNIQUE
I tie my dropshots with 10- to 15-inch leaders, depending on how much bottom structure I'm fishing over, and I use a 5/16- to 3/8-ounce weight, based on the depth and the amount of current.

I like a No. 2 dropshot hook if the fish are finicky in gin clear water, but if the fish are biting aggressively or I'm catching bigger fish I go with a 1/0 hook. I like to nose-hook the bait because I believe this gives it more action while improving hooksets.

While you do occasionally get on a shallow dropshot bite, most of what I'm looking at in the near future is a deeper water bite. When you're fishing deep, sometimes you don't even feel the bite – it just gets heavy.

With that braided line and open hook, I just reel down to the fish and then keep pressure on him all the way to the boat. It takes practice to develop the feel for this technique, but with YUM's new dropshot baits, I plan on getting lots of practice.