By R.P. Lincoln

It's all about to break loose. Really, it is.

April may well be the cruelest month for anglers on the Niagara River and Lake Erie in western New York. Water temperatures are starting to increase a little bit. Steelhead are starting to spawn. Smelt are moving into the river. Ice on Erie is melting, finally, and smallmouth will start to get frisky. But until then, fishing gets a little sketchy.

What can be a solid, smile-inducing bite one day can turn frustrating the next. But just 30 or so days can make a huge difference in Erie and the Niagara, which feeds Lake Ontario after a raging run from the falls to the mouth of the lake. April is a transition month, the time when fishing's fits and starts turn into the more consistent bites of May.

Thing is, what melts on Erie flows over the falls and down through the Niagara Gorge, past the Devil's Hole and on downstream toward Ontario. This year, as of late February, Erie still was completely frozen. As in ice over the entire lake, all 241 miles of it (it's 57 miles wide, too), from Ann Arbor, Mich., and Toledo, Ohio, to Niagara Falls.

That's the first time since 1996 and only the fourth time in 40 years the entire lake has frozen over. Air temperatures have been colder than average this winter, too, in the Buffalo area.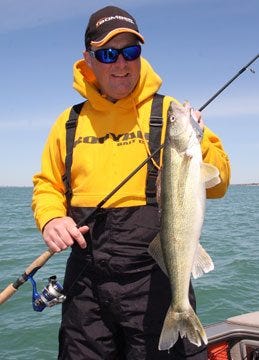 "Things are progressing a little slower than what we're wanting," said veteran Niagara guide Frank Campbell of Niagara Charters. "Temperatures in the river (below the falls) are still in the low 30s and Erie's ice is still melting bit by bit. Early in the month we were getting some (air) temperatures in the 70s and that helps melt the ice, turn it to slush and flush it downriver."

Water temperatures in the river below the falls typically are in the low 30s until about mid-April or so. Every little degree helps, of course, with the cold-water brown trout, lake trout, steelhead, smallmouth and smelt that move into the river from Ontario to spawn. With the smelt, their spawning along the shoreline is the dinner bell for everything else.

Steelhead are spawning in April and that's the hot target for trolling in the river. Campbell said the best lure option is "bouncing the bottom with some kind of banana-shaped lure or crankbait, something like a Lindy River Rocker or a Lazy Ike on a 3-way swivel." Campbell prefers anything with chartreuse or orange.

"Those colors don't really match anything that a steelhead would eat," Campbell said. "They're more of a 'make 'em mad' color. They're bright, visible in the water and the fish don't like them, so they strike."

Water flowing through the lower river is clear enough that an orange or chartreuse lure stands out to an aggressive steelhead, brown trout or lake trout. That tactic continues to be effective until the end of May, too

"The ice on Erie is quite a phenomenon," Campbell said. "For it to cover a lake that size is remarkable, but the western basin already is open and they're catching walleye right now. The water temperatures have jumped up to about 40 degrees there already. Lake Ontario's water also is warmer than the river right now and they're catching Kings (salmon) in some areas.

"The river will continue to turn on in April, though, and that's going to be an improving, consistent bite was the water temperature continues to rise. Because the ice is flushing down from Erie, though, it'll take a little more time.

"Another hot April tactic is working shallow to mid-depths with a Bomber Long A or Smithwick Rattlin' Rogue. You can either troll with those or cast the shorelines because the smelt are moving in and toward the shores to spawn. With these baits I stick with more natural colors in the clear, shallow water -- the silver/black or gold/black colors that resemble smelt a little more."

That, however, changes if you're around dirty or muddy water. Campbell said rain can add some color to the water and that's when you should switch to brighter colors like the orange or chartreuse. If the shoreline is still stained but not muddy, test both to see which the fish want. Opt for the brighter ones when fishing a mudline where predators set up to pick off forage washing downstream.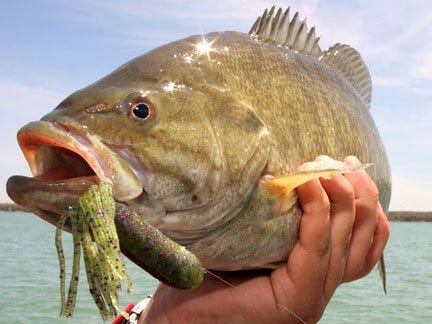 Lake Erie's smallmouth will begin waking up in April, too. Shorelines, harbors and protected areas usually see open water first. With several days of bright sun and warm temps, ice in the main lake will turn to slush and disappear pretty quickly. Once that happens the water temperatures will increase pretty rapidly in the clear lake, which puts the forage and smallmouth on the move.

"Smallmouth are out deeper and once the ice is gone, dragging a green pumpkin Yum Tube on a jighead in deeper water is a good way to catch some big fish," Campbell said. "But Erie warms up quicker than Ontario and smallmouth will get the itch to move shallower pretty quickly. It pays to check deep and shallow and watch the water temperatures. By the end of April and into May it can happen fast.

"When it rains, too, you'll have mud lines and pockets of dirty or muddy water coming out of tributaries. These will warm up faster, too, and that can be a good place to target. Dragging tubes is probably the first thing we'll be doing but also checking with jerkbaits in 15- to 20-feet of water to see if anything has moved up."

April can be fickle and cruel. One day may be great and the next one a head-scratcher. But it's the month when everything's on the verge of busting loose.

"It's a good time and only gets better," Campbell said. "Bass, walleye, muskie, steelhead, trout … they all start moving around, getting active."