When Capt. Chris Holleman and I approached the corner of an industrial seawall, we found wind-driven waves pushing over submerged debris and a sharp depth break created an ideal feeding scenario. Holleman's choice of a Heddon SWIM'N Image and Cotton Cordell Redfin resulted in several hefty trout and bluefish.

Later that afternoon, light was dimming, skies were clouding and windy conditions were pushing waves across the flat skirting a small wooded island. We had discussed the logic of darker baits just a few minutes earlier and, though we both agreed that my black Bomber Saltwater Grade Long Shot would likely make a killer nighttime offering, Holleman decided to give it a shot.

Another good call. Within three casts, he nabbed a nice trout that seemed to favor that darker profile in the dim conditions.

As Holleman notes, lipped baits may be one of the most overlooked, yet consistently productive options for inshore fishing. Reason: they're spot-on baitfish imitators.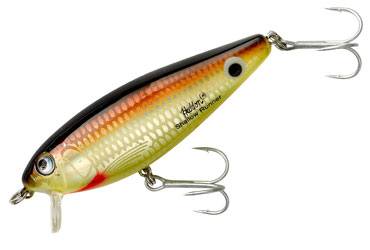 "The Redfin is the best finger mullet imitator on the market," Holleman said. "It resembles a finger mullet's size, color and action and swims the same area in the water column as the natural bait.

"I feel the SWIM'N Image is the best menhaden imitator out there for the same reason. Both baits swim near the surface where trout and redfish and brackish water black bass typically feed on this prey."

Specializing in the brackish reaches of the St. Johns River on Florida's northeast coast, Holleman said he finds that the SWIM'N Image casts better in the wind and reaches slightly deeper. When fish are short striking the Redfin, switching to the SWIM'N Image often yields more strikes, especially during the winter lethargy.

On deeper ledges in the St. Johns River, where the fish have to come up from deeper water, he finds that the SWIM'N Image's ability to dive deeper, yet still run shallow gives him the options he need for various scenarios.