By Dr. Hal Schramm

This project chronicles the progression of the 2015 bass spawning season from south to north. A new spawning map is posted every two weeks to let you know what bass are doing in your area or a lake you are visiting. This map covers May 14 through the 27th.

The prespawn period is when the bass leave their winter haunts and start heading towards spawning areas; water temperature will be 50 to 60 degrees in the main body of water. The spawn period is when a substantial portion of the population is building nests, courting, or guarding eggs; water temperature will be 60 to 68 degrees. The postspawn period begins when many bass have finished spawning and ends when bass move to summer locations; water temperature will be 68 to 75 degrees.

Each map is accompanied by fishing reports from the best bass sticks in the country. Some are accomplished professional tournament anglers, some are professional and experienced guides. All frequently fish the waters that they report on, and all know where, when, and how to make bass bite.


The spawn zone has leaped into the Midwest and southern New England, and the best bite in many southern bass-belt lake will be targeting postspawners. This report provides how-to for prespawn bass on the Penobscot River in Maine and eastern Lake Erie. Postspawn tactics are provided for Sam Rayburn and Whitney in Texas and Grand Lake, Oklahoma.

Penobscot River, Maine, Prespawn
Follow professional guide Doug Teel's advice to put quality smallmouth bass in the boat on this scenic Maine river. Teal likes the stretch from Enfield Dam down to Passadunkeag. The pattern is straightforward. Look for slack water at the tail (downstream end) of islands and behind rocks and rock ledges. The rocks and ledges will be easy to spot in the moderate current.

Plan A
Teal fishes a Texas-rigged 6 inch Yum Dinger with a 3/16-ounce weight. Bumblebee swirl, smoke pearl laminate and Carolina pumpkin/chartreuse are effective colors. Cast 20 feet upriver; slightly lift the bait and let it drift on a semi-tight line, then repeat.

Soak the bait in likely spots as long as you can (which may be only 5 to 10 seconds). Down-stream of islands, fish inside the current seams or from the drop off on one side to the drop off on the other side. Look for areas with a bottom content of fine sediment instead of rock and cobble. The best bottom content is fine sediment instead of rocks and cobble. Fish these areas slow and steady. There is no Plan B.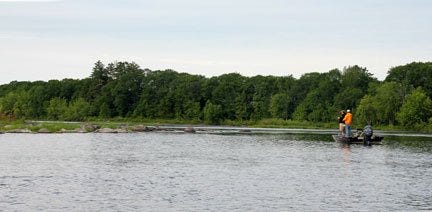 Pro Pointer
Don't waste time switching lures; stick with the pattern and the Dinger. Fish will cycle in and out of these spots. Also, these spots reload quickly, so be sure to return to productive spots.

Lake Erie, Buffalo, N.Y., Prespawn
Lake Erie has become the gold standard for smallmouth fishing, and the Buffalo area (eastern end of the lake) is where you have the best shot at a 7-pound fish. The water temperature is climbing into 50s in the lake, near spawning temperature in Buffalo harbor. Intel for this fishery comes from Captain Frank Campbell, veteran Lake Erie and Niagara River guide.

The smallies are moving toward spawning flats, which in the Buffalo area are expansive areas 20-feet deep (plus-and-minus a few feet) with sand and boulder bottom. Avoid areas with shale bottom because it seems to concentrate small fish.

Smallies stage on the last break from deep water to the spawning flats in the 14- to 30-foot range. They're bottom-oriented and feeding heavily on round gobies and emerald shiners. You won't see gobies and probably won't see smallmouth on your electronics, but you will see the shiners. Concentrate on areas with good bait.

Plan A
From now until the water reaches the low 60s and smallmouth begin spawning, Captain Frank drags a 4-inch Yum Tube on a ¼ or 3/8 ounce tube jighead. Campbell likes greens and browns with purple flake to mimic gobies. He will do the "Erie drift and drag" with the wind if possible (drift socks are often a must) but uses the trolling motor if there's little wind. It's essential to maintain bottom contact and bounce the tube off boulders.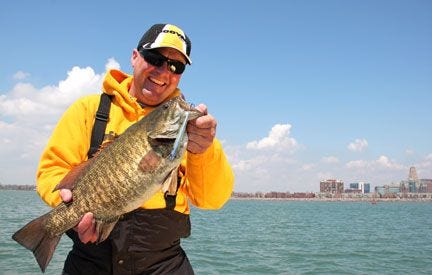 Plan B
If the water is still a bit cool, smallmouth will move from their deep-water wintering areas onto nearshore flats 5- to 15-feet deep. An aggressively fished jerkbait like a Smithwick Suspending Rogue or Elite 8 Rogue will draw violent strikes. Cover water quickly because smallmouth are roaming these clear-water flats and will be attracted to the jerkbait from a good distance.

Pro Pointer
Fluorocarbon line is essential in the clear, cool water. Besides the clarity, the low stretch aids hookups when longlining the tube, and the abrasion resistance minimizes nicks from zebra and quagga mussels.

Sam Rayburn, Texas, Postspawn
The pattern is simple: Big fish stack up on the outside edge of the hydrilla after spawning. The best areas are grassbeds outside spawning pockets. The master of the air-water interface, Zell Rowland, shares some secrets to Sam's postspawn fatties.

Plan A
Rowland attacks the outer edge of hydrilla beds with a big Rebel Super Pop R or Booyah Buzz buzzbait. The water is warm and Rowland starts with a fast stop-and-go retrieve (even with the buzzbait). If aggressive retrieves don't produce, slow down—make shorter jerks with the Pop R and a slower retrieve speed with the buzzbait.

"To get that buzzbait to run slower with more commotion, I 'recup' the blade – I bend the curved ends of the blade inward," Rowland said.

Plan B
If bass refuse to come to the top for an easy meal, Rowland feeds them an XCalibur Square Lip. Color? Rayburn Red, of course.

Pro Pointer
There are few lures that get more attention than a topwater. Although this bait may trigger a reaction bite when it suddenly appears over a pocket in hydrilla or careens off a log, bass hear it coming and can easily "study" it on a well-lighted stage.
Rowland is a stickler for keeping the line off the water and minimizing "line slap." Start your retrieve with a high rod tip and slowly lower the rod as the lure approaches the boat.

Lake Whitney, Texas, Postspawn
Water temperatures are in the 70s in this rocky and bluff-bank central Texas lake, and Alton Jones Jr. has some tips to put postspawn bass in the boat. Jones targets secondary points and creek mouths featuring rocky banks or bluff walls close to spawning flats. Best spots in these areas are transitions between flat banks and steep banks or bluff walls. With the spawn over, the bass can be caught all day long, but the best bite will be in the morning unless it's a cloudy day.

Plan A
Jones starts the day working a One Knocker Spook parallel to the bluff walls. He fishes the rocky points via long casts angled to keep the lure in the shallow-water strike zone. The default retrieve is slow, but always keep changing cadence until you find what the bass want. Also, change cadence If you get several blow ups that don't result in a hooked fish. Always have a couple follow-up rigs locked and loaded. Jones likes a very light drop shot or a weightless, wacky-rigged 4-inch Dinger.

Plan B
Fish shallow rocky points with an XCalibur Square Lip. Jones likes to bang the Square Lip through the rocks and wood with a fast stop-and-go retrieve to mimic a distressed shad.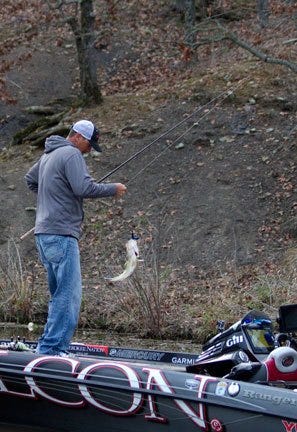 Plan C
If the Square Lip isn't working on the shallow points, try a 10-inch Yum Mighty Worm Texas rigged with a ¼ ounce sinker. Fish the worm from the bank out to deeper water, checking a range of depths. Jones prefers red bug or plum in the clear water.

Pro Pointer
Don't be afraid to fish topwater all day long. If the topwater bite dies in the morning, or if it never really gets going, put the topwater rod down but don't put it away. Try topwater throughout the day.

Grand Lake O' The Cherokees, Okla. Postspawn
"Bass are really eating right now on Grand," reports B.A.S.S. Elite pro Jason Christie. The game plan is to intercept postspawn fish moving between spawning pockets and summertime river channel structure. Christie relies on three patterns.

Plan A
Christie looks first to points at mouths of spawning pockets. More productive points have pea gravel and roll off into deep water. While it may seem counter to everything you have learned, Grand bass seem to prefer cleaner banks rather than those strewn with cover.

Christie's weapon of choice is a deep diving BD7F Bomber Fat Free Shad in a baitfish pattern. He backs up the deep crankbait by Carolina rigging a Yum Christie Critter (green pumpkin/purple flake) or swimming a large shad-hue Yum Money Minnow on a heavy jighead.

"You may not get bit on two or three points, but then you'll hit a point with a school of bass."

Plan B
If Plan A doesn't pan out, Christie heads to mid lake and looks for flat points at the mouths of creeks. Positioning his boat in 5-feet of water or less, he saturates the point with a One Knocker Spook.

Plan C
This is Christie's favorite way to catch postspawn Grand Lake bass, but by his own admission, it's not the best way to catch them. Look for docks with 4 to 8 feet of water located on a route from spawning areas to the main lake and pick them apart with the Spook. This pattern is simultaneously exploiting the shad spawn and postspawn bass that have temporarily set up feeding stations.

Christie normally times his dock pattern for early mornings, and when the sun hits the water he switches to flipping a Christie Critter or swimming a jig.

Pro Pointer
Grand is not a specific-area lake -- in other words, all parts of the lake can be good and you can catch a big girl anywhere. Pick your area based on water clarity and depth.