By Dr. Hal Schramm

Bass fishing is a dynamic, ever-changing process, and that is especially true in the spring as bass transition from winter to prespawn, to the spawn, and then postspawn. Throughout the prespawn—spawn—postspawn sequence, bass are aggressive and tend to be shallow—a perfect combination for a lot of bites and for the fish of a lifetime. It's a perfect time to make memories.

This project chronicles the progression of the 2015 bass spawning season from South to North. A new spawning map will be posted every two weeks to let you know where bass are prespawn, where they are spawning, and where they are postspawn to help you adjust your mindset before you get to the lake or maybe to plan the right time to arrive at one of your bucket-list fishing destinations.

A little clarification is in order to effectively use these maps. The prespawn period is when the bass leave their winter haunts and start heading towards spawning areas; water temperature will be 50 to 60 degrees Fahrenheit in the main body of water. The spawn period is when a substantial portion of the population is building nests, courting, or guarding eggs; water temperature will be 60 to 68 degrees. The postspawn period begins when many bass have finished spawning and ends when bass move to summer locations; water temperature will be 68 to 75 degrees.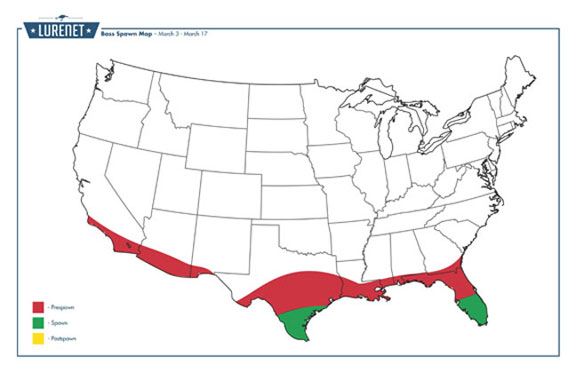 Each map is accompanied by fishing reports from the best bass sticks in the country. Some are accomplished professional tournament anglers, some are professional and experienced guides. All frequently fish the waters that they report on, and all know where, when, and how to make bass bite.

Right now it's still prespawn throughout most of the South, and the polar February means the spawn may be delayed again this year. In Lake Kissimmee, Fla., (see below) the spawn is starting a couple weeks later than usual.

Lake Eufaula, Ala.: Prespawn
Zell Rowland is impatiently waiting for postspawn so he can work his topwater wizardry, but postspawn is weeks away. Here's how Rowland unlocks prespawn bass on this Chattahoochee River reservoir.

Downlake, bass are headed for creek arms. Rowland looks for bass staging at the mouths of creeks (coves) and on the edge of vegetation. You have a lot of choices on Eufaula. Focus on flats with deep water nearby -- the deeper the better. The ideal spot would be a sharp rise from 30 feet to 5 feet.

Bass will be on the banks in the more riverine upper lake. As in the lake, look for banks with deep water nearby; the closer the river channel is to the bank the better. Outside bends are likely to have the deepest water, but rely on your depth finder and map chip to find less obvious places where the river butts the bank.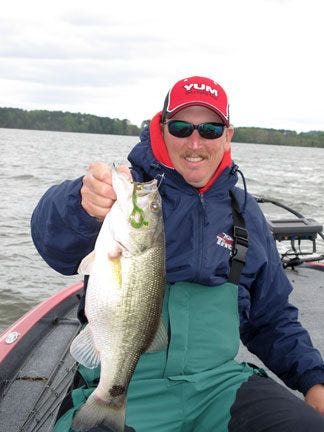 Rowland uses a deep/shallow approach to pin down Eufaula's prespawners.
(LEFT - Early prespawn bass often can be found on mainlake humps outside spawning bays. This Guntersville prespawner took a Carolina Rig for guide Jimmy Mason.)

Plan A: Deepwater
Rowland coaxes bites from deeper fish with a Fat Free Shad. Always experiment with retrieves to find out what trips their trigger. A steady retrieve can work; a stop-pause retrieve may be deadly. Think shad colors for downlake, darker colors upriver; use brighter colors, like chartreuse, if the water muddies.

Plan B: Mid-Depths
Rowland will be throwing a Rogue Perfect 10 jerkbait in water 6- to 10-feet deep. Starting color choices are shad colors for the clearer water downlake, darker colors up the river.

Pro Pointer: Crankbait fishing is all about depth control. Use light line to get the maximum dive from your crankbait, heavier line if you want to keep it a little shallower. You want the longest cast to get the deepest dive and keep it at that depth. If you take your crankbait fishing seriously, an 8-foot rod is worth the investment.

Lake Fork, Texas: Prespawn
Lake Fork popped onto the bass fishing radar screen in the early 1980s as a place to catch giant bass. It was the perfect storm of good habitat, good genetics (Florida bass were stocked before impoundment), and a then-new regulation now familiar to all—the slot length limit. Thirty years later, this reservoir continues to be the No. 1 producer of bass over 13 pounds in Texas.

Our guide for this trip is Texan and B.A.S.S. Elite pro Alton Jones. Whether Jones is fishing a tournament or just on the water for fun, he's all about big fish.

"You go to Fork to catch a giant, a bass of a lifetime," Jones exclaimed.

This report is about how to catch magnum bass. If your fishing is about quantity, not quality, quit reading now. If you are looking for a bass of a lifetime, see what Mr. Jones has to say.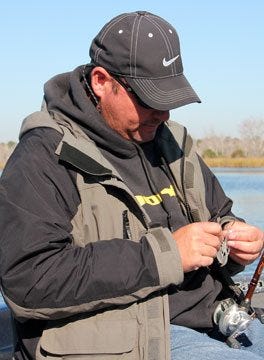 (LEFT - If you can see the bed and bass, try a bright-colored bait like this white Craw Papi so you can see it better.)

Plan A: Swimbaits
Under fair weather conditions, Jones sticks with one pattern: a swimbait around stumps and timber. Jones casts a 5-inch Yum Money Minnow, usually pearl white, Texposed on a 6/0 Owner 1/16- or 1/8-ounce weighted hook. Jones ties the Money Minnow directly to 50-lb braid.

Bass in Fork spawn in the backs of coves and along flat shorelines in 2 to 5 feet of water. From a known or suspected spawning area, take one step back toward deeper water to find areas of stumps and timber in 4 to 8 feet of water. The big fish hold tight to the wood. Cast 8 to 10 feet past good-looking targets. Make long casts to keep from spooking the fish. Large swimbaits rarely have a silent entry. A splashdown above the bass often alarms them; a plop several feet away seems to alert them to something coming their way. Retrieve the swimbait slowly—just fast enough to make the tail wobble--and as close as possible to the stump or tree.

This is a cover-water pattern, so keep moving. Multiple targets are always in sight, and long casts not only reduce the chance of spooking bass but also ensure that your bait will pass unseen targets. But, make multiple casts to superior targets or if a fish follows. Always give cedar trees with their branches intact a couple casts. And keep your eyes open for big fish up in the water column around standing timber.

Plan B: Lipless Baits
If it's a cold day, the water has been cooling, or you are convinced the bass are in a negative mood, it's time to fish the grass (hydrilla). Look for hydrilla flats in 4 to 8 feet of water in main creek arms like Caney, Dale, or Little Mustang creeks.

Jones fishes a ¾ ounce XCalibur One Knocker (XRK 50), red with red, tied on 20-lb fluoro. Make a long cast, let the One Knocker settle into the grass, and start a slow retrieve. If you're not feeling grass, slow down; wind a little faster when you feel grass. If you do it right, the bait generally stays clean; If the bait hangs, pop it free with a 2- to 3-foot snap and watch for a bite on the fall.

Pro Pointer: For Plan B, the prize is finding the right grass. You are looking for low growth of new hydrilla. Watch your electronics for vegetation growing close to the bottom, but also look for coots and floating fragments of bright green hydrilla. If you check "none of the above," find a new cove. If you hit it just right when the fish are using very shallow grass, the Cotton Cordell Super Spot is a lipless bait that runs shallower than others, making it an ace in the hole for Fork anglers.

Lakes Toho and Kissimmee, Fla.: Spawn
The largemouth bass spawn in individual Florida lakes typically lasts at least two months, sometimes as long as four months. Florida-based pro Terry Scroggins believes the early part of the spawn--March through early April this year—provides the best spawn bite and the biggest fish in these Kissimmee River lakes.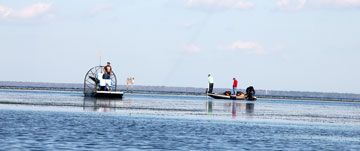 (RIGHT - When bass are on the beds, you'll easily know it by the numbers of boats poking along certain weed patches looking for nests.)

Bass spawn in several types of cover in Toho and Kissimmee. Buggy whips, pencil reeds, and tules (all different names for several types of bulrushes) grow on hard sand bottom where bass prefer to build nests. "Pads" (spatterdock, plants with broad upright leaves growing above the water) often grow in areas of soft bottom with thick layers of dead plant material that is not good for spawning. Although the lake bottom is poor spawning habitat in spatterdock "fields," the plant has thick (4- to 6-inch diameter) root tubers that grow on the surface of the soft bottom. Bass spawn on these tubers, especially where a tuber forks.

Plan A: Bed-Fishing Soft Plastics
Scroggins will be fishing beds but rarely is he sight fishing individual bass. He looks for beds or likely beds in 2- to 3-foot deep, clear water. Scroggins stays back from the beds, especially if he sees a fish on the bed, and drops the Power Poles. If he can't see a bed, he casts or pitches a Yum Craw Papi or Yum Money Craw under a ¼ ounce sinker on 20-lb fluoro to likely areas. "Big Show" prefers natural colors like green pumpkin or anything with red flake, such as pumpkinseed red flake.

If Scroggins can see the bed or see the spatterdock tubers, he grabs his flipping stick for a more precise presentation. He will flip or pitch the bed with a 1-ounce black/blue jig with a black/blue flake Yum Chunk trailer on 65-lb braid or a 5-inch weightless Yum Dinger on 20-lb fluoro. Scoggins does not use gaudy colors because he is not watching or seeing a bass.

Plan B: Topwater During Low Light
While casting or pitching to likely bedding sites is an all-day pattern, actually seeing beds is rarely possible under the low-light conditions early in the morning or on really dark days. Scroggins turns the low-light impediment to his advantage by fishing a topwater. His go-to for these Florida lakes is a time-tested producer, the Smithwick Devils Horse prop bait. Bass may blast it, but if they show but don't go, immediately pitch a Yum Dinger for a high-chance hookup.

Pro Pointer: if it looks like a bed but you can't distinctly see a bed, make multiple casts. If you come right up on a bed while running the trolling motor, push a wooden stake in the bottom to mark it and keep going; return later to fish the bed. The bass spawn in these lakes lasts several months, and later-spawning fish nest in deeper water and under docks. If you are not seeing any beds shallow, move out a little deeper in the prime spawning cover. Never pass up an isolated clump of 5 to 10 spatterdock stems.