By Dr. Hal Schramm

Bass fishing is a dynamic, ever-changing process, and that is especially true in the spring as bass transition from winter to prespawn to the spawn and then postspawn. Throughout the spawning sequence bass are aggressive and shallow—a perfect combination for a lot of bites and for the fish of a lifetime!

This project chronicles the progression of the 2015 bass spawning season from south to north. A new spawning map is posted every two weeks to let you know what the bass in your area are doing.

A little clarification is in order to effectively use these maps. The prespawn period is when bass leave their winter haunts and start heading toward spawning areas; water temperature will be 50 to 60 degrees in the main body of water. The spawn period is when a substantial portion of the population is building nests, courting, or guarding eggs; water temperature will be 60 to 68 degrees. The postspawn period begins when many bass have finished spawning and ends when they move to summer locations; water temperature will be 68 to 75 degrees.

Each map is accompanied by fishing reports from the best bass sticks in the country. Some are accomplished professional tournament anglers, some are professional and experienced guides. All frequently fish the waters that they report on, and all know where, when, and how to make bass bite.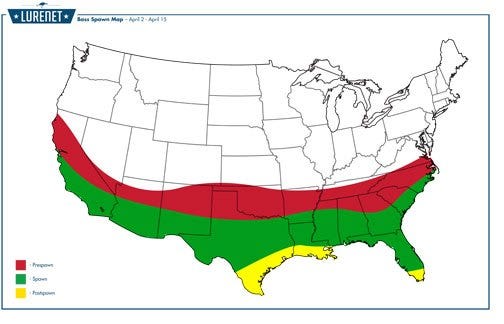 Days are getting longer, and the sun's energy is getting stronger. Water temperatures are skyrocketing. Water temperature is critical at this time of year because it determines when bass move to their final prespawn staging area followed shortly by beginning to bed. But don't be fooled by temperature. That temperature readout on your sonar/chart screen is reading the temperature 12 to 18 inches below the surface and not where the bass are. Surface water warms quickly during the day and cools rather quickly at night. If you want to know the temperature bass are experiencing, get a temperature reading first thing in the morning and ignore the temperature the rest of the day.

This report will put you on spawners in Lake Anna, Va., a lake receiving power plant cooling water that triggers an early spawn, as well as on well-known bass lakes in Alabama, Arkansas, Kentucky, Mississippi, and Tennessee.

Lake Anna, Va. -- Spawn

It's early for the spawn to be revving up in Virginia, but Lake Anna has a giant heater in the water discharged from the North Anna Power Station. The warm water makes the lake fish like two different lakes during the spawn. The lake also fishes "backwards," in that the bass spawn first in the clear-water downlake area and later in the more stained water uplake. Bass spawn in the main lake beginning in mid-April.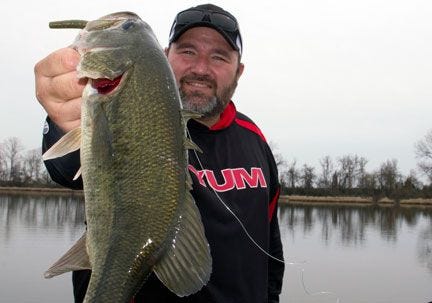 Teddy Carr has literally written the book on Lake Anna. He's a guide and tournament angler who makes that lake his home and provides some information you can use uplake in a couple weeks, but right now we're headed downlake.

Plan A: Right Now
Bass spawn next to stumps in 2 to 4 feet of water. The stumps are easily seen in the clear water. Carr uses a Yum Dinger Texas rigged on a 3/0 weightless hook for a search bait. Big females will eat the Dinger, but they will also reveal themselves. If you see a looker-but-no-taker, scan the immediate area for the bed. If the fish "sets up" on the bed, cast a Yum Wooly Bug or Money Craw under a ¼ or 3/8 ounce sinker. Carr opts for watermelon or green pumpkin tipped with chartreuse dye. If the fish is holding tight to the bed, slide in closer and pitch to the bed with the same lures. Carr recommends casting or pitching the bait past the bed and pulling it to the edge of the bed. If the bass doesn't attack the" invader," pull the bait to the center of the bed and let it sit. If the bass moves toward the bait or appears agitated, pop the lure 2 inches. If Carr can't get a bass hot in 5 minutes, he moves on.

Plan B: Early April
Move uplake and fish the primrose or water willows in water depths of 2 to 3 feet. The water will be dirtier, but find water with at least 8 inches of visibility. Both plants will look dead, but they still hold fish. Look for areas showing a little green. A lot of baits work, but Carr likes to slow-swim a Yum 5-inch Money Minnow (herring color) through the "grass." If a fish reveals but doesn't eat the swimbait, follow up with a Texas rigged Dinger or Wooly Bug. Carr offers black/blue or junebug in the dirtier water.

Plan C: Late April
Lake Anna saves the best for last. Repeat Plan A in the main lake, but expect bigger bass. Try a Yum Money Craw or Wooly Bug in the ultimate craw color if the water is a little muddy.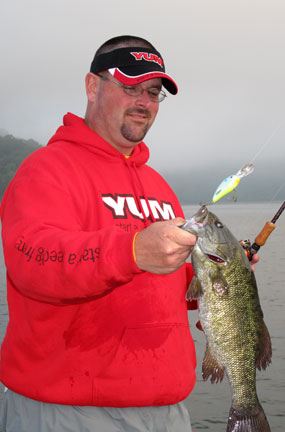 Pro pointer: "Shell beds are the deal in rivers and river reservoirs, but never pass up a shell bed in Lake Anna," advises Carr. Shell beds are hard to find in the lake, but Carr finds many near duck blinds.

Percy Priest Lake, Tenn. -- Prespawn
A short drive east of Nashville, Tenn., gets you to Percy Priest Lake. This relatively shallow, rocky lake has strong largemouth and smallmouth populations, but it is also one of the most heavily fished lakes in the state. Veteran Percy Priest angler Billy Stanton shared some tricks for catching prespawn bass on this highly pressured 42-mile long lake. His strategy is simple: fish windy, main lake banks to find aggressive bass and to avoid the crowds. He's looking for clumps of rocks and for shad; better still if a creek or ditch is near the bank.

Plan A:
Stanton fishes the windy banks with an XCalibur XR50, gold/black back or chrome/blue on sunny days and ghost if it's overcast. He mixes in a Booyah Double Colorado Blade spinnerbait with a white or white/chartreuse skirt to keep the bass honest. It's no secret that red lipless baits are effective during the prespawn, and if he sees red bumps inside a bass's mouth, that's an indicator to go with red. (Stanton says that the red bumps are from bass crushing crawfish.)

Pro pointer:
Fish your strength. Stanton has cashed a lot of tournament checks, but he relayed a story about an especially poor performance. After starting the day slowly, he started listening to his no-boater's back-deck chatter. He lost his rhythm and confidence. "Now I stick with what I know works. If not on this bank, maybe on the next."

Lake Ouachita, Ark. -- Prespawn
Spring and the spawn will come a little late to this deep, 40,000-acre west-central Arkansas lake. Ouachita Lake veteran bass angler and professional guide Chris Elder will be helping you catch some prespawn bass on this picturesque lake.

Elder looks for two structure patterns: points at the mouth of big pockets (coves) and timber in the mouth of pockets.

"Big bass like to have deep water nearby," advises Elder. "Productive points will have the river or a creek channel hitting the point, and the best points will have brush or timber to sweeten the deal. Standing timber is everywhere. Don't waste your time; only fish where you mark fish with side scan sonar."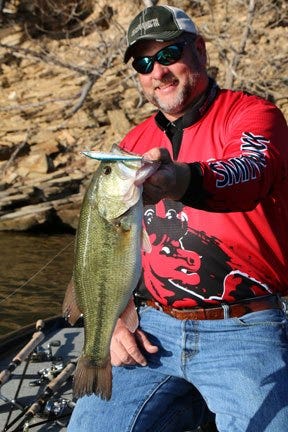 Plan A: Wind and Clouds
"There has to be some surface disturbance, and waves are better than ripples," Elder said. His go-to presentation is a jerkbait, and he rotates between a Suspending Rogue, an Elite 8 and a Perfect 10 to dial in on the right depth. He's a big fan of a clown pattern in Ouachita's clear water. Before moving on, he works the windy bank with a red XCalibur One Knocker.

Plan B: Clear and Calm
Elder fishes the same pattern but stows the jerkbait when it's calm. Under the bright light, he dupes bass with a Yum Flash Mob Jr. umbrella rig dressed out with 2.5-inch shad pattern Money Minnows on all wires. Elder will often experiment with a brighter color Money Minnow on the center wire. Mix up the depth to find out what the bass want.

Pro pointer: The slower you fish the jerkbait the better--short twitch, long pause. Use fluorocarbon line for better feel.

Pickwick Lake, Ala./Miss./Tenn. -- Prespawn
Renown for giant bronzebacks, this lower Tennessee River lake has a growing reputation for double-digit largemouth. The 53-mile long lake spans three states. If you're a pilgrim planning a trip to Pickwick, buy the Alabama license—it's good lakewide.

As most Tennessee River impoundments, Pickwick transitions from riverine upriver from Natchez Trace Bridge to more lake-like conditions downriver. Putting you on fish today is tournament pro and noted Tennessee River guide Jimmy Mason, and he'll be fishing the more riverine upper lake. The lake is still at winter pool (about 4 feet lower than summer elevation), and water flow is persistent at this time of year.

Plan A:
Mason is looking for big fish and expects to find them associated with any piece of structure that breaks the current along the river channel. That could include "rock rows" (constructed rock walls of historic, man-made navigation canals), gravel bars at bluff points, or where a submerged creek channel hits an underwater ledge or hump.

If you're fishing for big fish, use big fish baits. Mason rotates through four presentations: (1) a 5-inch Yum Money Minnow (foxy shad or Tennessee shad) on a ½ or 1 ounce jighead, (2) a Yum Thump'N Dinger (pearl or watermelon/pearl) on a jighead , (3) a ½-ounce Booyah Spinnerbait with a Yum Break'N Shad trailer, and (4) a Yumbrella Flash Mob Jr. rigged with a 5-inch Money Minnow on the center wire and 3.5-inch Money Minnows on the outside. Make long casts upstream and ricochet the bait off the structure.

Pro pointer: When fishing this pattern offshore, rely on your electronics and use your eyes. First, find an area with current, then look for something breaking current. Make your cast upcurrent (into the flow) and let the flow wash your bait into the sweet spot.

Kentucky Lake, Ky. -- Prespawn
Kentucky Lake is the 184-mile long segment of the Tennessee River from Pickwick Dam to Kentucky Dam. Our guide for prespawn bass on this giant bass factory is veteran B.A.S.S. Elite pro Zell Rowland. Mr. Rowland has been catching bass and cashing checks since he was 13 (really). I asked him when he started bass fishing. "Well, let's just say they hadn't re-invented the Pop-R yet."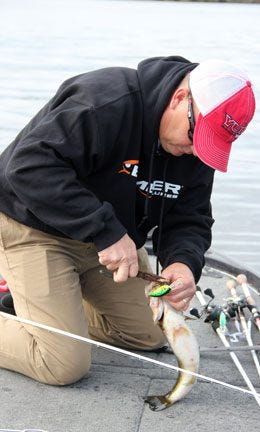 Rowland concentrates on the portion of the lake around Kenlake Bridge (US Hwy 68). Bass will be moving into creek arms to spawn. Prespawn staging areas will be flats (long, broad points), ledges, and underwater islands between the main river and creek mouths. Prime areas have a hard bottom and isolated stumps. On flats, look for "runouts"—creeks or shallow ditches—that connect to the river channel.

"Learn to use your depth finder," Rowland advises. "Kentucky Lake is loaded with structure; bass use some of it. Use your depth finder to locate hard bottom, stumps, and runouts."

Rowland starts his search in 8 to 10 foot water. If he doesn't mark shad, he scouts 12 to 15 feet deep, always looking for depth breaks and shad. If he doesn't see bait, he moves on.

Plan A:
Rowland's primary presentation is throwing an original sized Fat Free Shad in shad colors. He makes long casts so the bait stays at its maximum depth for the longest time possible.

Plan B:
Rowland drags a Carolina rig with a 10-inch Yum Mighty Worm or a lizard on a 3-foot leader behind a ¾-ounce sinker.

Pro Pointer: Current is critical. Bass turn on when the current turns on. When the water is flowing, bass will come up on structure and hold tight to stumps if any are present. When the current stops, the bite will slow and bass may move off the ledge and suspend. Check the generation schedule for Kentucky Dam so you can be in your best area when the water starts moving.

Author's note: Power generation runs on a prescribed schedule, and you can get that schedule on the web (http://www.tva.gov/lakes/kyh_r.htm) or by phone (800-238-2264). Anglers that frequently fish Kentucky Lake or other TVA lakes should check out the free app: http://www.tva.com/river/mobile_app.htm. Kentucky Dam has five generators; expect good current when the generation schedule indicates four or five generators running. Also, when timing the current, expect a time lag before the water starts moving where you are fishing.