By Darl Black

To catch smallmouth bass during the post-spawn and early summer period, legendary Tennessee guide Jim Duckworth has faith in one lure: Bandit Crankbaits.

"When you guide for a living, you must be able to provide novice and experienced anglers with a lure that is easy to use and does not require complicated instructions – and catches fish," says Duckworth. "Furthermore, clients must be able to tell immediately when a bass strikes – no guessing. Crankbaits fit this bill perfectly in helping my customers enjoy a successful and fun day afloat.

Post-Spawn
Duckworth explains that as smallmouth bass conclude bedding, females gravitate to the first drop-off outside the spawning flat to spend a couple weeks of recuperation. Meanwhile, male smallmouth remain in the shallows guarding the newly hatched fry for a short period of time.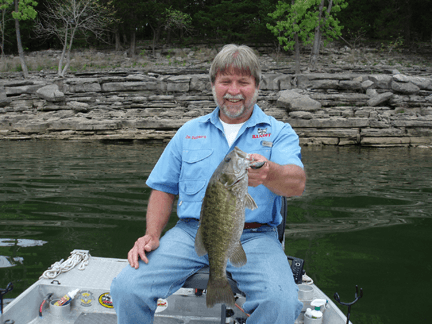 "We are looking at two separate scenarios on the clear water highland reservoirs that I fish. First, there are aggressive/protective male smallmouths in water depths of 1 to about 3 feet right along the bank. Second, larger females are suspended at perhaps 6 to 10 feet at the first break.

"To catch shallower males, it is critical to spot the pods of fry," Duckworth says. "Watch for fry jumping out of the water and for a dark mass hovering near the bottom. Make a cast beyond a pod of fry with a Bandit 100 and bring it back with a steady retrieve. A perfectly camouflaged male smallmouth lurking nearby will come out of nowhere to smash the crankbait."

His favorite colors for shallow smallies are Spring Craw and Root Beer and is pumped that these two patterns are incorporated into several new dual-pattern "Mistake" patterns for 2016.

Duckworth switches to a Bandit 200 in baitfish patterns for the female smallmouth suspended on the first break.

"You don't find crayfish swimming high in the water column, so I go with Silver Sparkle Minnow and Sexy Shad, as well as a Bluegill color. Bluegills have been harassing bedding bass for weeks, so when bluegills show up in open water, now it's payback time."

Early Summer
Eventually, male and female smallmouth bass move to main lake points to set up for summer feeding.

"Unlike largemouth bass, which love shallow cover, smallmouth bass are more oriented to suspending off points during the summer where they feed on shad," explains Duckworth. "But that does not prevent some smallies from moving onto rocky banks to feed on crayfish from time to time – especially under low light conditions. That's why I usually start my smallmouth guide trips at sunrise on the bank then gradually move deeper as the sun gets higher in the sky."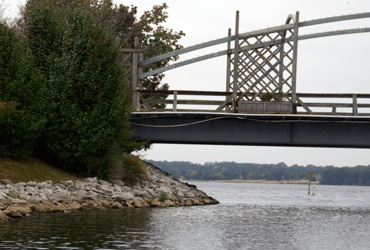 First thing in the morning, Duckworth has one client run a Bandit 100 against the shoreline while a second casts a Bandit 200 to slightly deeper water. He begins each boat pass about 50 yards on one side of a point and continues to follow the shallow contour around the point to about 50 yards down the shore.

"The best banks are rocky rubble," explains Duckworth. "The perfect crayfish habitat will be areas of stones about 3 to 4 inches in diameter, although larger boulder areas likely hold some crayfish as well."

As the sun hits the water, everyone in the boat switches to a Bandit 200. The next series of boat passes are a little farther out from the bank. By 10 a.m. the sun is high in the sky and everyone ties on a Bandit 300 – which reaches 12 feet on 10-lb line.

When working crankbaits, Duckworth keeps the trolling motor on a constant slow speed. He believes turning it on and off – as well as the pings from his sonar -- spooks bass. So when fishing, he just follows the fishfinder's lake map chip to stay on the proper contour.

"During the early summer, I focus on shorelines and points with at least a 30-degree slope and ample deep water nearby," he said. "Sometimes my boat is sitting in 50 feet of water while we are casting towards the shoreline. I turn the outboard so it pulls the back of the boat towards the bank. It's a little harder running the trolling motor, but turning the boat provides both clients the best casting angle.

"I instruct clients to cast at a 45-degree angle towards the shoreline and try to maintain that angle of retrieve. That keeps the bait in the fish-holding zone for a longer period."

Duckworth recommends a stop and go retrieve.

"It's amazing how many bites occur when you stall the crankbait. I stop the bait only long enough for the bow in my rod to straighten, and then I begin turning the reel handle again."

Blue Spatterback and Root Beer are among his favorite early summer colors. But when conditions are right, he goes with a shiny, super-reflective chrome color pattern.