By Jeff Samsel

"I just bought one of your lures, and you guys made a mistake."

Chris Ross has heard those words more times than he could count over the years, and the caller at the other end of the line has always been half right. Invariably, the caller has just purchased a Bandit crankbait in the "Mistake" color pattern – a lure that has been very intentionally painted in a manner that looks like a legitimate miscue.

Mistake, if you are not familiar with it, features a black back with black vertical bars running down the sides. The "mistake" comes from the side colors – one side of the bait is red and the other side chartreuse-green. This creates two different looks depending on which side of the bait you're looking at.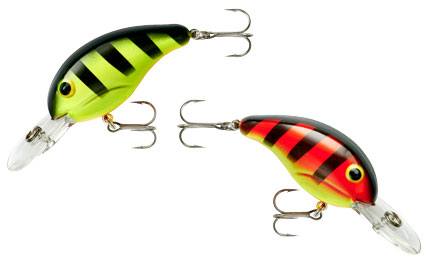 Typically, the person calling had picked up a lure that at a glance looked like a red craw sort of a crankbait for early spring fishing and had been surprised to give it a closer look at home and discovered the other side of the bait had been "painted wrong."

Most callers opted to give the oddly painted lure a try once Ross, Bandit's brand manager and past owner of the company, explained the intentional Mistake. And as a general rule Ross never heard from the angler again unless it was to thank him for the advice to give it a try.

"The Mistake color pattern has been around for a long as I can remember," said Jimmy Mason, a tournament pro and longtime Tennessee River guide from Rogersville, Ala. "It's one of those classic Bandit colors. I remember catching fish on it back when I was in high school. It's definitely one of my confidence colors."

Mason said that if you started talking about lure colors with fishermen in East Tennessee and throughout the Tennessee River Valley in North Alabama, you'd quickly learn that Mistake is on a lot of "top 5" lists. And truth be told, it's likely a top 5 pick for far more top fishermen than would be willing to mention it.


The Original Mistake
Mason noted that he's heard various stories about how the color came about, with most suggesting that it originally was some sort of a painting error. Truth be told, the original versions stemmed from a custom order based on an idea that occurred to a retailer in Louisiana. The idea was that an angler could cast to one side of a log and give the fish one look, and then cast to the other side to give that same fish a different look.

Ross' wife, who received the customer call and wrote down the order, jokingly dubbed the special-order color as "Mistake" when they painted the baits and sent what was assumed to be a one-time order to fulfill a special request.

It was obviously just the right Mistake, because the original order of Bandit 200s in that color configuration sold out quickly. The same customer ordered more, and it didn't take long for interest to spread and for Bandit to make Mistake into a stock color. That was nearly 30 years ago and Mistake remains one of Bandit's most popular color patterns. Ross noted that most Bandit models have been painted in the Mistake pattern at some point, at least as a special order. It's a standard stock color for Bandit 100, 200 and 300 crankbaits.

Mason actually likes the Mistake color scheme so much for fishing in cold water that he has had Bomber Flat A and Deep Flat A crankbaits custom painted to match Mistake. Those are two of his favorite cold-water crankbaits, so he wanted them available in one of his favorite cold-water colors.

Mistake Season
Mason doesn't claim to know why the Mistake color pattern works so well. He only knows that under certain conditions there is no other bait he ties on.

"It's one of those mysteries," he said. "There's just something about it. When the water is cold and at least somewhat stained, it is my go-to bait. In stained water, those colors really pop, where others tend to disappear."



For Mason, Mistake is primarily a cool-weather color. He begins using it during mid-winter and continues to throw it throughout the spring. He wants less than 2 feet of visibility and prefers 18 inches or less, and continues to throw it in pretty dirty water. If he can get a glimpse of it 6 inches down, the water is not too dirty.

Mason regularly uses 100, 200 and 300 Bandit crankbaits this time of year. All three models are the same size and shape. The difference among the series is the lip. The 100 has a square lip and stays quite shallow. The 200 and 300 are have rounded lips of different lengths and dive 6-7 and 9-10 feet, respectively.

Mason throws the 100 primarily over shallow flats that have milfoil or hydrilla on them and for working shallow mud in the backs of pockets. He turns to the 200 and 300 more for working natural rock banks and riprap, picking the bait that will kick bottom without dragging too much, based on the bank's slope. He cranks steadily and fairly slowly, hitting as many rocks or stumps as possible with the lure.

"I want that bait ricocheting. That way the bottom does the work for me," he said.

Mason fishes all three series of Mistake Bandits with a 7-2 Lew's Custom Series Crankbait 1 rod, a slow 5:1 gear ratio Lew's BB1 reel and 10-lb fluorocarbon.

If you ever hear fisherman talk about catching fish on the "Woops Bandit," by the way, they are talking about the Mistake color pattern.