By Scott Faldon
Mention you're going to Cotter, Ark., for a fishing trip and watch trout anglers perk up. They'll suddenly start pounding you with questions about where you're staying, what stretch of the White River you'll be fishing and, most importantly, what you'll be throwing at the rainbows, browns, cutthroats and brookies.
Tucked in a bend of the White River not far below the Bull Shoals Dam, Cotter is billed as Trout Capital U.S.A. for good reason. Between the Arkansas Game & Fish Commission and the U.S. Fish & Wildlife Service, more than 1.1 million trout were stocked in the fast-flowing, crystal-clear waters of the White River below Bull Shoals in 2014.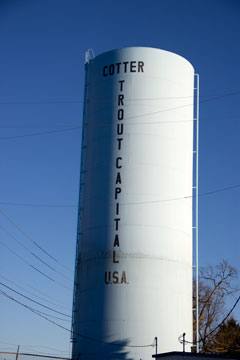 The Arkansas state records for rainbows (19 pounds, 1 ounce) and cutthroats (9 pounds, 9 ounces) were set on the White River. But it's the brown trout that draw anglers from around the world to Cotter. They spawn naturally, and a section of the river just below the dam is closed to fishing each year to protect them.
Thanks to a few decades of quality management, tanker browns are caught regularly on the White, with trophies in the 11- to 20-pound range being common.
Our day on the White in mid-January started out cold and clear. Our guide said it was 14 degrees as we stepped into his boat. Aside from our colleagues doing some filming in a second boat, we were the only people on the water. Every few minutes, we had to dip our rod tips in the river to thaw out the ice.
Chris Gulstad, our global brand manager, sat in the front of the boat. Being a native Minnesotan, I expected him to shake off the cold, but a sinus infection had him struggling, coughing and more than a little sluggish. The morning started slowly, but Gulstad caught a couple rainbows on a Lindy River Rocker while I landed some on a Smithwick Rogue.
Around 10 a.m., the guide piped up.
"I don't know if your buddy is going to make it," he said.
"Chris, " I said. "If you want to call it a day, then do it. No reason for you to be out here if you're sick."
"Give me 20 minutes," Chris said. "Let me see how I feel then."
He stood up, threw the River Rocker into an eddy and hooked a nice rainbow. Then he caught another, and then, another.
As the sun finally crested the bluffs over the river we were starting to warm up a bit, and so was the fishing. The sinus infection that had Gulstad by the throat began to loosen its grip, possibly due to the trout bite coming alive.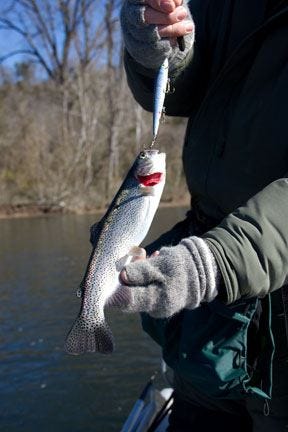 The Smithwick Rogue is considered a "big" trout bait at 4-1/2 inches long, and is one of the lures White River guides suggest using if you're targeting trophy browns. But on that day the rainbows – even ones only 4- or 5-inches longer than the lure – were smashing it before the brown trout could even get in line.
Gulstad eventually came back to life and switched to a Rogue to see if he could battle with a big brown. On most casts he had four or five foot-long rainbows chase his Rogue, and he responded by hurriedly reeling in so he wouldn't hook one. That's right, he was actually trying not to catch rainbows, and was having a difficult time doing it.
After lunch I switched to my standby, a Rebel TD50 Tracdown Minnow in Rainbow Trout pattern. Like the River Rocker and Rogues, the TD50 flat caught fish. I lost count of how many we rainbows we caught and released. It was well into double digits for both of us. I even caught a nice cutthroat on it.
I'm already plotting another Trout trip to Cotter…only this time when it's above freezing.